Túžba po poznaní a zbieraní jednoalbumových kvapiek v rockovom mori ma priviedla k albumu King Of The Black Sunset (1969) od amerického hardrockového tria Thunder and Roses.
Vzniklo vo Filadelfii. Gitaru a spev zastal Chris Bond, basy sa chopil Tom Schaffer a za bicie sa usadil George Emme. Hendrixovsky ladený repertoár sa vďaka United Artists Records dostal na jediný album kapely King Of The Black Sunrise. Ten vyšiel v júli 1969, pričom bol nahratý v štúdiu Sigma Sounds, produkoval ho Thomas O'Hora, Jr., zvuk manažoval Joe Tarsia a fotky na obal nacvakal Ken Maury. Album podporoval singel Country Life/I love A Woman, ale realita je taká, že Thunder and Roses zmizla z povrchu zemského skôr, než ho znečistilo disco. Chris Bond neskôr hral na albumoch zoskupenia Hall & Oates, ktoré aj produkoval, viď. Abandoned Luncheonette (1973), Daryl Hall & John Oates (1975), Bigger Than Both Of Us (1976) a Beauty On A Back Street (1977). Kapelu pripomenula grungeová legenda Nirvana, ktorá skladbu White Lace And Strange nahrala v rámci rádiového vysielania v roku 1987 a to sa dostalo na boxset With The Lights Out z roku 2004.
Samotný album obsahuje osem skladieb a až na jednu "hendrixovku" je autorom všetkých skladieb Bond. Cream čoby vzor kvapká z každej sekundy skladby White Lace And Strange. Ešte aj refrény pripomínajú Jacka Brucea. Gitara v sóle samozrejme nasadí kvákadlo, písal sa rok 1969, tak sa netreba ospravedlňovať za sólovanie, ako je tomu v dnešnej nepodarenej dobe zvykom. Vybrnkávačka I Love A Woman sa pre zmenu klania Hendrixovi, čím som vlastne opísal všetko podstatné, čo sa na albume deje. Ha! Uverili ste mi, čo? Hneď ďalšia skladba Country Life je ukážkové country o akom sa obom menovaným vzorom ani nesnívalo. Neberte to tragicky, sirupové blues Red House určite spoznáte a ste zasa u génia gitary. Moon Child má priam monumentálny nádych, náladovejšia rachotinka Dear Dream Maker akoby vypadla z Wheels Of Fire, titulná inštrumentálka King Of The Black Sunrise hendrixovsky medituje a na záver je tu ťažkotonážny bluesrock Open Your Eyes.
Mierna psychedelická nálada dokresľuje obraz typickej hardrockovej kapely z konca 60. rokov, ktorých spoznávanie mi spôsobuje radosť a napĺňa ma protilátkami proti infekciám súčasnej akože hudby.
(upravené, pôvodne zverejnené na progboarde)
Skladby:
White Lace And Strange 3:16
I Love A Woman 4:37
Country Life 2:43
Red House 5:37
Moon Child 4:10
Dear Dream Maker 3:28
King Of The Black Sunrise 3:47
Open Up Your Eyes 7:18
Zostava:
Chris Bond: gitara, spev
Tom Schaffer: basa, vokály
George Emme: bicie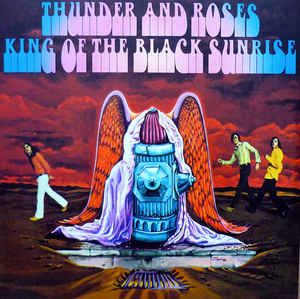 King Of The Black Sunrise
Thunder and Roses
hard rock
United Artists Records
1969
CD (Kismet, 2011)
8