Krátká biografie HELLHAMMER, aneb historie jedné z nejvlivnějších, a zároveň nejméně doceněných kapel v dějinách extrémního metalu.
V létě roku 1981, na počátku vrcholu hudebního hnutí "New Wave Of British Heavy Metal", se švýcarský mladík Tom Gabriel Warrior (vlastním jménem Thomas Gabriel Fischer, narozen 19.07.1963) vydal do Londýna, kde si koupil řadu vinylových nahrávek, včetně debutového singlu VENOM In League With Satan / Live Like An Angel (Die Like A Devil). V té době Warrior byl dospívajícím fanouškem heavy metalu, basistou i zakládajícím členem švýcarského čtyřčlenného seskupení GRAVE HILL. Inspirovaný záměrným zpomaleným přehráváním VENOM singlu na 33 otáček, se rozhodl drasticky změnit hudební směřování a produkovat daleko těžší a agresivnější muziku. V tomhle ho GRAVE HILL limitovali, a tak východiskem ze všech problémů bylo, že založil v květnu 1982 novou kapelu. Zpočátku měli název HAMMERHEAD, ale brzy se přejmenovali na HELLHAMMER. V novém uskupení se Tom Warrior věnoval zpěvu a kytaře, na baskytaru hrál Steve Warrior (vlastním jménem Urs Sprenger, dříve také působil v kapele GRAVE HILL) a bubeník Pete Stratton. Brzy se však ukázalo, že Stratton postrádá potřebné schopnosti a v listopadu 1982 ho nahradil bubeník Bruce Day (vlastním jménem Jörg Neubart).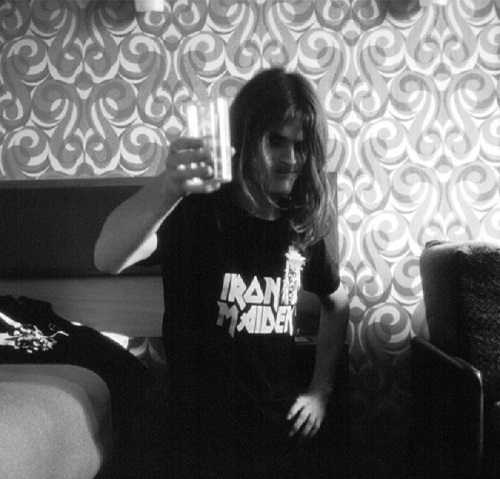 V červnu 1983 HELLHAMMER provádějí záznam svého prvního dema na osmistopém zařízení ve zkušebně "Grave Hill Bunker" v Birchwilu ve Švýcarsku. Během dvou dní (10. a 11. 6. 1983) nahráli 17 skladeb, přičemž devět z nich plánovali použít na demo s názvem Death Fiend, které nakonec v limitovaném vydání 20 ks kazet rozdali kamarádům. Na obalu bylo mimo jiné napsáno "Od Toma, nekopírovat". Pro vlastní propagaci mezi fanoušky se rozhodli sestavit z téže nahrávací session jiné demo, s třinácti skladbami, vydané pod názvem Triumph Of Death (podle známého obrazu nizozemského malíře Pietera Bruegela the Elder z roku 1562), s předchozím se částí skladeb shodovalo. Současně s jeho vydáním se členové HELLHAMMER rozhodli přidat další pseudonymy. Z Toma Gabriela Warriora se stal Satanic Slaughter, Steve Warrior si vybral Savage Damage, zatímco Day byl nakonec přejmenován na Denial Fiend. Nahrávku vydanou v počtu kolem 200 ks kazet doprovázel sebevědomý slogan: "VENOM zabíjí hudbu, HELLHAMMER zabíjejí VENOM…". Tímto titulem se HELLHAMMER stali známí po celé Evropě. Recenze v tehdejších undergroundových fanzinech a metalových časopisech byly extrémní, jako jejich hudba. Buď plné nadšení (německý Shock Power, francouzský Enfer, americký Metal Rendezvous), nebo naprosto odsuzující, jako třeba v britském Metal Forces. Tak jako tak, HELLHAMMER vzbudili velké pozdvižení a to bylo velmi užitečné.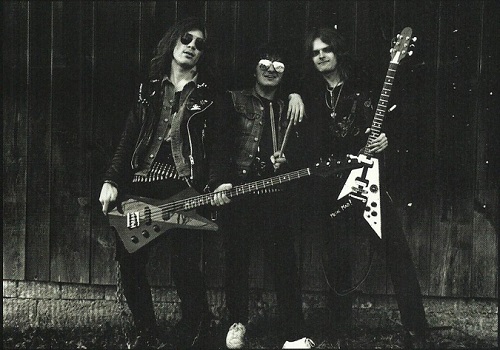 Demo Triumph Of Death se stalo velmi žádaným, a jeho kopírování se v neoficiálních kruzích stalo nejčastějším od dob legendárního METALLICA No Life 'Til Leather. Nicméně, navzdory nově získanému mezinárodnímu uznání skupiny, HELLHAMMER prodělali razantní změny a vstoupili do období nestabilních sestav. Hlavní změnou bylo vyloučení zakládajícího člena Steve Warriora kvůli tomu, co Tom Gabriel Warrior následně popsal jako "nedostatek zájmu". Teprve po nahrání nového dema na začátku prosince 1983, spojení s bývalým baskytaristou skupiny SHIZO Američanem Martinem Ericem Ainem (vlastním jménem Martin Eric Stricker, 18.07.1967 – 21.10.2017, zemřel v 50 letech na srdeční infarkt), aka Slayed Necros, konečně poskytlo určitou stabilitu. Ačkoli se traduje, že Ain na tomto demu i hraje, tak jen přispíval nápady, pojmy a texty, a také se podílel na produkci.
Nové demo Satanic Rites obsahovalo 10 skladeb a bylo natočeno za pouhých 8 hodin v Sound Concept studiu v Northeastu ve Švýcarsku 2. – 4. 12. 1983. Jednalo se opět o limitovanou edici 200 ks a některé kopie byly odeslány do nahrávacích společností. Německá značka Noise Records byla natolik zaujata, že nabídla skupině HELLHAMMER tříletý nahrávací kontrakt. Díky tomu kapela vstoupila už v únoru 1984 do berlínského studia Caet, aby natočila 2.- 7. 3. 1984 další hudební materiál. Vzniklo 6 skladeb, z toho 4 nově provedené z předchozích dem. V březnu 1984 vyšlo čtyřskladbové EP Apocalyptic Raids, a zbylé dvě písně ze stejného nahrávání byly uvedeny na Death Metal kompilačním albu v říjnu 1984. EP mělo lepší produkci než předchozí dema a lze na něm zřetelně vysledovat všechny typické hudební atributy následující tvorby. Skupina opět vzbuzuje rozporuplné reakce "Nejhorší, nejstrašnější a nejodpornější věc od "hudebníků", kterým kdy bylo povoleno nahrávat." Rock Power Fanzine, Germany, 1984 (kdyby jen tušili, co se v budoucnu bude ve studiích běžně produkovat, asi by svoje bědování krotili). Mezitím firma Metal Blade Records získala licenci na vydání Apocalyptic Raids v USA, současně vyšly dvě další skladby na kompilaci Metal Massacre V. Skupina tak získává rozsáhlou fanouškovskou základnu po celém světě. O to větší šok pro všechny byl, když v květnu 1984 Warrior a Ain prohlašují, že HELLHAMMER dosáhli svého hudebního maxima, a že tento koncept je příliš slabý, než aby mohl pokračovat. Warrior a Ain 01.06.1984 oznamují, že vytvořili nové avantgardní metalové trio pod názvem CELTIC FROST.
Po HELLHAMMER tak zůstala jediná oficiální nahrávka, EP Apocalyptic Raids. Na CD vyšla pod názvem Apocalyptic Raids 1990 A.D. v edici doplněné o dvě skladby ze split LP Death Metal. Jak byl tehdy široký pojem "death metal" dokazuje výběr skupin na zmíněném split albu, neboť se tu vedle HELLHAMMER objevují i HELLOWEEN a RUNNING WILD. Další kuriozitu představuje 2CD (a 3000 ks limitované vydání 3LP) edice se všemi demo nahrávkami HELLHAMMER, která spatřila světlo světa v roce 2008 pod názvem Demon Entrails. Nepochybně na jejím vydání měla zásluhu legenda jména CELTIC FROST, jenže k už tak mizernému amatérskému zvuku se přidala moderní dynamická komprese, která výrazně deformovala původní sound kapely. Tohle 2CD lze poslouchat sice s vědomím kompromisu, zato doprovodný materiál ve 36 stránkovém bookletu je velmi bohatý na dobové autentické informace i fotografie. Už kvůli němu má tato edice smysl. Fotky z ní se vyskytují v i tomto článku. Titul Demon Entrails je dnes jediný způsob, jak si přiblížit průkopnické začátky extrémního metalu v Evropě, který HELLHAMMER společně s VENOM a BATHORY pomáhali definovat.
Vlastně to není tak docela pravda, existuje i jiný způsob. Celkem nečekaně v roce 2019 obnovil Thomas Gabriel koncertní provedení dávných skladeb. Aktuální projekt TRIPTYKON byl nějakou dobu hibernován, koncem roku 2018 se však objevilo oznámení, že vytvoří koncertní seskupení TRIUMPH OF DEATH, a vystoupí na světová pódia se 35 let starými skladbami, které hrál kdysi dávno jako HELLHAMMER (21.08.2019 také u nás na Brutal Assault festivalu v Jaroměři). Mohu se jen domnívat, že jej k tomu rozhodnutí přiměla také náhlá smrt jeho blízkého přítele a dlouholetého basisty CELTIC FROST Martina Aina. Tom Warrior to komentuje  následovně:
"HELLHAMMER se nikdy nevrátí a nikdy nebudou reformováni. Je naprosto nemožné obnovit skupinu tak úzce spojenou s velmi specifickým a jedinečným časovým obdobím. Nikdy jsem o tom neuvažoval, bez ohledu na to, jak výhodné byly nabídky, které jsem v průběhu let dostával. Hudba HELLHAMMER však existuje a je to nesmírně důležitá součást mého života. Rád bych si ji ještě zahrál na pódiu, než odejdu navždy".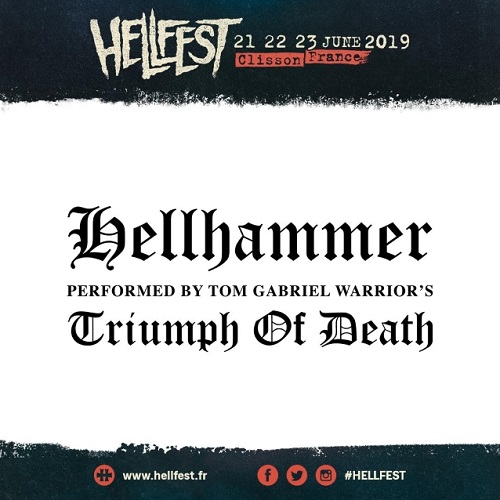 HELLHAMMER – albová diskografie:
Apocalyptic Raids (1984) EP
Apocalyptic Raids 1990 A.D. (1990) 1984 EP s bonusy
Demon Entrails (2008), dema nahraná 1983
(uveřejněno 2017 na PgB, přepracováno a doplněno 2020)