Space rock mal jediného kráľa – britskú skupinu Hawkwind. A ako priaznivec koncertných albumov som si musel zadovážiť dvojalbum Space Ritual z roka 1973, ktorý ukazuje skupinu vo vrcholnej forme.
Ja na túto muziku veľmi nie som. Aj keď ide o klasiku 70. rokov a hrá tam Lemmy, ak v každej skladbe niečo bzučí a šumí a repetícia hlukov je v popredí, tak ma moja pozornosť rýchlo opúšťa. Inak povedané, Hawkwind nie je mojou krvnou skupinou. A preto som mal dlho-predlho napálený akýsi totálne nereprezentatívny výber, na trojdiskovej kompilácii hitov Saigon zo 70. rokov sa skvel singel Time Machine a inak som si do zbierky zaradil už len tento album a Warrior On The Edge Of Time. Moje prvé stretnutie s kapelou prebehlo cez platňu In Search Of Space, ale to už bolo veľmi dávno. V dobách mojej punkovej revolty (je zvláštne, že mi skupina s punkom vcelku ladila) som počúval Space Ritual z kazety vo walkmane a zaujala ma na ňom skladba Orgone Accumulator.
Album pozostáva z nahrávok z dvoch koncertov hraných počas vianočných sviatkov na konci roka 1972. Koncertný set otvára kvílenie, ktoré som už spomínal, pravda, má honosné pomenovanie – Earth Calling. Plynulo naň nadviaže hrozivý kúsok Born To Go. Skladba necháva dostatočný priestor pre gitarové jančenie, čo je super. Vo všeobecnosti takmer každej dlhej skladbe predchádza kratšia "pazvuková" momentka, prípadne nejaké deklamácie. Aby som uvedené pravidlo okamžite porušil, nasleduje Down Through The Night. Fajnová opakovaná basová linka síce neuhne ani o piaď, aj tak zo skladby vyčnieva. Spolu so záverečným gitarovým sólom. Pokec The Awakening uvedie takmer spevnú skladbu Lord Of Light. Pravdaže, iba pokým sa v nej spieva… Po obligátnych šumoch a kecoch, tentoraz nazvaných Black Corridor, nastupuje Space Is Deep. Veruže je to vesmírna, priestranná a vzdušná záležitosť. Neuchopiteľné čosi vtelené do Electronic No. 1 niečo vyťuká i zabzučí a je tu Orgone Accumulator. Názov je výstižný, verte mi. Vlastne je to blues (hehehe). Rozhodne ide o moju najobľúbenejšiu skladbu z albumu, Lemmy si dokonca strihne akési sólo. A plynulé hardrockové pokračovanie Upside Down skvelo nadviaže, takéto drsňárny žeriem. Rozozvučaný monológ 10 Seconds Of Forever odfičí do poslednej skladby prvého disku, a síce do Brainstormu. Tá má normálny rif, je ostrá ako otvorená zlomenina a zarýva sa až do špiku kostí.
Disk číslo dva ponúka na úvod tradičnú dávku hvízdavých ruchov s pomerne (!!!) pokojnou hardrockovou hudobnou "patlaninou" navôkol, má to aj meno – 7 by 7. Saxík som tuším ešte nezmienil, nuž ho neprepočujete. Džuganie a žvatlanie v Sonic Attack už tradične otvára podarenú vytvrdenú rockovicu Time We Left This World Today. Na psychiku neodporúčaná muzikoterapia uprostred je vážne úchylná. A na záver je tu svižná klasika Master Of The Universe so silou severného vetra a s dovetkom Welcome To The Future.
Mám vydanie s tromi bonusmi v horšej zvukovej kvalite. Dvakrát sa zopakuje už počuté a "nová" je tu akurát prvá vec z trojlístka – You Shouldn't Do That, fakt do zbláznenia opakovaný drsný psychedelický nárez.
Navzdory tomu, že psychedelickú monotónnosť veľmi neuznávam, je občas príjemné sa do nej ponoriť a tento album mi v tých vzácnych chvíľkach príde výborný.
(upravené, pôvodne zverejnené na progboarde)
Skladby:
CD1:
Earth Calling 1:46
Born To Go 9:56
Down Through The Night 6:16
The Awakening 1:32
Lord Of Light 7:21
Black Corridor 1:51
Space Is Deep 8:13
Electronic No. 1 2:26
Orgone Accumulator 9:59
Upside Down 2:43
10 Seconds Of Forever 2:05
Brainstorm 9:20
CD2:
7 By 7 6:13
Sonic Attack 2:54
Time We Left This World Today 5:47
Master Of The Universe 7:37
Welcome To The Future 2:03
You Shouldn't Do That (bonus) 6:55
Master Of The Universe (bonus) 7:26
Born To Go (bonus) 13:04
Zostava:
Bob Calvert: poézia, spev
Dave Brock: gitara, spev
Nik Turner: saxofón, flauta, spev
Lemmy: basa, vokály
DikMik: audio generátor, elektronika
Del Dettmar: syntezátor
Simon King: bicie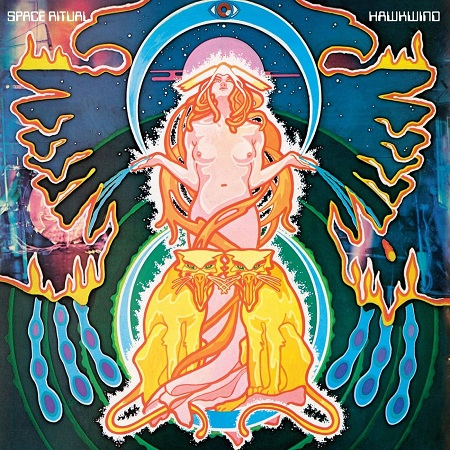 Space Ritual
Hawkwind
space rock, psychedelic rock
United Artists
1973
CD (EMI Records, 2001)
17+3 skladby