Space rock a sci-fi. Moorcock a Hawkwind. Album Warrrior On The Edge Of Time je právom považovaný za unikát. Poďme si ho pripomenúť.
Knihy Michaela Moorcocka som po revolúcii, čoby puberťák, hltal. České vydavateľstvo Laser vydávalo jeho série ako Kane of Old Mars z Marsu a Doriana Hawkmoona. Je to gigant sci-fi a k dobru mu slúži, že spolupracoval s viacerými hudobnými skupinami. Okrem Blue Öyster Cult hlavne s Hawkwind.
Na albume Warrrior On The Edge Of Time má dva recitované vstupy (The Wizard Blew His Horn a Warriors), ale hlavne napísal väčšinu textov, napokon, album je voľne naviazaný na jeho román The Eternal Champion. A v podstate je názov skupiny inšpirovaný jeho seriálom Hawkmoon. Muzika je to správne repetitívna, kozmicky vzdušná, skrátka, typicky "hawkwindovská". Ťažko sa popisuje, treba sa naladiť na trip a nechať sa unášať psychedelickou "space" náladou. O tom, ako kapela fungovala, výborne píše vo svojej autobiografii Lemmy (vyšla v Česku pod názvom Motörhead, BB/art, 2009). S tými drogovými excesmi a psycho zmenami v zostave dáva celá tá magorina takmer zmysel. Napokon, Lemmy sa týmto albumom s kapelou rozlúčil, nakoľko ho vyhodili. Dôvodom bolo bubenícke impérium, ako nazýval duo do seba zahľadených bubeníkov, ktorých "bicie súpravy stáli uprostred pódia v obrovskom polkruhu s ďalšími perkusnými nástrojmi, ktoré nikdy nepoužili. Na pohľad to bolo impozantné – a dávalo sa tým tiež všetkým na známosť, kde je ich miesto! Na mňa to samozrejme neplatilo, tým dvom hajzlom som nedoprial oddych. Stával som vedľa nich a povzbudzoval ich – Pridajte, vy kurvy! Ste pomalí! Pridajte!" Toľko citát Iana Kilmistera. Nech to bolo akokoľvek, evidentne to prinieslo svoje ovocie. Album je hustý a výborný. Inak, v skladbe Standing At The Edge sa v recitácii objaví spojenie "the veterans of a thousand psychic wars", ktoré o šesť rokov neskôr dostane podobu skladby Veteran Of The Psychic Wars na albume Fire Of Unknown Origin od Blue Öyster Cult.
Na mojom vydaní sú dva bonusy. Lemmyho singel Motorhead, podľa ktorého si vzápätí pomenoval svoju životnú kapelu, no a koncertné prevedenia singlu Kings Of Speed.
Nazdávam sa, že tento album je jeden z najlepších, aké kedy Hawkwind dokázali nahrať a rád si ho občas vypočujem. Plus sa mi páči fantazijne vykreslený obal.
Skladby:
Assualt & Battery Part I 5:33
The Golden Void Part II 4:36
The Wizard Blew His Horn 1:57
Opa-Loka 5:11
The Demented Man 3:57
Magnu 8:21
Standing At The Edge 2:39
Spiral Galaxy 28948 3:49
Warriors 1:57
Dying Seas 3:04
Kings Of Speed 3:55
Motorhead (bonus) 3:12
Kings Of Speed (live, bonus) 4:28
Zostava:
Dave Brock: gitara, syntezátor, basa (4), spev (1, 2, 5, 6, 11)
Nik Turner: tenor a soprán saxofón, flauta, spev (7, 10)
Lemmy: basa (okrem 4), spev (12)
Simon House: mellotron, moog, piano, syntezátor, husle
Simon King: bicie, perkusie
Allan Powell: bicie, perkusie
a
Mike Moorcock: recitovanie (3, 9)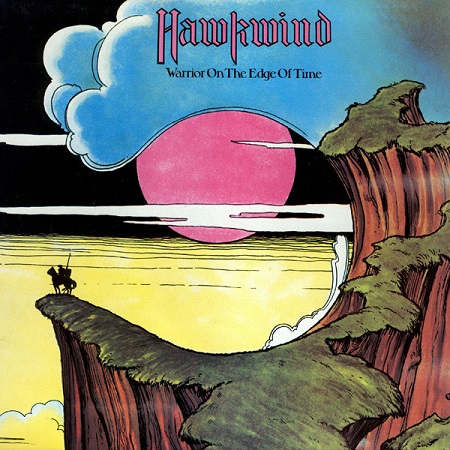 Warrior On The Edge Of Time
Hawkwind
space rock
United Artists
1975
CD (Rock Fever Music, 2001)
11+2