Hard Stuff – kapela, ktorá mala veľké plány a krátke trvanie. Nepomohlo jej ani priam hviezdne zostavenie muzikantov, či už šlo o duo z Atomic Rooster – Johna  Du Canna a Paula Hammonda alebo párplovsky blízkeho basáka Johna Gustafsona. Ako sa to celé zbehlo?
Skúsme začať u gitaristu a bubeníka. Obaja pomohli Vincentovi Craneovi s klasickými albumami Atomic Rooster, a síce s Death Walks Behind You (1970) a In Hearing Of (1970). Kým Du Cann mal za sebou album s kapelou Andromeda, Hammond si na zmienenej dvojici albumov z ničoho vybubnoval pozíciu jedného z najlepších hardrockových bubeníkov v Británii. Nakoľko Crane tiahol od tvrdého rocku smerom k funky, soulu a čo ja viem, čomu ešte, naše duo chcelo muziku rezať od podlahy, cirkulárkou a motorovou pílou vykliesniť lesy popových krajov, skrátka, chceli robiť to, čo im šlo najlepšie. Tvrdo rockovať. Keby ste nevedeli, tak najväčší hit kapely, Devil's Answer, bol dielom práve Du Canna.
Nečudo, že došlo k hádkam a ani sa nenazdali, už mali vlastnú kapelu Daemon, v ktorej spieval aj Harry Shaw (z kapely Curiosity Shoppe). Obaja boli natoľko naivní, že si mysleli, že si budú môcť uzurpovať názov Atomic Rooster pre seba, ale voči zakladateľovi kapely neuspeli. Kým im to právnici zatrhli, začali dokonca zháňať basáka. Na scénu vstúpil John Gustafson, veterán z kapiel Episode Six a Quatermass. Znalejší určite postrehli, že tu máme väzbu na členov Deep Purple, v prvej menovanej skupine pôsobil ako Ian Gillan, tak Roger Glover. Napokon, vznikla tu aj skladba Monster In Paradise, zložili ju obaja menovaní Párplisti a venovali ju skupine Quatermass, prakticky nástupníckej kapely Episode Six, ktorá ju však na album nenahrala. Gustafson ju reinkarnoval pre Hard Stuff a dopísal si k nej autorstvo, čo Glover dodnes nechápe, nakoľko vznikla predtým, ako sa Gustafson pridal k Episode Six.
Späť k veci. Gustafsonovi zavolal Brian Slater, ktorý mal väzby na Purple Records (vydavateľstvo založené manažmentom Deep Purple), ktoré malo Du Canna v opatere, že či sa nechce pridať k Atomic Rooster. Vysvitlo, ako už bolo povedané, že John Du Cann na názov nemá práva, a preto sa pomenovali Bullet. Občas na internete nájdete zmienku o tom, že Gustafson bol aj súčasťou Daemon, on to však poprel a prehlásil, že to bol autonómny projekt, s ktorým nebol spätý. Šlo o krátkodobú koncertnú kapelu, ktorá mala vyplniť medzeru do času, kedy získajú práva k Atómovému kohútovi. Čo sa nestalo. Formácia Bullet vydala v roku 1971 singel Hobo/Sinister Minister, ale ukázalo sa, že problémy s názvom neskončili. V Amerike už fungovala iná kapela s rovnakým pomenovaním, mala dokonca singel v Top 30 (White Lies, Blue Eyes, 1972), nuž neostalo iné, než sa opäť premenovať. Na scénu vstúpila banda Hard Stuff.
Debutový album Bulletproof (je jasné, že náboja sa kapela nechcela vzdať bez boja) z roku 1972 obsahoval desať rezkých a nekompromisných hardrockových nádielok, na ktorých údajne spieval aj Shaw (konkrétne v skladbách No Witch At All, Time Gambler (Rodney), Millionaire a The Provider – Part One), ktorý sa však neplánoval zdržať a vrátil sa do domovského Liverpoolu. Slaďák by ste tu hľadali márne, zato je tu jedna z najpriamočiarejších nárezoviek všetkých čias – už spomínaná Time Gambler (Rodney). Mám z nej zimomriavky! Vynikajúci album, čo na tom, že šlo prakticky o prerobenie nahrávok na pripravovaný album Entrance To Hell, ktorý kapela natočila kdesi v období Daemon-Bullet, a napokon sa tieto, značne nevyzreté veci, zjavili na archívnom cédečku v roku 2006 (ako Daemon) a opätovne v roku 2010 (ako Bullet). Kvalít debutu Hard Staff nedosahujú.
Kapela vyrazila na turné s Deep Purple a Uriah Heep, vypustila singel Jay Time/The Orchestrator a v medzičase prišiel rok 1973. Uviedol ho singel Inside Your Life/(It's) How You Do It!, ktorý sa značne nepodarene vtieral do priazne glamovým cukrúšom. Zároveň sa v kapele začali prejavovať funky trendy. Dotiahol ich Gustafson a je prekvapujúce, že Du Cann (počas pôsobenia v Hard Stuff používal tvar mena John Cann) s Hammondom k tomu privolili, keď uvážime, že to bol jeden z hlavných dôvodov, prečo odišli z Atomic Rooster. Každopádne, album Bolex Dementia z toho roku predstavuje progresívnejšiu a zaujímavejšiu polohu muziky. Aj tu sa nachádza desať skladieb, podivné (ale zaujímavé) funky-rockové kúsky ako Libel, Mermany alebo Spider's Web dopĺňajú parádne hardrockové smršte typu Get Lost alebo Roll A Rocket, čo je jedna z najlepších rockových skladieb a má v sebe kus atomicroosterovskej geniality. Mám tento album radšej ako debut.
Oba albumy dieru do rebríčkov predajnosti nespravili, kapela sa určite nechcela vzdať bez boja. Zasiahol však osud. Ako sa nahrávanie blížilo ku koncu, Cann a Hammond mali autonehodu. Stala sa v Belgicku, Cann sedel vpredu, nuž si narazil chrbát a zlomil rebrá. Hammond spal na zadnom sedadle a dolámalo mu to obe nohy. Kým prvý menovaný strávil v nemocnici týždeň, bubeník v nej pobudol dva mesiace. Krátko po vydaní albumu sa preto kapela rozpadla.
Že sa trojica muzikantov nestratila, je jasné. Všetci hrali, kde sa dalo. Cann sólovo i s Atomic Rooster, Hammond ho verne nasledoval, no a Gustafson hral ako v Roxy Music, tak s Ian Gillan Band, okrem iného. Dnes už žiadny z nich nežije. Hammond sa predávkoval drogami v roku 1992, Cann zomrel 21.9.2011 na infarkt a Gustafson sa za nimi pobral 12.9.2014.
Osobne som sa ku kapele dostal vďaka pirátskym cédečkam od Red Fox Records (2002), ktoré mali viacero chýb. Debut mal useknutú poslednú skladbu (pirátovi sa pri prevode z platne zasekla ihla), druhý album zasa vymenené strany platne. Aj tak som bol šťastný, že môžem túto muziku počúvať podľa ľubovôle. Keď sa v roku 2011 zjavilo oficiálne európske vydanie od Angel Air, svrbela ma peňaženka, ale odolal som. Stále som si vravel, že najprv si kúpim toto, potom ešte ono a raz určite vymením aj pirátske Hard Stuffy. Čas plynul a od myšlienky ku skutku bolo stále ďaleko. Až sa na to nemohol pozerať Ježiško a priniesol mi pod stromček krásnu dvojdiskovú kompiláciu The Complete Purple Records Anthology 1971-1973. Vyšla tento rok a okrem obsažného bookletu je tu predovšetkým všetko, čo kapela nahrala pre Purple Records, a teda oba albumy, oba single plus singel The Bullet, a k tomu je prihodený aj nejaký alternatívny mix skladby Monster In Paradise.
Počúva sa to jedna báseň, ak ste sa s kapelou ešte nestretli, hajde na rande! Ak áno, toto je bezchybná akvizícia, či už albumy máte alebo nemáte v zbierke. Hard rock málokedy znel nekompromisnejšie!
Skladby:
CD1:
Jay Time 2:53
Sinister Minister 3:33
No Witch At All 5:38
Taken Alive 3:16
Time Gambler (Rodney) 6:15
Millionaire 6:04
Monster In Paradise 4:35
Hobo 3:24
Mr. Longevity – RIP 4:34
The Provider – Part One 2:32
Hobo (Bullet single a-side, 1971) 3:28
Sinister Minister (Bullet single b-side, 1971) 3:35
Jay Time (single a-side 1972) 2:43
Orchestrator (single b-side, 1972) 3:24
Monster In Paradise (early mix) 4:45
CD2:
Roll A Rocket 5:19
Libel 3:59
Ragman 3:01
Spider's Web 4:55
Get Lost 3:02
Sick 'N' Tired 4:04
Mermany 5:58
Jumpin' Thumpin' (Ain't That Somethin') 2:56
Dazzle Dizzy 3:41
Bolex Dementia 3:40
Inside Your Life (single a-side, 1973) 3:11
(It's) How You Do It! (single b-side, 1973) 3:12
Zostava:
John Cann: gitara, spev
John Gustafson: basa, spev, piano
Paul Hammond: bicie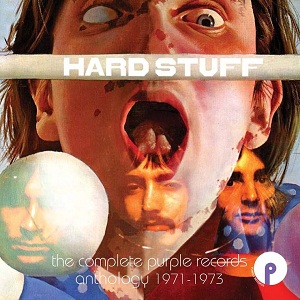 The Complete Purple Records Anthology 1971-1973
Hard Stuff
hard rock
Puprle Records
2017
CD
27