Keby ste sa ma niekedy opýtali, akú hardrockovú dosku by mal počuť každý, kto to s týmto žánrom myslí vážne, asi by som mu uviedol debut americkej superskupiny Captain Beyond. Jasné, že klasika od britskej štvorky (Deep Purple, Led Zeppelin, Black Sabbath a Uriah Heep) sa k ľuďom dostane aj bez špeciálneho odporúčania, nuž prirodzene inklinujem k iným veličinám typu Budgie, Rush alebo hoci Warhorse. Ale Captain Beyond sa vymyká. Ide o absolútnu bombu. Úplne vážne. Debut Captain Beyond je jeden z najlepších albumov nesúcich visačku hard rock. A keďže som to zhodnotil už na úvod, zvyšok čítať ani netreba. Keby ste sa predsa len zaujímali o to, čo sa na doske deje, vedzte, že je toho dosť. V podstate sa nemožno čudovať, všetci štyria hudobníci tvorili dejiny. Rod Evans spieval v Deep Purple, Reinhardt a Dorman pôsobili v Iron Butterfly, no a Caldwell hral s Johnnym Winterom.
Nástroje:
Bicie sú vrcholom akéhokoľvek hard obdobia. Caldwell má každý part premyslený do posledného detailu, vyhýba sa klišé a keby iných nástrojov nebolo, asi by si vystačil aj sám. Rôzne atypické rytmizovanie je základným stavebným kameňom tohto borca, ktorý si nemálo pomáha rôznymi perkusiami. Gitara je výborná. Prevažne Hendrixovské rify, zbesilé sóla a parádne vyhrávky. Basa sa trošku stráca v okolitom nabudení, ale to neznamená, že nie je presne taká, akú si táto hudba vyžaduje. Spev obstaráva spomínaný Evans, značne pritvrdil. Sedí mu to.
Skladby:
Booklet ich uvádza trinásť, ale to je pomerne nepresné číslo. Skladby sú skôr kompozície, prelínajú sa navzájom, takže je ich tu tak päť, (skladby 1-3, 4, 5, 6-8, 9-13, pričom v poslednej je všitá minikompozícia 10-12). Že je to na hard rock podivné? No a čo! Navyše, celá doska je tvrdá, energická a neskutočne dravá (nech si už pod tým predstavíte čokoľvek). Občas by som skladby prirovnal k Hendrixovi (hlavne zafarbením gitary a náladami niektorých skladieb, predovšetkým Raging River Of Fear).
Záver:
Ťažko sa zostavujú rôzne TOP rebríčky, ale debut Captain Beyond je v mojom pomyslenom hard rock top 10 neprekvapivo umiestnený natrvalo. Konečne nemusím päť hviezdičiek maskovať pridávaním kvôli atmosfére a pod., pretože album má všetkého nadostač, dokonca by mohol polovicu rozdať a hodnotenie by sa nezmenilo.
P.S. A je to americká záležitosť, milí Briti. 🙂
(upravené, pôvodne zverejnené na progboarde)
Skladby:
Dancing Madly Backwards (On A Sea Of Air) 4:01
Armworth 1:48
Myopic Void 3:30
Mesmerization Eclipse 3:48
Raging River Of Fear 3:47
Thousand Days Of Yesterdays (Intro) 1:19
Frozen Over 3:46
Thousand Days Of Yesterdays (Time Since Come And Gone) 3:56
I Can't Feel Nothin' (Part I) 3:06
As The Moon Speaks (To The Waves Of The Sea) 2:25
Astral Lady 0:16
As The Moon Speaks (Return) 2:13
I Can't Feel Nothin' (Part II) 1:13
Zostava:
Rod Evans: spev
Larry "Rhino" Reinhardt: gitara, ak. gitara, slide
Lee Dorman: basa, piano, vokály
Bobby Caldwell: bicie, perkusie, zvony, vibrafón, vokály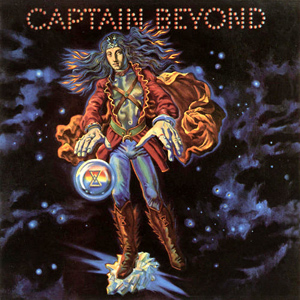 Captain Beyond
Captain Beyond
hard rock
Capricorn
1972
LP, CD
13