Z nepreberného množstva zabudnutých rockových skupín z počiatku 70. rokov sa ani nemusíte vzdialiť z Britských ostrovov a máte nadosmrti "vystarané". Medzi moje srdcovky patrí napríklad skupina Hannibal, ktorá vydala presne jeden album v roku 1970 a potom už nič. Nikdy. Škoda.
Čím som starší, tým viac si uvedomujem, že človek nemôže poznať, tobôž vlastniť všetko. O to som šťastnejší, keď naďabím na niečo, čo ma zaujíma a môžem sa tomu venovať. V muzike sú to rockové kapely existujúce v rozpätí cca desiatich rokov, plus-mínus 1967-1976. Rád si k albumom vytváram osobnejší vzťah, čo prakticky vylučuje prístup sťahovania muziky z internetu len pre pocit, že som niečo počul v lepšom prípade raz, v horšom pár sekúnd v rámci rýchleho skenovania a v najhoršom vôbec. Hudba, ktorá skončí mŕtva v hlbinách diskových polí, cloudov alebo pod sekerou kata menom DELETE, vo mne vzbudzuje súcit. Rešpektujem, ak to niekomu vyhovuje, mne to nikdy neprinášalo pocit zadosťučinenia.
Aj preto už niekoľko rokov sledujem internetové hudobné webové sídla, kde sa často dozviem o existencii kapiel, o ktoré som buď niekde zavadil, ale nevenoval im pozornosť alebo, ako v prípade Hannibal, som o nich nepočul a prebudia moju zvedavosť. Keďže som si začal budovať zbierku niekedy v polovici 90. rokov, internet bol ako zdroj informácií prakticky nepoužiteľný. To malo za následok, že hoci som sa dostal k viacerým raritám (ako Bakerloo), nie vždy sa mi podarilo dohľadať (v tlačených encyklopédiách, časopisoch a vo vedomostiach generácie mojich rodičov) všetky súvislosti. A ani zďaleka som nepostupoval systematicky. Aj preto ma potešilo, keď ešte na Progboarde Borek vytvoril profil Hannibal. Okamžite som si album zohnal a už po prvom počúvaní bolo jasné – toto bude láska na celý život.
Skraja roka 2012 som to nevydržal a napísal o ňom pár krátkych postrehov, ako ich tak čítam, máločo by som zmenil. Úvodnú skladbu Look Upon Me prinášajúcu mohutný hardrockový brass rock s medvedím vokálnym prejavom neskutočného Alexa Boyca milujem. Rovnako je na tom aj ďalšia skladba, Winds Of Change. Je to môj osobný pocit, ale muzika je to podobná tej od Colossea, akurát je ešte tvrdšia. To desať a pol minútová Bend For A Friend je správne zlovestná. A aj keď sa sólové nástroje vyšantia v miere vrchovatej, je to práve atmosféra, ktorá tejto skladbe (a celému albumu) dodáva niečo viac ako len známku "výborná". Absolútne gniavivá bluesovka 1066 zo mňa vysáva život, ale je to slasť! Pre mňa vrchol albumu, obzvlášť, keď si psychedelické basové sólo sprevádzané šumením činelov odmrmle to svoje a nechá bubeníka, aby sa predviedol. Náladovejšia skladba Wet Legs sa nikam neponáhľa, ale sotva ju nazvať baladou. Tiahle dýchavičné tóny uvedú záverečnú skladbu Winter, ktorá nie je ani pomalá, ani tuctová a spevákov medvedí hlas naznačuje, že maco zabudol na zimný spánok a hasí si to do snehovej metelice v snahe vyžrať malinčie, mravenisko alebo aspoň nahryznúť nepozorného turistu.
Vlastním kórejskú limitku z tristo kusového nákladu od Media Arte z roka 2011 a nedám na ňu dopustiť! Bývali doby, kedy bola radosť počúvať snúbenie rocku s džezom. Hannibal považujem za jednu z najlepších zoskupení všetkých čias tohto typu. Kam sa na ňu hrabú akademické pidlikania vo fusion! Toto je neučesaná tvrdá smršť, ktorú by bol hriech nechať ležať ladom!
Skladby:
Look Upon Me 6:13
Winds Of Change 7:26
Bend For A Friend 10:27
1066 6:28
Wet Legs 4:44
Winter 8:06
Zostava:
Alex Boyce: spev
Adrian Ingram: gitara
Jack Griffith: basa
John Parkes: bicie
Cliff Williams: tenor saxofón, klarinet
Bill Hunt: klávesy, lesný roh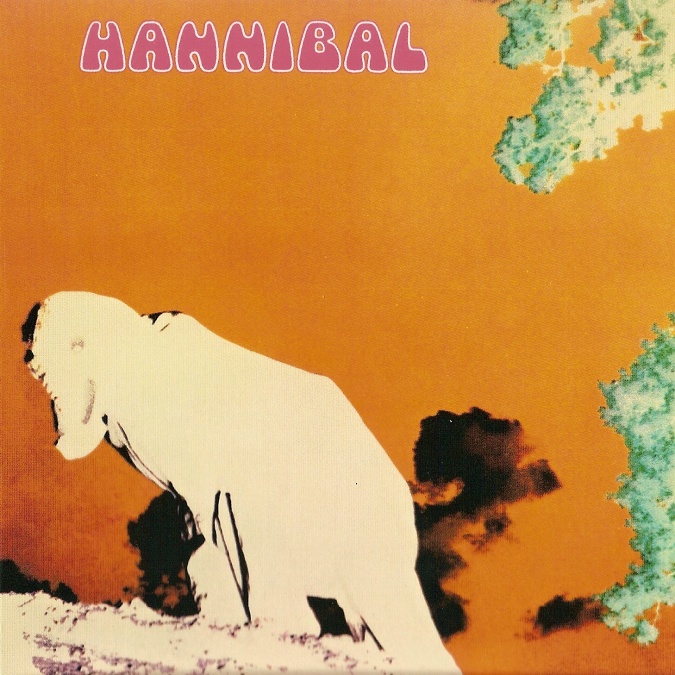 Hannibal
Hannibal
brass rock, jazz rock, hard rock
B&C Records
1970
LP, CD
6