Gary Lucas je americký skladatel, zpěvák a kytarista, který už spolupracoval s mnoha hudebníky, např. s Captainem Beefheartem. Um jeho hry na kytaru je nesporný, proto jsem se v roce 2014 zvědavě těšil, až si poprvé poslechnu CD Other World, album skladeb, které zkomponoval s Peterem Hammillem. I když matematicky přesnější by asi bylo uvést Hammilla na první místo – album, které Peter Hammill nahrál a složil s Gary Lucasem. 
A dočkal jsem se věru překvapení. Peter Hammill nebyl nikdy (při vší úctě, kterou k němu chovám) virtuózní hráč na hudební nástroje, byl a je to především vynikající skladatel podepisující se mimo jiné nekonvenční strukturou svých skladeb a je vynikající textař/básník (a ano – také samozřejmě zpěvák). Tento "handicap" je zcela vyvážen právě Lucasovou přítomností a jeho profesionálně zvládnutou hru na kytaru.
Přímo psychedelický opar se nad Hammillovými alby příliš často nevznáší, je částečně přítomen v první fázi existence jeho legendární skupiny Van der Graaf Generator. A po desce H to He, Who Am The Only One z roku 1970 si troufám říct, že toto je nejvíce psychedelická nahrávka Petera Hammilla! Z roku 2014 (kdy vyšla, nahraná byla v roce 2013). Dalo by se o tom samozřejmě polemizovat, ale já to prostě takto cítím. Byl jsem z toho hodně příjemně překvapený.
Album je nečekaně hudebně pestré. Kytary sice jasně dominují, ale apokalyptické zvuky deformovaných kláves stojí opravdu za to. Skoro každá skladba je jiná a nepodobá se předcházející. Máme zde úvodní skladbu Spinning Coins, což je pastorálně klidná balada nesoucí typický Hammillův rukopis. Také zde máme ale skladby a pasáže, které připomínají psychedelické jamující Pink Floyd 66-67 nebo ztřeštěné instrumentálky Rona Geesina (kdo zná jeho album s Rogerem Watersem Music From The Body, ví, o čem mluvím). Album uzavírá elektronická instrumentálka plná vzdušné atmosféry, Slippery Slope, zajímavá nehammillovská věc, kterou byste čekali spíš na albu Briana Ena nebo Klause Schulzeho. Na albu je také slyšet řada, jak to nazvat, zvuků, o kterých nemáte absolutně páru, jak vznikly, z jakého nástroje nebo odkud vůbec pocházejí. A lakonická CD brožurka vám toho také moc neprozradí. Potvora jedna.
Shrnuto – toto je poctivý, moderní progrock, bez komerčního kalkulu, bez nostalgických návratů a lacině líbivých nápodob let sedmdesátých. A stále je v tom Nápad. A je v tom taková ta lehká příměs šílenství, která provází všechna výborná alba Petera Hammilla / Van der Graaf Generator. Navíc je tady kromě špetky jazzu přítomná i trocha blues (díky hře Lucase), což je také na Hammillově albu něco výjimečného.
Dávám zasloužené čtyři a půl hvězdičky.

Dodatek: Je fajn mít dané CD v originále, protože v brožurce se i přes onu lakoničnost lze dočíst pro fandy Petera Hammilla potěšující fakt, že Gary Lucas sleduje Hammillovu tvorbu už od prvního alba VdGG Aerosol Grey Machine z šedesátých let.
Postskriptum: Právě si čtu rozhovor s Peterem Hammillem v době vydání alba Other World. V článku je zmíněno, že se jedná o album Garyho Lucase, který dlouhodobě obdivuje Petera Hammilla, a Petera Hammilla, který ale nikdy nebyl vyložený fanda Captaina Beefhearta. Peter Hammill říká (cituji): "Full respect to Don, of course, but I wouldn't say I was a *fan* exactly. I'm not, actually, much of a fan of anyone." To je typický Peter Hammill: slušnej, vtipnej, ale nekompromisní.
SKLADBY:
01. Spinning Coins (2:54)
02. Some Kind Of Fracas (5:14)
03. Of Kith & Kin (5:30)
04. Cash (2:57)
05. Built From Scratch (4:25)
06. Attar Of Roses (4:20)
07. This Is Showbiz (3:05)
08. Reboot (6:55)
09. Black Ice (4:59)
10. The Kid (4:16)
11. Glass (3:27)
12. 2 Views (3:07)
13. Means To An End (1:38)
14. Slippery Slope (7:04)
SESTAVA:
Peter Hammill – vocals, acoustic & electric guitars, samples
Gary Lucas – acoustic & electric guitars, Fx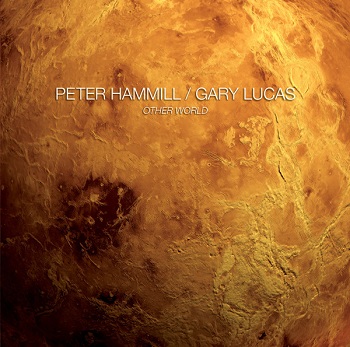 Other World
Peter Hammill / Gary Lucas
Prog Rock
Esoteric Antenna
2014
CD
14