V roce 1989 natočil Peter Hammill své další řadové album. Celá nahrávka nám nabízí Hammillův nezvykle neexpresivně utlumený hlasový projev, což ale vůbec není na škodu. A subtilní je projev i jeho doprovodné kapely, kterou tvoří mimo jiné vandergraafovský baskytarista Nic Potter a vandergraafovský saxofonista David Jackson.
První píseň se jmenuje Evidently Goldfish. Málokoho by asi napadlo, že tuto píseň napsal Hammill už v roce 1967(!) a hrával ji se svou kapelou Van der Graaf Generator v letech 1967-68 pod názvem Kandahar. Docela by mě zajímalo, jak tehdy zněla, protože na tomto albu zní tak, že je vám samozřejmě jasné, že se pohybujeme v osmdesátých letech.
Na klávesách založená skladba Our Oyster je typický Peter Hammill se silnou, posmutnělou melodií. No, není se čemu divit, píseň je o tehdejším masakru na náměstí Nebeského klidu v čínském hlavním městě Pekingu.
Intimní balada Something About Ysabel's Dance rozhodně osmdesátá léta nepřipomíná, je to jen Hammill s kytarou, výrazně a zároveň citlivě doprovázený houslemi Skota Stuarta Gordona. Paradoxně je tato skladba… no nechám promluvit samotného Petera Hammilla: "´Ysabel´ was also the first digital recording I made."
Pokojné vody rozfouká dravě rocková skladba Green Fingers s řádícím saxíkem Davida Jacksona. Pěkná skladba. Ale ty bicí! Ten ostře kovově řezavý zvuk (takový ten tvrdý, odražený zvuk nebo jak ho popsat), který mi znechucuje tolik jinak i třeba dobrých nahrávek z osmdesátých let minulého století (např. deska Radio K.A.O. S. od Rogera Waterse). Uf, ten zvuk bicích fakt nedávám.
Jednoznačným vrcholem alba je závěrečná skladba A Way Out. Opravdu nádherná věc, plná emocí a hrozně smutná. Klávesy i kytary se zde navzájem procítěně doplňují. Text jsem zpočátku nechápal – ke komu to Hammill promlouvá? "…mimo dosah celé rodiny, všech přátel…" Celkem upovídaný Peter Hammill se nikdy o této své skladbě nechtěl bavit a rozebírat ji… Už nějaký rok vím proč. Skladba je o sebevraždě Hammillova bratra, který trpěl depresemi…

Sečteno a podtrženo, je to určitě lepší album než předcházející sólo nahrávka In a Foreign Town. Orchestrální aranže zde znějí lépe než např. samplované lesní rohy na In a Foreign Town. Ovšem Peter Hammill má na kontě lepší alba. Tři a půl bodu z pěti zaokrouhluji nahoru. V porovnání s tím, co v podobné době vydal třeba David Bowie, Robert Plant nebo Le Orme, je to stále nadstandardně parádní muzika, která mě baví.
SKLADBY:
1. Evidently Goldfish (5:02)
2. Not The Man (4:23)
3. No Moon In The Water (4:35)
4. Our Oyster (5:33)
5. Something About Ysabel's Dance (5:31)
6. Green Fingers (4:35)
7. On The Surface (8:14)
8. A Way Out (7:16)
SESTAVA:
Peter Hammill – vocals, guitars, keyboards, producer
+
John Ellis / guitar (1,7)
Stuart Gordon – violin (5)
David Jackson – saxes (3,6)
Nic Potter – bass (3,6)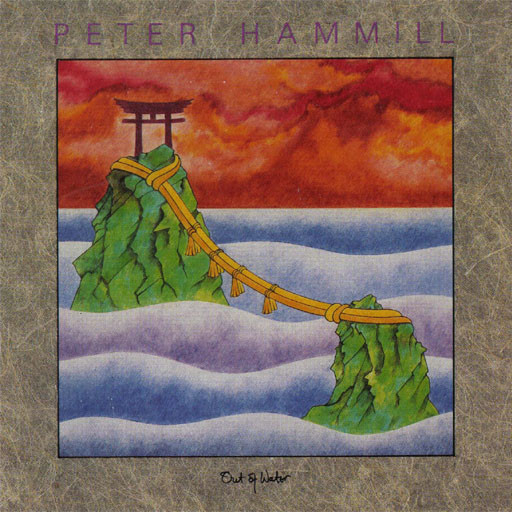 Out Of Water
Peter Hammill
Prog Rock
Enigma
1990
LP, CD
8