Peter Hammill se na výborném koncertě v Union Chapel (plném hudebních raritek a neprofláklých kousků) sešel (po nějaké době) mimo jiné se všemi kolegy z Van der Graaf Generator a asi si zase padl do oka i s Hughem Bantonem, protože on je tentokrát tím z VdGG, který album Everyone You Hold lehce koření svým nicméně nezaměnitelným způsobem. I když zejména – slyšitelně jen ve skladbě Bubble. Není tu saxofonista David Jackson, doprovázející jinak velkou řadu Hammillových alb, naopak Hugh Banton se na Hammillově sólovce objevuje po docela dlouhé době. Ale potěší to. Možná to byl záměr a skladba Bubble tak získává téměř van der graaf generátorskou povědomě vášnivou, dramatickou atmosféru a vybočuje tak z jinak klidného toku ostatních baladických písní. Všechny ostatní skladby jsou totiž neagresivně křehké (asi i díky tomu je to jedno z mála CD od Petera Hammilla, které skousla i moje žena ;-), vybouřená melancholie nad nimi tancuje s krásou jak dvě na sebe pomrkávající víly, co se znají už hodně dlouho… Hmm, snad to nezní nějak blbě…
Atmosféra je až povznesená; vyzrálá, jemná, teplá, romantická: hned v úvodu "everyone you hold / takes a piece of you away", ale posmutnělá… jak už to u Petera bývá… Peter Hammill klidně střídá kytary a klávesy (dostávající víc prostoru oproti kytarám), tu podpořen citlivými houslemi Stuarta Gordona (Nothing Comes), tu sopránovými hlasy jeho dcer (Phosphorescence)… Skladbami navíc občas probublá i moderně ambientní atmosféra a člověk si tak uvědomí, že neposlouchá sedmdesátá léta… Všudeprosakující melancholie způsobuje, že album nelze odpískat jako příliš klidné, stojaté vody – což je mimochodem zajímavý a pravdivý postřeh, který jsem objevil na progarchives.com.
Pokud neznáte, tak tuto introspektivní kolekci skladeb doporučuji všem, kteří mají rádi třeba Anthonyho Phillipse, Renaissance, Davida Gilmoura… Není to bouřlivě šílené, rockově dravé (tak jako třeba výše zmíněný Union Chapel Concert (1997), jenž vyšel na 2CD – Hammill na něm, když se dostane ke kytaře, zní spíš jako Jimi Hendrix), ale své kouzlo to bezesporu má. Jako i jiná, podobná alba tohoto svérázného hudebního solitéra (např. And Close As This, Fireships, None Of The Above). Ale své kouzlo konec konců mají i Peterova jiná, úplně jinak znějící alba ;-).
Závěrem bych chtěl shrnout/dodat, že: Rozhodně se nejedná o album "holých" skladeb ve stylu samotný Hammill se svou kytarou/samotný Hammill u kláves… tak, jak tomu bývá na některých Peterových albech. Upřímně řečeno jsou pak takováto… zvukově bohatší alba mnohem lépe poslouchatelná/skousnutelná i pro ne hardfandy Petera Hammilla.
Subjektivně za maximálních pět hvězdiček, ale v porovnání se zlatými sedmdesátými léty plnými vodíku v heliu a zastavených srdcí přece jen musím jednu ubrat.

P. S.: Hudbu poslouchám především kvůli hudbě; přiznám se, že text u cizojazyčných kapel, byť sebekvalitnější, většinou trochu přehlížím, také nejsem profík na angličtinu (nebo cizí jazyky obecně)… Ale přesto mě nepřestává fascinovat Hammillovo básnické vyjadřování – některé obraty jsou jednoduše úžasné a i vytržené z nejednoznačného kontextu probouzejí, těší a dráždí Vaši/mou fantazii; např. z tohoto alba: "…and our bones become the coral of the future…" – "naše kosti se stávají korály budoucnosti"… výborné…
SKLADBY:
1. Everyone You Hold (5:59)
2. Personality (6:04)
3. Nothing Comes (3:56)
4. From The Safe House (6:13)
5. Phosphorescence (5:12)
6. Falling Open (6:14)
7. Bubble (6:30)
8. Can Do (6:49)
9. Tenderness (4:51)
SESTAVA:
Peter Hammill – vocals, guitars, keyboards, bass, arranger & producer
+
Hugh Banton – organ (2,7)
David Lord – keyboards (1)
Stuart Gordon – violin (3,5)
Manny Elias – drums & percussion (2,5,8,9)
Holly Hammill – soprano backing vocals
Beatrice Hammill – soprano backing vocals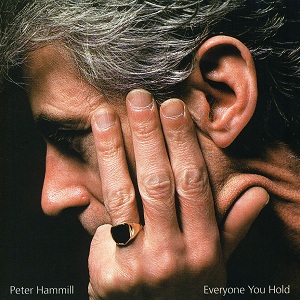 Everyone You Hold
Peter Hammill
Prog Rock
Fie! Records
1997
CD
9