Tohle berte jako mojí fantazii…
Před Vánoci roku 1968 se u nás schylovalo k těžké normalizaci poměrů. Rusáci se usazovali ve vojenských prostorách po celém tehdejším Československu a v Los Angeles se Don Van Vliet pohádal s Bobem Krasnowem, takto producentem LP Safe As Milk a Strictly Personal. Proto se obrátil s produkcí svého nového alba na bývalého spolužáka Franka Zappu.
Frank tehdy pracoval na své sólovém díle Hot Rats a okamžitě použil Dona ke zpěvu v písni Willie The Pimp. Práce na novém albu byla místy nezáživná, a proto si pozvali pro obveselení několik slečen (Miss). Jedna z nich, Miss Christine, nafotila snímky, které Zappa použil na titulní stranu obalu desky Hot Rats. Myslím, že to byl taky jeho nápad nahrát desku, kde by učinkovaly přítomné slečny za podpory hudebníků z Mothers Of Invention a Magic Bandu. Výsledek si můžete poslechnout na albu Permanent Damage (stálá porucha).

Děvčata jsou uvedena pod přezdívkami Miss Christine, Miss Mercy, Miss Cinderella, Miss Pamela, Miss Sandra. To, co vzniklo, připomíná desky Mothers Of Invention. Úseků, které by se daly nazvat písněmi, je jen několik, zbytek jsou rozhovory děvčat mezi sebou, telefonování a podobné legrácky. Z celé desky je cítit, že se učinkující velmi dobře baví.
Úvodní skladba The Eureka Springs Garbage Lady je velice podobná písním na albu We're Only In It For The Money. Jak by ne, vždyť ji složil Frank Zappa a hrají tam hudebníci z Mothers Of Invention, v čele s Ianem Underwoodem a Indiánem skupiny, Jimmy Carl Blackem. Píseň zvolna přejde do rozhovoru Miss Pamely a Miss Sparky o vycpaných podprsenkách. Následuje další infantilní žvanění děvčat, mimo jiné, o Beatles a Rolling Stones. Neumím tak dobře anglicky, abych rozuměl, o čem je řeč. Nejspíš to bude o sexu, který by se jim asi líbil s George Harrisonem, nebo Brianem Jonesem. Píseň Do Me In Once And I'll Be Sad, Do Me In Twice And I'll Know Better (Circular Circulation), zpívaná Sandrou, se mi líbí, stejně jako závěrečná vícehlasá I'm In Love With The Ooo-Ooo Man, kterou složila Pamela s Davy Jonesem. Na We're Only In It For The Money hraje jako host Eric Clapton, v písni The Ghost Chained To The Past, Present, And Future (Shock Treatment) Jeff Beck.
Když poslouchám tohle album, tak si připadám, jako bych poslouchal něco od Mothers Of Invention. Mám rád skoro všechno u čeho se pohyboval Frank Zappa, jeho invence a cit pro hudbu se většinou přenesli i do daného díla. Když mám hodnotit tuhle desku, tak jí ze svého pohledu dám čtyři hvězdičky.
SKLADBY:
01.The Eureka Springs Garbage Lady 3:45
Bass Guitar – Roy Estrada, Drums – Jimmy Carl Black, Guitar – Jeff Beck, Keyboards – Craig Doerge, Ian Underwood
Written-By – Craig Doerge, Cinderella, Nicky St. Nicholas
02. Miss Pamela And Miss Sparky Discuss Stuffed Bras And Some Of Their Gym Class Experiences 1:26
Written-By – Miss Pamela, Miss Sparky 1:26
03. Who's Jim Sox? 1:01
Written-By – Miss Christine, Cinderella, Sandra 
04. Kansas And The BTO's 1:13
05. The Captain's Fat Theresa Shoes 1:57
Bass Guitar – Roy Estrada, Drums – Jimmy Carl Black, Keyboards – Craig Doerge, Ian Underwood
Written-By – Miss Christine, Davy Jones, Cinderella, Miss Pamela, Sandra, Sparky 
06. Wouldn't It Be Sad If There Were No Cones? 1:11
Written-By – Miss Pamela, Sparky 
07. Do Me In Once And I'll Be Sad, Do Me In Twice And I'll Know Better (Circular Circulation) 2:19
Producer – Lowell George, Guitar – Lowell George
Written-By – Lowell George, Sandra 
08. The Moche Monster Review 1:45
Written-By – Miss Pamela, Sparky 
09. TV Lives 0:57
Synthesizer – Don Preston
Written-By – Miss Christine, Don Preston 
10. Rodney 3:41
Voice – Rodney Bingenheimer
Written-By – Miss Christine, Miss Lucy, Cinderella, Miss Pamela, Sandra, Sparky 
11.I Have A Paintbrush In My Hand To Color A Triangle (Mercy's Tune) 2:11
Guitar – Ry Cooder, Producer, Written-By – Lowell George,
Written-By – Mercy 
12. Miss Christine's First Conversation With The Plaster Casters Of Chicago 0:57
Voice [Uncredited, On Telephone] – Cynthia Albritton 
13. The Original GTO's 1:06
14. The Ghost Chained To The Past, Present, And Future (Shock Treatment) 1:45 
Bass Guitar – Roy Estrada, Drums – Jimmy Carl Black, Guitar – Jeff Beck, Keyboards – Craig Doerge, Ian Underwood, Piano – Nicky Hopkins, Vocals – R.S.
Written-By – Mercy, Cinderella 
15. Love On An Eleven Year Old Level 1:18
Written-By – Miss Christine, Cinderella, Miss Pamela, Sandra, Sparky 
16. Miss Pamela's First Conversation With The Plaster Casters Of Chicago 1:31
Voice [Uncredited, On Telephone] – Cynthia Albritton 1:31
17. I'm In Love With The Ooo-Ooo Man 3:24
Bass Guitar – Roy Estrada, Drums – Jimmy Carl Black, Keyboards – Craig Doerge, Ian Underwood, Tambourine – Frank Zappa, Written-By – Davy Jones, Miss Pamela 3:24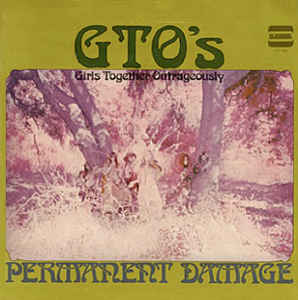 Permanent Damage
GTO's
Psychedelic Rock, Avantgarde, Experimental
Straight
1969
LP
17