V dnešnej dobe nemožno nezbadať obľubu maistreamových rockerov v psychedélii 60. rokov a hardrocku rokov sedemdesiatych. Všetky tie stonerrockové bandy váľajú jednu neobjavnú dosku za druhou, nech sa snažím, ako chcem, neprepadol som im a to ani v prípade, že si naordinujem hoci bluesové tabletky. Ale občas sa stane, že motyka vystrelí a zjaví sa niečo, čo ma doslova uzemní. Ako v prípade mladej americkej kapely Greta Van Fleet. 
Medzi nami, je to najlepšia súčasná hardrocková kapela. Vznikla v roku 2012 a som si istý, že k jej fanúšikom nepatrí nikto z čelných predstaviteľov slovenskej vlády, nakoľko ju založili traja bratia Kiszkovci. Joshua Michael spieva, Jacob Thomas hrá na gitaru a Samuel Francis obsluhuje basu. Nakoľko sa rodičom nepodarilo zložiť celú zostavu, za bicie si sadol adoptovaný synak Kyle Hauck, ktorý však s kapelou vydržal rok a čosi, už v roku 2013 bol poslaný späť do decáku a do rodiny prikvitol Daniel Robert Wagner, ktorý s kapelou bubnuje dodnes. Kapela sa sformovala v mestečku Frankenmuth v štáte Michigan a v priebehu času si vydobila slušný ohlas (nielen) medzi priaznivcami Led Zeppelin. Prečo?
Povedzme si na rovinu, muzika Greta Van Fleet je akoby pokračovaním raných diel legendárnej kapely, Joshua spieva tak, že ho od Planta nerozoznať, ostatné trio má tiež Led Zeppelin v DNA, a preto sa človek pri počúvaní neubráni dojmu, že počúva nejakú nevydanú raritnú nahrávku Zeppelínov. Kapela tvrdošijne odmieta nahrať regulárny album, nahrala si niekoľko demo skladieb, ktoré nikde nezoženiete. Jedinými oficiálnymi nahrávkami sú dve EP, prvé, Black Smoke Rising, vyšlo v kruto úzkom na jar roku 2017 a šlo ho stiahnuť z oficiálnej stránky kapely. Obsahovalo štyri skladby vrátane singlu Highway Tune. Na CD a vynile sa zjavilo až v auguste. Kapela vyrazila na promo turné, aby si nachystala cestu k debutovému albumu. Namiesto toho vyšlo v novembri 2017 druhé EP, ktoré obsahovalo štyri nové skladby a celé predchádzajúce EP. Osem sviežich kúskov má kúsok cez polhodinu a je to najlepšie strávená polhodina môjho hardrockového života za hodne dlhú dobu.
Pokiaľ si myslíte, že ide o nejaký klon Led Zeppelin, zabudnite! Toto je v podstate reunion s tou výhodou, že hudobníci sú stále mladí. Energia vychádzajúca z muziky je nefalšovaná a neporovnateľná s ničím, čo som mal možnosť zo súčasnej rockovej tvorby počuť. Čo skladba, to perla, čo perla, to extáza. Aby toho nebolo málo, kapela prikročila aj ku coveru jednej folkrockovej klasiky od Fairport Convention – Meet On The Ledge. Spravila to tak, že mi spadla sánka až na podlahu a veľa nechýbalo a vyryla by v nej dieru ako votrelcove sliny. Priznáva originál, ale tam, kde je pôvodný dôraz kladený na folkovú nôtu, nastupuje originálny rockový drajv, skrátka, takto sa robia cover verzie! Ak chcete dôkaz, že dobrá skladba sa neviaže na žáner, tu je.
Zistil som, že kapela aktuálne behá po Európe a v marci bude hrať v Nemecku. Už organizujem rodinnú výpravu, toto musím vidieť na vlastné oči! Zapamätajte si, Greta Van Fleet, o chvíľu to bude "megastár", pri ktorej Black Country Communion vyznieva ako vetchý dôchodca vo víchrici.
Som nadšený.
Skladby:
1. Safari Song 3:56
2. Edge Of Darkness 4:28
3. Flower Power 5:13
4. A Change Is Gonna Come 3:17
5. Highway Tune 3:01
6. Meet On The Ledge 3:50
7. Talk On The Street 4:09
8. Black Smoke Rising 4:21
Zostava:
Joshua Michael Kiszka: spev
Jacob Thomas Kiszka: gitara
Samuel Francis Kiszka: basa, klávesy
Daniel Robert Wagner: bicie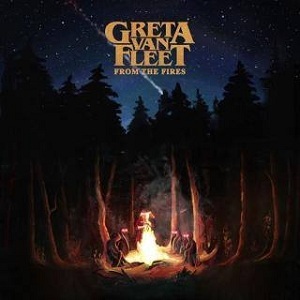 From The Fires
Greta Van Fleet
hard rock
Republic Records
2017
CD
8