Greta Van Fleet, americká hardrocková smršť, ktorá ma tento rok načisto uhranula svojou nekompromisnou energiou, s akou hrá vlastné skladby, ale pritom znie ako to najlepšie od Led Zeppelin, práve teraz vydala svoj debutový album Anthem Of The Peaceful Army.
Za tých šesť rokov, čo kapela obchádza pódiá (a zväčša je aj na nich), si vybudovala postavenie najvernejšej kópie Led Zeppelin. A to, dodal by som, v jej najlepšom a najtvrdšom období 1969-1971. Viem, už som to spomínal a ešte párkrát budem. Po dvojici EP (sumárne vydaných ako From The Fires, 2017) už nešlo cúvnuť a debutový album bol len otázkou času. A tu je!
Najprv mi dovoľte poznamenať, že sa na ňom nachádza desať skladieb v dĺžke trištvrte hodiny, čo je stará dobrá "platňová" dĺžka. Čo ma teší, obsahuje len a iba nové skladby. Otázka, ako dlho dokáže kapela fungovať ako klon Led Zeppelin bez štipky vlastnej tváre, je rovnako zodpovedaná. Práve sa stalo.
Hneď úvodná skladba Age Of Man je na pomery predchádzajúcej tvorby dosť umravnená, pokojná a doplnená o "progresívne" klávesové sláčiky. Ústredná postava je spevák Joshua Kiszka, ktorý na seba chtiac-nechtiac strháva najväčšiu pozornosť. A darí sa mu. Baladická poloha kapele svedčí, na albume je zastúpená prekvapivo často (Watching Over, You're The One, Anthem). "Zeppelínovských" vypaľovačiek sa samozrejme dočkáme. The Cold Wind, When The Curtain Falls je dokonca singlovka.
Osobne ma baví aj poloha, kedy sa od svojho vzoru jemne odklonia, ako v prípade posadenej pecky Lover, Leaver (Taker, Believer) alebo melodickej rockovej záležitosti Mountain Of The Sun. A pod pojmom jemne myslím naozaj iba letmý náznak. Samostatnou kapitolou je vynikajúca ponurá skladba Brave New World, ktorá balansuje na pomedzí balady a parného valca. Do celkového hudobného prejavu vhodne prispievajú aj traja inštrumentalisti (gitara-basa-bicie, ideálna kombinácia) svojimi občasnými vokálmi. Spestrenie núka aj akustická gitara v skladbách You're The One, The New Day a Anthem. Posledná menovaná je opäť vybočením z prevládajúcej "stigmy vzorov" kamsi na hranice popu a country blues.
Najlepšia mladá hardrocková kapela zvládla neľahkú úlohu naplniť očakávania a ešte sa aj posunúť. Obetovala málo. Štipku neuhladenej dravosti v prospech vyzretej produkcie. O albume roka mám jasno.
Skladby:
Age Of Man 6:06
The Cold Wind 3:16
When The Curtain Falls 3:42
Watching Over 4:28
Lover, Leaver (Taker, Believer) 6:01
You're The One 4:25
The New Day 3:44
Mountain Of The Sun 4:30
Brave New World 5:00
Anthem 4:41
Zostava:
Joshua Kiszka: spev
Jacob Kiszka: gitara, vokály
Samuel Kiszka: basa, klávesy, vokály
Daniel Wagner: bicie, perkusie, vokály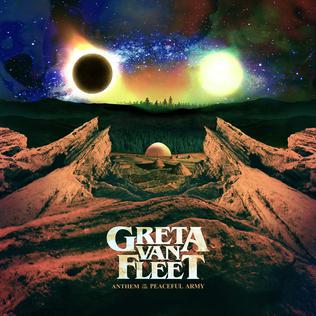 Anthem Of The Peaceful Army
Greta Van Fleet
hard rock
Republic Records
2018
CD
10