Golden Earring, základná kapela holandského (hard) rocku, ma opantávala dlho. Teda, štúdiovo. Koncertne si ma získala od prvého okamihu a dvojalbum Live radím medzi najlepšie koncertné kúsky, aké som kedy počul. 
Dvojalbum obsahuje desať skladieb, pričom najkratšia má päť minúť a najdlhšia takmer dvanásť. Inými slovami, živák ako má byť. A ešte inými slovami, štúdiové verzie dostali slušivý nadrozmerný outfit. Zvuk je pomerne drsný, spevák sa miestami stráca v rachotiacom reve gitár, čo to režú hlava-nehlava. Máloktorý album má tak parádnu živelnú atmosféru, takto to vyzerá, keď sa hard rock hrá na doraz!
Úvodná Candy's Going Bad je dosť prehučaná, ale ako abstrakt toho, čo príde, funguje na jednotku. A hneď to poisťuje rozvláčne poňatá She Flies On A Strange Wings. Mad Love Coming je pre mňa prvým vrcholom albumu. Má bluesrockový nádych, dlho jej dominuje spev za pokojného sprievodu gitary (a jemnej (na pomery albumu) rytmiky), čo sa mi ráta. Je zaujímavé, že celostranový improvizačný kus Eight Miles High koncertne namiesto predĺženia skrátili, takže trvá "len" desať minút a zváračské basové sólo, spolu s bubeníckym, sa nekoná. Skladbe to neublížilo. Záverečná skladba prvého cédečka je božská Vanilla Queen, bez pamätného albumového aranžmánu sa v jej druhej polovici chvíľu čaká, čo bude ďalej, nakoniec do nej vmašíruje gitarové sólo a dôstojne zavŕši skvelú gradáciu.
Čo by to bol za koncert, keby sa v ňom nepropagoval aktuálny materiál? Keďže v roku 1976 kapela vyprodukovala hneď dvojicu albumov, dôjde na titulnú skladbu dosky To The Hilt a dvojicu skladieb z Contrabandu (odtiaľ je aj už spomínaná Mad Love Coming). Všetky tri sú úžasné, príjemné, trošku bluesovo otapetované veci, takže vážne uvažujem o tom, že by som niekedy mohol vyskúšať aj obe zmienené štúdiovky. Už je to tu, ručala svojho času Zóna A, ale nie je to záverečná. Čakanie na Radar Love sa práve skončilo, monštruózna hitovka, erbová skladba Golden Earring, holandského hard rocku a rockovej hudby vôbec, je presne taká, ako si každý fanúšik želá. Bombová! Just Like Vince Taylor už nedokáže túto katarziu prekonať, ako odľahčený záver výnimočného zážitku však funguje na sto percent.
Ako priaznivec živých albumov a gitarového hard rocku sa od tohto "majsterštyku" nehodlám odpútať a pripášem si ho piatimi hviezdami. Lebo medveď.
(upravené, pôvodne zverejnené na progboarde)
Skladby:
01. Candy's Going Bad 5:06
02. She Flies On Strange Wings 8:10
03. Mad Love's Coming 9:53
04. Eight Miles High 10:01
05. Vanilla Queen 11:45
06. To The Hilt 6:55
07. Fighting Windmills 8:26
08. Con Man 9:09
09. Radar Love 11:17
10. Just Like Vince Taylor 6:25
Zostava:
Barry Hay: spev, flauta
Cesar Zuiderwijk: bicie
Eelco Gelling: gitara
George Kooymans: gitara, vokály
Rinus Gerritsen: basa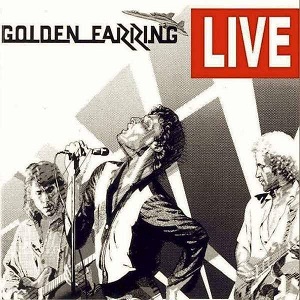 Live
Golden Earring
hard rock
Polydor
1977
LP, CD
10