V roce 1971 probíhaly na hudební scéně paralelně různé pamětihodné revoluce, a tak progresivní soubor, jakým byli GENTLE GIANT, na ně musel reagovat. Cílem bylo vytvořit koncepční album s propojeným příběhem. Myšlenka na koncepci alba vzešla vcelku spontánně z diskuze mezi členy kapely. Ztvárnit životní pouť tří kamarádů, od raného dětství, až po jejich pozdní věk. Sami hudebníci dílo představovali jako rockovou mini operu. Tuto třetí desku nahrávají GENTLE GIANT poprvé v mírně obměněné sestavě, neboť odchází původní bubeník Martin Smith (zemřel ve věku 50 let 2. března 1997 na následky dlouhodobého krevního onemocnění). Nastoupil místo něj pan Malcolm Paul Mortimore (dnes THREE FRIENDS, tedy GENTLE GIANT revival). Ten se však po vydání alba rozsekal na motorce a skupina si místo něj nachází náhradu v Johnu Weathersovi, jenž zůstal v jejích řadách až do konce činnosti.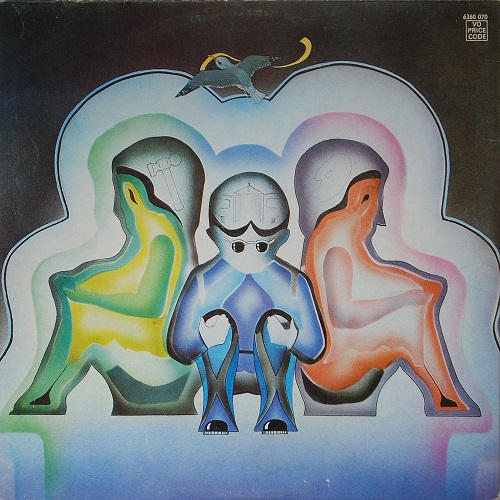 Lze se domnívat, že se do postav tří kamarádů promítly osobnosti tří bratrů Shulmanových. Každý z nich reflektoval něco ze svého ega do fiktivního kamaráda. Je zajímavé, že pozdější životní osudy každého z bratrů celkem souzněly s naznačenou poutí v Three Friends. Jeden byl tvrdě pracujícím dělníkem, a vskutku Phil Shulman se po odchodu z kapely se věnoval hlavně rodině a mimohudební práci. Druhý byl umělcem, a Ray Shulman se po rozpadu GENTLE GIANT věnoval dlouhodobě hudební kariéře. Třetí kamarád se stal úspěšným byznysmenem, a skutečně Derek Shulman se stal později ředitelem Atco Records a RoadRunner Records, měl velký vliv na dění v hudebním průmyslu, vyhledávání nových rockových a metalových talentů a podepisování smluv s nimi.
Obal desky je až hippie psychedelicky barevný, doplněný malůvkami uvnitř rozkládací desky, které vtipně a názorně dokreslují osudy tří kamarádů. Vlastně grafická stránka alba může sloužit jako ilustrace k textům jednotlivých skladeb, a ty se tak ještě lépe vážou na vlastní hudební témata obsažená v kompozicích. Je dosti zajímavé, že původní obal byl proveden pro Evropu, Austrálii a Jižní Ameriku, kde desku vydalo vydavatelství Vertigo. Kdežto v USA a Kanadě deska vychází prostřednictvím Columbia Records, front cover je zde barevně pozměněný převzat z debutu Gentle Giant, s doplněným nápisem "Three Friends" v jakémsi divném švabachu na vysokém čele Něžného Obra. Legrační, navíc toto rozporuplné ztvárnění se projevilo i na pozdějších CD edicích, takže neznalý posluchač mohl být poněkud zmaten.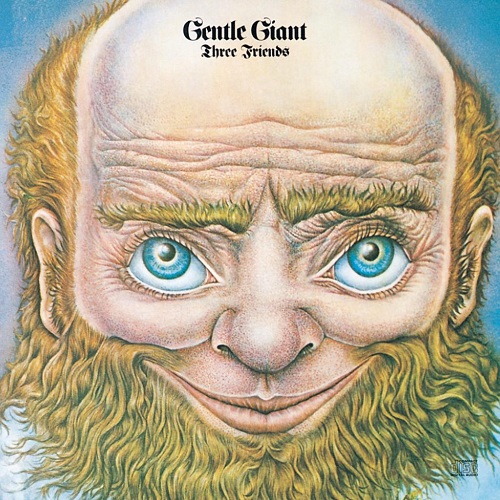 Zvuk je skvělý, barevný a plastický, plný detailů. Každá skladba má svůj zvukově originální charakter, pokaždé se dá kochat vykresleností produkce, kterou si poprvé zajišťovala skupina sama. První dvě desky jim produkoval Tony Visconti známý z prací na albech T.REX, a především z dlouhodobé spolupráce s Davidem Bowiem. Jako autoři každé skladby jsou uvedeni všichni bratři Shulmanové a Kerry Minnear. Album Three Friends se i před rozporuplný obal poprvé prosadilo i žebříčku v USA, kdy se dostalo na 197 příčku, což je u takto provedené muziky skoro zázrak.
Vlastní hudební náplň vnímám jako pokračovatele Acquiring The Taste, ve smyslu mírného rozvíjení a modifikování, v rámci již nastíněného. A také jako vstřebávání hudebních inspirací a tendencí na tehdejší UK scéně. Pětatřiceti minutová nahrávka je rozdělena do šesti skladeb. Hned první skladba Prologue, to jsou YES v období The Yes Album a Fragile. Hlavně klávesy a zurčení rychlých přestřelek motivů s pěkně modulovanou basou, cítím je tam úplně hmatatelně. Skladba je převážně instrumentální, jen se krátce představí úvod příběhu, kdy je nám sděleno, že se budeme bavit o třech kamarádech. Provedení typických vícehlasých harmonií je uvolněně hravé a odlišuje kapelu od všeho ostatního, co se v tehdejší muzice dělo. Celkově se v kombinování motivů skrývá kouzlo skladby, protože se vynoří tu jeden, tu druhý, tu třetí, všechno v rychlém sledu, až přebíhá sluch. Platí to, co jsem psal o minulé desce, nejde o samostatná dlouhá sóla, spíše o kooperaci mezi jednotlivými instrumenty, jejich vynořování, zanořování, proplétání.
Ve druhé skladbě Schooldays je všechno jinak a tady vidím průběh vývoje kapely. Více separované jednotlivé nástroje, typicky mňoukavé klávesy, vibrafon, přestřelky mezi vokály, slyším tam motiv ze školní písničky, perkuse, všechno v perfektní shodě a zároveň opozici, což vytváří dramatické napětí. Vynikající Mellotron se mihne, klavír, ta pestrost je nezměrná až ochromující, a ve druhé polovině se skladba přelamuje do tajuplnější atmosféry, uslyšíme tam v pár verších hlásek malého syna Raye Shulmana jménem Calvin. Závěr skladby je nesmírně silný, jak opouští hravost a spíše vzpomíná, ta jímavá nostalgie a sentiment po ztracených časech rezonuje s úplným závěrem desky. Tolik proměn na pár minutách. Ve chvíli, kdy máš pocit, že je toho dost, rozjede se naprosto fantastická instrumentální pasáž s vibrafonem a basou, aby skladba doběhla ke svému závěru.
Třetí kompozice Working All Day mi stylově připomíná Wreck ze dvojky. Takový skoro hard rock s jasně prezentovaným unisono vokálním tahem, skoro by se dalo říci refrénovým. Osvěžující jsou saxofonové laufy, dávají skladbě Krimsonovské charisma trombónů. Vůbec je tento song mírně se odlišující od zbytku desky, ve smyslu klasické dravé rockovitosti. Ostatní písně jsou více filigránské, tady se jde kupředu více těžkotonážně, což krásně potvrzuje Hammondové sólo. Ano, na této desce se jede i na sóla a ohromně to Obrům svědčí.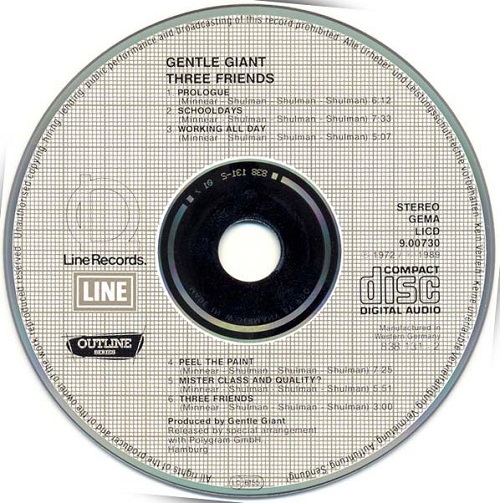 Tajuplná zahrada tónů divukrásně rozkvétá ve sklabě Peel The Paint. Pro mě osobně je to asi nejvíce fascinují kousek z této desky. Díky poměrně masivnímu podílu houslové hry evokuje klasickou hudbu, kterou nakopne hrubozrnným kytarovým atakem s křičeným zpěvem a agresivními klávesami. Pulsující skladba s ohromnou dynamikou, jak zvukovou, tak emocionální. Chvilku tě přišlápne k podlaze, chvilku přimáčkne ke stropu a pak tě sežvýká pomocí dlouhého fuzzy drásavého kytarového sóla, za kterým víří šamanské bubny. Parádní porce muziky.
Song Mister Class And Quality? vypráví o nejbohatším z kamarádů, který má velký dům a atraktivní ženu. Je to taková eklektická skladba, ať už to znamená cokoli. Odlehčená, přemítavá konstrukce s rozbíhavými motivy až někam do jazzrocku. Ano, zase to kytarové sólo, plus klávesy, to je mazec! Přechází organicky do závěrečné krásné titulní písně, která je definována pastorálním klávesovým motivem a vznešeným zpěvem jako z anglikánského obřadního chorálu. Text je v ní opět kratičký a jde o rozloučení s příběhem našich tří kamarádů. Posmutnělé a vážné zakončení, v protikladu s rozradostněně potřeštěnou první polovinou. Uzavření hudebního zážitku, co ve mně dlouhé minuty ještě doznívá.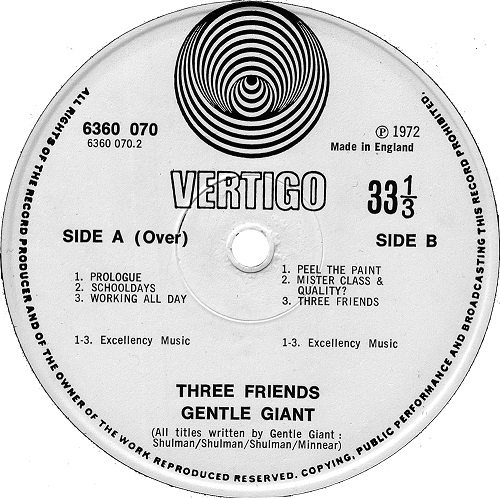 GENTLE GIANT na této desce zůstávají věrni svému krédu dělat muziku nepopulárně. Až se jim nakonec dostalo popularity tím, že jsou jiní. Tady opět ukázali, jak se dá antikomerční hudba dělat se spoustou přítulnosti, hlubokovýznamnosti, souznění a dojemné výpravnosti. Je to kolekce dílků, ze kterých je složena povídka, co nikdy neomrzí. Dá se vracet a opakovat, pořád a pořád. Zase jedna z těch desek, co totálně definují hudební poznání. Těch není nikdy dost.
01. Prologue – 06:12
02. Schooldays – 07:33
03. Working All Day – 05:07
04. Peel The Paint – 07:25
05. Mister Class And Quality? – 05:51
06. Three Friends – 03:00
Total 35:07
Dynamic range – DR12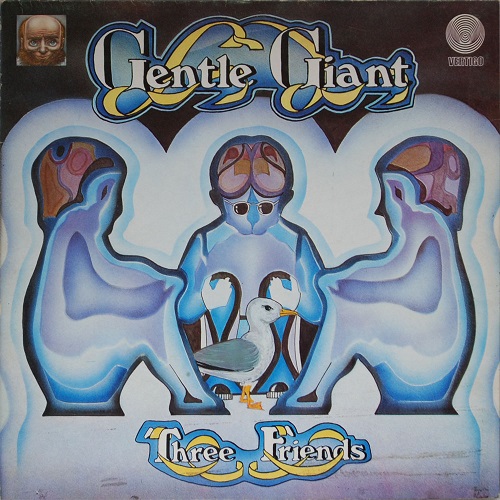 Three Friends
LICD 9.00730 O
Gentle Giant
Art Rock
Line Records 1989
1972
CD
6