Tak copak si na nás tentokrát hoši od Obří řeky připravili? Achjouíííouvej!!!
Švédský režisér Ingmar Bergman natočil roku 1972 legendární film "Šepoty a výkřiky". Já jsem při poslechu tohoto alba na tom stejně. Dostávám ze sebe jen ty nevěřícné šepoty a extatické výkřiky. Půl na půl, na hraně ostrého nože se mísí dojetí a zběsilost. Nikdy, z žádné jejich desky, jsem necítil tolik žahavé energie, tvůrčího úsilí, usebrané zavilosti, cíleného ohňostrůjství. Splašený metač muzikálních nápadů se vymknul době z kloubů a nasázel devět pekelných metelic pěkně vedle sebe. To mě po*er.
Přímočaré kyselinově sirnaté rockecy Two Weeks In Spain a Betcha Thought We Couldn't Do It musely sestřelit ze židle všechny pidlikofily. Dávivý soulový Maelström s babskými sbory v Mountain Time smete všechno a všechny. Rozemele. Rozmašíruje na cucky a s nimi pak nacpe hlavně všech svých kanónových baterií. Až do předposledního Winning-u pálí na všechny strany o sto šest. Krychloidně ostrohranné explozivní projektily. Aby v poslední For Nobody řekli, kdo to dá na první dobrou, pro koho tato nálož třaskavin třaská.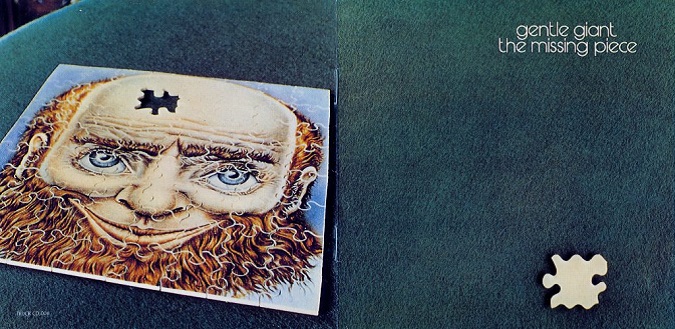 Skoro celá deska je James Brownovský soulový nátěr s energií bušící do nebeských vrat, co se propasírovává celou touhle deskou. Ale třeba Memories Of Old Days připomíná FRUUPP, nesmírně hladivá krása s píšťalkami, co trvá víc jak 7 minut. Jinak, všechno to odeřve Derek, jen v As Old As You're Young se na chvilku objeví Kerry, a je to hezký, fňuk. Taky fuňky, kuňky, žbluňky. Jsou to ONI, velcí sloni, veleobři, a jsou sakra dobří. Básta!
Vpadli do neklidných vod potřeštěných feérií. Na co si hraje obr v šaškovské čepici? Na taškařici, co jde ruku v ruce s nostalgií. Možná není tak ryze artově krásná, možná není tak vznešená. Určitě není klasická v GENTLE GIANT slova smyslu. O to je s ní větší sranda.
Nabroušený zvuk se společně s razancí muziky vypaluje v mozku. Ostrý jako extrakt z těch nejpálivějších feferonek, doladěný žiletkami. Musel jsem si přenastavit Hi-Fi, abych pak pod bednama nesbíral odřezané kusy svého bídného já.
S upřímnou radostí desku opakovaně poslouchám a strašně, ale fakt jako strašně moc mě baví. Ten pocit "baví", je nejvíc. Nic jiného není důležitější. Popravdě, užívám si to jaxviňa. Furtdokola. Ty vole, a co jako má bejt. Snad jsem se úplně pomátnul, ale tohle je naprostá bomba, kterou GENTLE GIANT museli udělat, aby završili svůj progres.
Něco málo ubrali, nemáme šmidli šmidlu, ani tratatatáá, ale hodně přidali. Co přidali? Přidali páru, plyn, turbo, forzáž, oxygen, tlak, sprint, drajv, šmak, smršť, i lučavku královskou, se kterou všechny v tyglíku světového rocku do zbla rozežrali. Včetně m.ň.é.
Jedna z nejlepších desek vyskrbleného roku 1977. Takových byla jen hrstka.
Díkec.
01. Two Weeks in Spain – 03:08
02. I'm Turning Around – 04:01
03. Betcha Thought We Couldn't Do It – 02:26
04. Who Do You Think You Are? – 03:36
05. Mountain Time – 03:34
06. As Old As You're Young – 04:23
07. Memories Of Old Days – 07:19
08. Winning – 04:19
09. For Nobody – 04:05
Total 36:40
Dynamic range – DR13
The Missing Piece
TRUCK CD 006
Gentle Giant
Art rock
Terrapin Trucking (UK 1993)
1977
CD
9