Kolečko poslechu GENTLE GIANT se dokutálelo k jejich osmé studiovce s názvem In'terview. Zde mělo údajně začít povrzávat, skřípat a drhnout. Prý. Povídali to. Vrány zakrákaly. Pši zaštěkali. Publicisté napsali. A někteří hudby uživatelé tomu uvěřili. Neboť, psané slovo je přece víc, než vlastní názor. Je-li tento vůbec přítomen. Vždycky tady byli chytrolíni, kteří řekli, co se nám má líbit, a co ne. A vždycky tady bylo dost hloupolínů, kteří to jásavě přijali a horlivě šířili. Byli ochotni pro tuto ideologicky vštípenou pravdu táhnout do boje a ve svaté válce potírat všechny, co si zachovali vlastní úsudek a zdravý rozum především. Hm, což neplatí jen pro muziku. Tak raději zpátky k ní. Říká se, když řinčí zbraně, múzy mlčí. Nemyslím si, že by to byla úplně pravda, ale pro jistotu.
Naštěstí jsem si desku In'terview pořídil pradávno, kdy panovalo internetové informační vakuum (a v Melodii o nich nepsali), nemusel jsem tedy čelit ani podprahově nějakým doktrínám. Mohl jsem se plně oddat poslechu, svému vlastnímu posluchačskému cítění a jeho vývoji. "Dyk je to dobrý", jsem si řekl hned napoprvé, jat mírnou obavou, která plynula z roku vydání. V té době se u zavedených jmen dalo vstoupit do nepopsatelného popího lejna, tak jsem byl raději obezřetný. CD patřilo mezi hojně poslouchané a v této recenzi má možnost prokázat svoje kvality v rámci řazení v chronologii studiových zářezů skupiny.
GENTLE GIANT naštěstí i v tehdejší vykolejené době mohli stále tvořit podle své vlastní chuti. Druhá deska pod značkou Chrysalis kompletně vznikala v průběhu čtyř týdnů v únoru a březnu 1976. Během nahrávání byli ve velkém časovém presu, prožívali hektické období cestováním a koncertováním po úspěchu Free Hand, a na přípravu nové nahrávky neměli vůbec prostor. Všechno šlo za pochodu. Psaní skladeb, následné zpracování jednotlivými členy, záznam stop, jejich mix a produkce, to vše probíhalo rychle a intenzívně. Sami říkají, že potřebovali být pod tlakem, aby se jim dařilo dělat ty nejlepší věci. Také říkají, že by takový nápor práce nebyli ochotni absolvovat pro nic jiného, než pro GENTLE GIANT. Zřejmě i proto se po rozpadu skupiny z jejích členů dlouho k nahrávací aktivitě nikdo neodhodlal.
Album je napůl koncepční. Na jeho ploše si lze povšimnout útržků imaginárního rozhovoru mezi novinářem a skupinou. Konkrétně se objevují na začátku i na konci (kde na některých CD vydáních chybí), a také před skladbami Design a Timing. Role reportéra kladoucího ty nejbanálnější otázky ("Dva Shulmanovi? Jsem nevěděl, že jste příbuzní") se ujal velký obdivovatel a přítel kapely, spisovatel a publicista Phil Sutcliffe (mimo jiné napsal knihu Queen: The Ultimate Illustrated History of the Crown Kings of Rock 2009). Názvy skladeb jsou pak koncipovány jako možné odpovědi na otázky, a tak lze jeho provedení chápat jako svéráznou metodu a formu interview.
Ačkoli to nemohli vědět, deska zní, jakoby hudebně využili všechny možnosti při poslední příležitosti udělat čistě artové dílo. Jakoby vyhrabali ze všech zasutých paměťových zákrutů ty nejopečovávanější nápady a motivy, vyložili je před sebe a udělali z nich naposledy rozrušující skládačku z mnoha vrstev, dílků, linek a motivů. Jejich hravost je tu ještě více hravější, rozpustilejší a bezstarostnější. Úplný kontrast ke skutečné atmosféře, která je ždímala během nahrávání. Anebo možná logický důsledek, kdy se z jejich talentu podařilo vyzískat maximální výsledek. Tak jako tak, je to ohromující. Při dalších a dalších posleších se stále více a hmatatelněji projevuje vrcholná úroveň této desky. Zase se budu opakovat, ale je až dojemně krásná.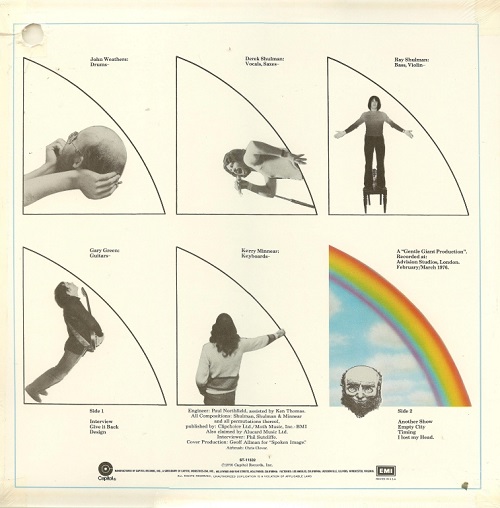 Najdeme tu nespočitatelné kvantum jemných melodických výšivek trhaných a rozbíjených jednotlivými rytmickými divočinami. Tyto obrazy nejsou malované spořádanými tahy štětce, zde se někdo rozmařile vyžíval v pestrých cákancích a stříkancích, kropením a odkapáváním z pipet, sypáním duhových kuliček i ostrých střípků, vrháním různobarevných konfet, i rozsypáváním obsahu kořenek, které mu zrovna padly pod ruku. Řízený chaos pod taktovkou cvaklých principálů. Čirá radost, opět a zas. Mám z této desky tak bytostně pozitivní pocit, jako při čtení potřeštěné staromódní pohádky. Ani nevím proč, ale je to prostě tak. Oproti tomu si lze také povšimnout, že album je mírně nástrojově úspornější, hodně velkou roli mají klávesy a perkuse, sem tam kytara, ale neuslyšíme skoro žádné smyčce, ani dechy. To, co se jim podobá jsou zase právě ty klávesy. Avšak vlastní prokomponovanost a rozmanitost ztvárněných skladeb tím nikterak neutrpí. Deska je účinná a přesvědčivá, jako málokterá jiná. "Když bylo nahrávání dokončeno, Kerry si všiml, že na albu nejsou žádná violoncella, flétny, rekordéry ani vibrafony. "Možná je to rock 'n' roll!" žertoval Ray", je psáno v bookletu CD vydání Terrapin Trucking z roku 1993.
Kdybych měl zmínit, co mne zaujalo konkrétně na celém hudebním spletenci, musel bych opisovat každou notu. Což není mým úmyslem. Nicméně, nemohu nezmínit alespoň naprosto fantastickou úvodní skladbu, co mne dostává do posluchačských kolen a já s blaženým úsměvem si užívám charakteristické zpěvy (Derek Shulman už skoro vůbec nemečí, současně si zachovává svůj typický projev), klávesové záseky, kdy uprostřed každého mňouku se buď nečekaně zavrtí, zaseknou, nebo ještě lépe udělají dvojité salto, přičemž nic neztrácejí ze své úporně dráždivé (ne)libozvučnosti. Jo, úvodní skladba je průchod labyrintem, za jehož každým rohem vybafne skřítek, a jeden z nich přinese skoro jazzrockově sólující pasáž náhle přetnutou pitvorným drnkáním na cosi hrozně divného, za nímž nás mohou vystrašit jakési šepoty a brbloty. Pak dupe basa a postupný návrat k úvodnímu motivu je vlastně východ z bludiště. Ale hned bych se tam vrátil zpátky, bylo to nádherně zamotané. Úžo, žúžo, dobrodrůžo.
Dvojka Give It Back zaujme potměšile dekonstruovaným reggae rytmem a vemlouvavě proklamovaným zpěvem, je skoro až domácky roztomilá. Miluju to klinkání, a zobavé připlouvání i odplouvání jednotlivých motivů i nástrojů. Mazec. V čase 1:10 to je Theremin, nebo co? Prý ne. Design je obžerství vokálů obou zpěváků a perkusí, kterého se nikdy nepřejím. A tak dále a stále více, až do konce. Kerry Minnear se objeví pěvecky ještě v závěrečné skladbě I Lost My Head, jinak má vše na starosti Derek. V rockárně Another Show se právě Derek místy hlasově dostává na hranici svých možností, což mu dodává nový a vítaný výraz. Basa opět dupe jako rozjařený maník na pódiu. Klávesové nálety. Další bomba, další nejlepší skladba. Uf.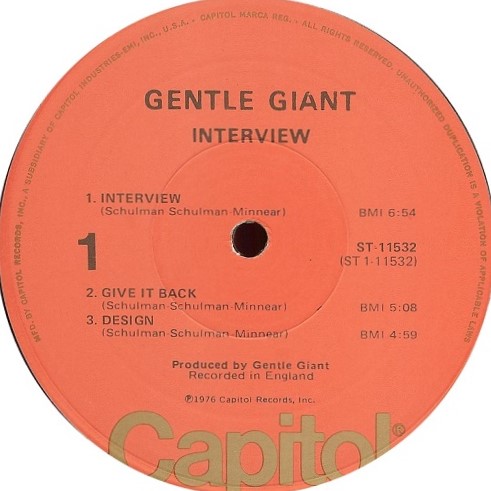 Zdánlivý klid přináší Empty City, což je zrovna potřeba. Trochu nás napíná, jestli náhodou nezešílí, ale ne-e, je to vlastně taková mámivá a přemítavá drobnůstka s několika škobrty a výkřiky, abychom neusnuli. Tady slyším zase GRYPHON, a zase trochu toho troubadůrství. Timing ja zpočátku civilní až na poměry GENTLE GIANT obyčejná, než se objeví kvákavá kytara, útržky boogie piána, šmidlání housliček, a drsné elektrické kytarové sólo, ve své krátkosti jedinečné jako šlehnutí karabáčem. Takže opět další extrémní bombovice až za obzory všedních dnů. Poslední song je taky trochu středověký a marimbovitě flétnou pomazaný, až by nás mohl vodit za nos někam do mlhavých snů. A zase ty Derekovy chraplavé laufy, to je nářez. Klopýtáme ke konci a já si uvědomuji, že jsem desku nechtěl takto popisovat. Ale nedá se nic dělat, už se stalo. Asi jsem ztratil hlavu.
Ještě jeden pocit musím zmínit. Nejenže každá skladba je nejlepší, právě proto, že zrovna hraje, tedy si ji zrovna užívám, (což je znak opravdu geniálních a výjimečných desek). Ale v něčem ji vnímám jako pokračování Free Hand, jaksi metafyzicky a étericky propojené v jejich náladách a pozitivní uvolněné radostné hudební opojnosti (navíc, téměř na sekundu stejně dlouhé dvojče). Jako ještě lepší pokračování, jestli je to možné takto říci. Nikdy není jisté, které album je nejlepší, krom toho, co zrovna hraje. Jisté je však něco jiného. Že In'terview získává 5 čistých, jasných a dokonalých hvězd z ryzího zlata. Dyk je to dobrý, ne?
01. Interview – 06:54
02. Give It Back – 05:12
03. Design – 05:02
04. Another Show – 03:30
05. Empty City – 04:25
06. Timing – 04:53
07. I Lost My Head – 06:59
Total 36:55
Dynamic range – DR13
In'terview
TRUCK CD 005
Gentle Giant
Art rock
Terrapin Trucking (UK 1993)
1976
CD
7