Trio bří Schulmanovic s dalšími třemi přáteli vyrazilo do světa realizovat své umělecké vize tímto startovacím albem na podzim roku 1970. Stejnojmenným, podle něžného obra, což velmi jakostně ztvárnili ve skladbách na něm obsažených. Je to matroš. Když se potká šest maníků, co každý je multiinstrumentalista a multitalentista, navíc vokální chameleon, mají povolené otěže a ještě se jim poštěstí přinatrefit se do nejeruptivnějšího hudebního několikaletí, co to má udělat? Rozjařená radost, co jejich muziky prýští, musí s každým zacloumat, není-li hluch či tup.
Je tu dobrá směs mnoha vlivů. Rozeznatelně zaznívají vzory a zdroje z nichž ostrovní scéna vycházela, čemuž se nemohli vyhnout ani naši extravagantníci. Je tu jazz i viktoriánská Anglie. Ještě mají na sobě naleštěné polobotky vzorných chlapců, na druhu stranu mastí bigbít, co slyšeli třeba u The WHO, jak dokládá strhující druhá polovina Why Not?. Sice tady nejsou úplně typicky GENTLE GIANT-ovští, o to více jim ta divočina svědčí. Nebo naopak zklidněně renesančně kabaretně folková Isn't It Quiet and Cold? se vynachází tam, kam se o trošku později vydali GRYPHON. Tím skladby s otazníkem došly 🙂 . A taky ještě, nemohu to neříci, porůznu na desce se vyskytují tak trochu inspirace JETHRO TULL Benefit, hlavně kytary a některé postupy. Hlavně v Nothing At All, nehledě na kakofonickou a kontrastní (a skvělou) pasáž této skladby, slyším hmatatelně Andersonovsko Barreovské doteky.
Deska je mírně nesoudržná, rozharašená, jakoby borci tu energii ještě nezvládali úplně ukočírovat. Například poslední skladba je zbytečná blbost, která by mi tam vůbec nechyběla. Osobně vnímám první tři songy jako mírně lepší než ty druhé tři. Sedmou fakt nemohu počítat. V první trojce je nejlépe předvedena neobyčejnost talentu našich maníků. V ní se projevuje schopnost vést pěvecké linky tak, jako nikdo jiný, na něž je nutno si zvykat. Schopnost vytvářet gejzíry a erupce nečekaných nápadů, čert vem, co to s posluchačem udělá. Třeba hned první track Giant to na nás vypálí pěkně peprně. Sebevědomí a vyzrálost jsou obdivuhodné již zde. To však není zásadní. Podobně talentovaných spolků v té době vznikalo hodně, ale skončily po jedné, dvou deskách. Co musím na GENTLE GIANT hlavně obdivovat je, jak dokázali v budoucnu všechno rozvinout, zúročit. Na debutu to bylo prostě "jen" velmi, převelmi nadějné.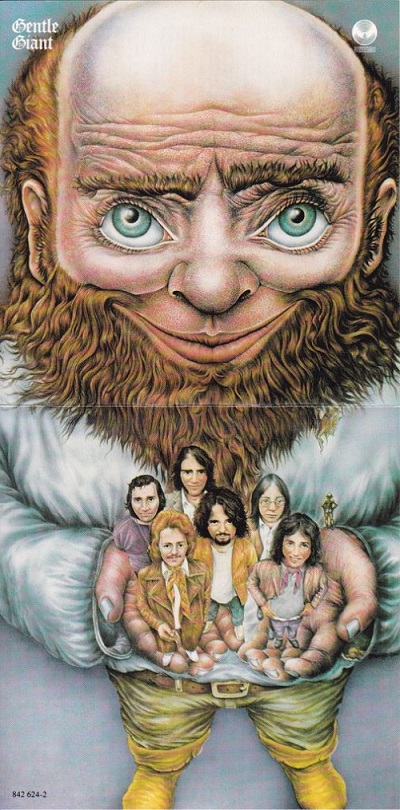 Jako nejvíc prorocká kompozice se mi jeví Alucard. Zkuste si to přečíst odzadu. V ní jsou naznačeny postupy, které v příštích létech kapelu nejvíce profilovaly. Charakteristický sound kláves, saxofonu, epileptické rytmy, nástrojové jízdy sem a tam, do toho zběsilý zpěv během nepředvídatelných změn tempa, nálady a kadence. Jak se z hlubiny vynoří nahalovaný zpěv, jsou to oni, spontánně si hrají to svoje. V této skladbě jsou svojí zavilostí, obrácením se do sebe a do svojí hudby, blízko pocitům, které mám z KING CRIMSON. Ale pozor, GENTLE GIANT byli všechno, jen ne napodobovatelé. Už na prvním albu předvedli, že rockové hudbě dokážou dát více nového, než valná většina ostatních.
Nesmím zapomenout na zvuk. Nebylo tehdy zvykem mršit alba úmyslnou manýrou, a u Vertigo by se dalo čekat, že se obejdou bez nějakých zvukařských chyb. Konstatuji na rok 1970 velice slušnou produkci, zvláště krásně vyniká basa v některých skladbách. Rušivé jevy se tu však najdou, také v některých skladbách. Určité halasnější pasáže bicích mají tendenci rozvibrovat svoje okolí jako splašený pulsar, a ačkoli to beru jako dobovou patinu, ruší mne to. Naštěstí hudební atmosféra na desce člověka obklopí a dovolí, aby se v ní útulně zařídil po svém. Toho si na muzice vážím, stává se to zřídka. Taková Funny Ways je toho krásným příkladem. Navíc, pokud si poslechnete text, je pěkným krédem kapely. Je až dojemně bezprostřední.
Protože přece jen pár výhrad k debutu mám, není to plný počet. Na tom však nezáleží. Album je to hudebně nádherné a bohaté. Vždycky se k němu rád vrátím.
01. Giant – 06:25
02. Funny Ways – 04:23
03. Alucard – 06:05
04. Isn't It Quiet And Cold? – 06:47
05. Nothing At All – 09:08
06. Why Not? – 05:31
07. The Queen – 01:42
Total 37:01
Dynamic range – DR13
Gentle Giant
PPD-3093
Gentle Giant
Art Rock
Japan Vertigo/PolyGram 1990
1970
CD
7