Genesis je kapela, s ktorou nemám práve vrúcny vzťah. V mladosti som ich nepočúval, občasné MTV hity skôr boleli, než poskytovali rozkoš, nečudo, že som sa kapele v podstate vyhýbal. V dospelosti som sa postupne zblížil s "gabrielovskou" érou, po odchode speváckej hviezdy som však dlho nemal záujem ani o skusmé počúvanie ďalších albumov. Zmenilo sa to až s Hackettovými sólovkami, najmä Voyage Of The Acolyte, nuž som sa naveľa dopracoval aj k albumom A Trick Of The Tail a Wind & Wuthering. Ten druhý som si kúpil najmä kvôli obalu (k tomu sa ešte dostanem).
Klávesy, klávesy, klávesy. Od úvodných chvíľ Eleventh Earl Of Mar je jasné, že nie nadarmo má až v šiestich skladbách autorský podiel priznaný Tony Banks. Inak je to stále ešte klasický Genesis. Viac, ako jednotlivé skladby, sa do pridanej hodnoty diela zapísala atmosféra. Zvuk je kryštalicky čistý, zároveň z neho vanie príjemný osviežujúci pocit neskorej jesene. Koniec-koncov, už krásne mliečny hmlistý obal albumu, na ktorom dominuje pravičiarsky strom a kŕdeľ sťahovavých vtákov (podľa toho, z ktorej strany sa naň pozriete), má v sebe sychravosti na rozdávanie. A melanchólie. Takej tej príjemnej, nie boľavej. One For The Vine jej má toľko, že by stačila na upokojenie imigrantskej vlny. Divadelný expresionizmus sem-tam vykúka spoza sukne All In A Mouse's Night, inak je to klasická artrocková jemnocitná skladba, akými Genesis zavlažovali úrodné 70. roky. Blood on the rooftops nevtieravo plynie, až uplynie a je tu vyvrcholenie albumu v podobe Unquiet slumbers for the sleepers… a …in that quiet Earth. Na to, že majú obe časti jedného celku v sumáre sedem minút, sa toho v nich deje toľko, že by to filmárom vystačilo na desať sérií výpravného seriálu. A aj kontrastná katarzná nálada v Afterglow na záver má niečo do seba.
Iste, album má 50 minút a je na mňa pridlhý. Niektoré popovo mdlé náznaky veci budúcich by som pokojne oželel, všakže, Your Own Special Way. V podstate by mi nechýbal ani fajnový džezrockový extrakt Wot Gorilla?. Nič to nemení na tom, že ide o jeden z najsúdržnejších albumov Genesis z "klasickej éry" a jeho nálada je neopakovateľná.
Skladby:
1. Eleventh Earl Of Mar 7:39
2. One For The Vine 9:59
3. Your Own Special Way 6:15
4. Wot Gorilla? 3:12
5. All In A Mouse's Night 6:35
6. Blood On The Rooftops 5:20
7. Unquiet Slumbers For The Sleepers… 2:27
8. …In That Quiet Earth 4:45
9. Afterglow 4:10
Zostava:
Tony Banks: piano, syntezátor, organ, mellotron
Phil Collins: spev, bicie, perkusie
Steve Hackett: gitary, kalimba, auto-harp
Mike Rutherford: basa, gitary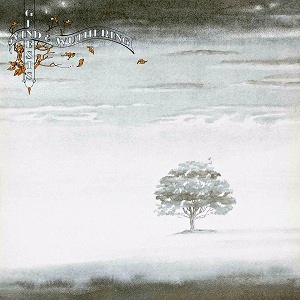 Wind & Wuthering
Genesis
art rock
Charisma
1976
LP, CD
9