Je zaujímavé, koľko nevydaných perál sa v 60.-70. rokoch nazhromaždilo v zásuvkách. A ešte zaujímavejšie je, že to vtedy často kapely vyhodili z pripravovaných albumov ako nehodné zverejnenia. Pritom prešlo pár rokov, desaťročí a zrazu je z týchto zabudnutých frekvencií geniálna muzika! Presne ako v prípade tretieho štúdiového albumu kapely Skid Row, v ktorej hral mladý Gary Moore.
Gary Moore bol fenomenálny írsky gitarista, ktorý tu zanechal toľko výbornej rockovej muziky, že ani celé ľudstvo nedalo viac plastov oceánu. Napriek komerčnému úspechu v 80. rokoch a bluesovej oslave rokov deväťdesiatych ma najviac berú jeho počiny zo 70. rokov. Najlepšie z počiatkov kariéry, kedy hral v neskutočne energickej bluesrockovo psychedelickej formácii Skid Row. Tá vydala dva štúdiové albumy (Skid z roka 1970 a 34 Hours o rok neskôr) a koncom roka 1971 pripravila materiál aj na tretí album, avšak Moore sa porúčal k Thin Lizzy, nuž sa nahrávky odložili na neurčito. To sa datuje rokom 1990, kedy boli konečne sprístupnené na albume pomenovanom Skid Row (uvádza sa aj pod názvom Gary Moore-Brush Shiels-Noel Bridgeman, podľa informácií na obale, osobne sa nazdávam, že to nie je názov, iba pomôcka pre fanúšikov, aby si nekupovali album americkej kapely so známym spevákom Sebastianom Bachom), pričom patria k tomu najlepšiemu, čo kapela ponúkla.
Oproti prvým dvom albumom je to dielo vyzretejšie, zvukovo aj muzikantsky. Skupina hrala netradične zložitý blues rock aký sa vtedy (a ani dnes) len tak nepočuje. Benedicts Cherry Wine je rýchla bluesrocková skladba s náročným rytmizovaním plným stopiek a vyhrávok. Nasledujú dve jemnejšie veci. Popovo melodická Saturday Morning Man a čembalovo-sláková tichá krehkosť Crystal Ball. Zmenu prinesie rázne boogie s dominujúcou slide gitarou Mr. De-Luxe. Nastupuje "Creamovská" vsuvka Girl Called Winter a predovšetkým pomalá verzia Morning Star Avenue, bezkonkurenčne najlepšia skladba skupiny patriaca do zlatého fondu blues rocku. Náročné rytmické vsuvky obalené do rockenrolu, to je záverečná skladba Silver Bird. Z diela mám pocit, že ak by Gary Moore ostal v kapele, dnes by sme jej meno vyslovovali s bázňou a uznaním. Neostal a väčšina poslucháčov si vybaví metalovú formáciu toho istého mena…
Vlastním cédečko z roka 2000 od Snapper Music a som spokojný. Kúpil som ho v hudobnom bazáre (dnes už také tuším ani neexistujú) za pár korún a dnes by som ho nepredal ani za sumu rovnajúcu sa hypotéke na štvorizbový byt v centre Bratislavy. Úžasná muzika, treba počuť!
P.S. Neviem, či ste zachytili takýto bootlegový kúsok – Live in Los Angeles 1970, kde si so Skid Row ako hosť zahral aj John Bonham. Hm.
Skladby:
Benedicts Cherry Wine (4:50)
Saturday Morning Man (6:33)
Crystal Ball (6:05)
Mr. De-Luxe (4:11)
Girl Called Winter (5:30)
Morning Star Avenue (7:38)
Silver Bird (4:34)
Zostava:
Gary Moore: gitara, spev
Brush Shiels: basa, spev
Noel Bridgeman: bicie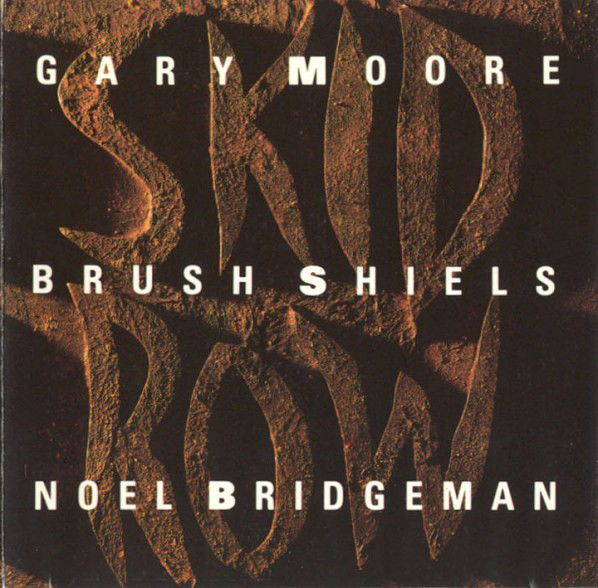 Skid Row
Skid Row
blues rock
Essential
1990
LP, CD
7