Nemohl jsem si pomoci, a hned po Elisabeth píšu recenzi na jejího předchůdce, který mne ke GRIOT dostal. Pod hlubokým dojmem z Elisabeth jde víceméně o recenzi srovnávací. Jelikož jsem se v závěru psaní o letošní novince, a také pod dojmem více jak desítky poslechů, začal domnívat, že Geralda překonala, musel jsem si to ověřit. A teď odvolávám, co jsem odvolal, a slibuji, co jsem slíbil. Gerald je skvostný! Dávám mu pět hvězd, a hotovo.. Uvidíme, kam v budoucnu dostoupá Elisabeth, ale, pěkně popořadě, vážení..
Gerald je charakterizován několika vlastnostmi. Předně, je krátký, má půl hodiny a dvě minutky, což je fakt hodně těsná časomíra. Potom, na Geraldovi vlastní instrumentální sóla, tedy hlavně elektrické kytary a různé smyčce i dechy krásně vystupují dopředu. Zvukově je tato deska teplejší a rozčepýřenější, Elisabeth je utaženější, i když nabízí větší barevnost v detailech. Něco za něco, ovšem občasná strojovost Elisabeth může být na překážku. Dále atmosféra. Zde jde o takový mix pozdních PINK FLOYD a saxofonu z desky Jean-Michell Jarrého Rendez-Vous. To je ono. Vůbec ta atmosféra je i jinak celkově dost Jarréovská. Při poslechu Elisabeth mi vrtalo hlavou, v čem že to vlastně GRIOT jedou. Ale tady to jasně vyplývá. Tedy, abych nebyl nesprávně pochopen, nejde o napodobování, jde o fluidum, jehož obsahu si nejsou pravděpodobně ani autoři hudby vědomi. Projektuji si je tam pro znázornění pocitů, které ve mně hudba vyvolává.
Vůbec ten saxofon je zde celkem ustavující. Na Elisabeth se sice mihne také, ale ne tak náladotvorně, a má trošku studenější charakter. Zde je to ságo, jak mám rád. Jeden z mých nejmilovanějších nástrojů v rockové muzice. Poslechněte si saxofonové sólo v Through the Haze (Chapter II)! Dává jí plasticitu, jako máloco.
Je chvályhodné, že GRIOT nenahrazují akustické nástroje jejich synťákovými napodobeninami. Angažují spoustu lidí, aby nahráli housle a violy, akustické kytary, flétny a saxofony, piáno, a tak dále. Protože člověka nenahradíš. Když nahradíš, tak je to poznat, a většinou ke škodě dojmu z hudby. Je celkem zvláštní, jak při jisté odosobněnosti a odstupu dokázali GRIOT ve své hudbě zachovat tolik živosti a bezprostřednosti. Zdánlivě protichůdné prvky, avšak v umění jest možno vše. Dále tu jsou prvky, které z dvojky vytratily. Tím mám na mysli především silně jazzový feeling, který mne oblažuje ve skladbě Into The Fold (Chapter III). Zejména kontrapunkt zpěvu a kláves je ohromující. Pak tu cítím prvek, kterému se obvykle říká "indie", což většinou znamená něco trošku šoupnutého jinam, než by se dalo čekat od daného žánru. Taková neukotvená jinakost. Máme indie pop, indie folk, tohle je indie prog.
Abych byl spravedlivý, přiznávám Elisabeth trošku najazzlých tónin v The Leap (Chapter V Pt.I), ale není to zdaleka tak výrazné, jako zde. Navíc, domnívám se, že to je způsobeno skutečností, že konkrétně tato skladba má být reminiscencí na album 2016 nejenom hudebně, ale i textově. Ovšem přechod ze singuláru na plurál naznačuje, že se něco změnilo.
Pan Gerald praví roku 2016:
"There's no point in waiting
for the veil to drop,
This is the answer
It has to stop.
Fadeaway…
Seek my trueself,
Fadeaway…
I must go.!"
/skladba The Drive (Chapter I)/
"Fadeaway…
Seek my trueself,
Fadeaway…
I must go,
I soon must go!"
/skladba Fadeaway (Chapter V)/
Paní Elisabeth odovídá roku 2020:
"Fadeaway…
Seek our true selves,
Fadeaway…
Lets carry on!
Fadeaway…
Let's just forget,
Fadeaway…
Leave it all behind…
Fadeaway…
Never turning around,
Fadeaway…
With our feet of the ground.
Fadeaway…
We've found our true selves
Fadeaway…
We must go,
We soon must go…"
/skladba The Leap (Chapter V Pt.I)/
Ještě jedna významná odlišnost je mezi Gerald a Elisabeth. Na prvním dominují mužské vokály, na druhém ženské. Logicky. Oba kreslí vznešené křivky, propůjčují ději naléhavost a drama, každý po svém. Gerald má u mne tu výhodu, že jej mám naposlouchaného řádově více, a tak některé pasáže mají až kultovní status. Má prostě náskok, ten mu nikdo nevezme. Díky své půlhodinové stopáži se dá kumulovaně poslouchat víckrát, a jestli má Elisabeth nějakou slabinu, pak je to několik hlušších pasáží k závěru desky.
To závěr Geralda je lahůdkový. Úvod houslí a klavíru ve Fadeaway (Chapter V) je neodolatelný. Způsob, jakým se dál rozvíjí, bere za srdce a nedá vydechnout nad tou rozprostřenou krásou. Skladba začíná velejemně a její mírné náčrty trvají tři minuty, než se znatelněji přidá rytmika. Pak se zde proplétají zpěvy, dynamické změny, rytmy a i melodické zvlněné tahy kláves i houslí, aniž by jakkoli kolidovaly. Od rockové konkrétnosti komíhá až někam do zasněné alternativy. Desetiminutová ztělesněná nádhera. Co víc si přát, co víc chtít, mám už všechno. Děkuji pánové João & Sérgio & company!
Na Bandcamp je kompletní diskografie GRIOT v elektronické podobě za necelých 10 EUR. To mi přijde jako legrační částka ve srovnání s tím, o jak vysoce kvalitní a výjimečnou hudbu se jedná. No, a kdo by chtěl, i Gerald storybook je ještě k mání. V textu se lze dočíst také mnoho o paní se jménem Elisabeth. Také je zajímavé, že od alba Elisabeth už storybook dostupný není. Všechno je pomíjivé…
Kompletní obsazení:
João Pascoal – Bass Guitar, Acoustic Guitar, Electric Guitar, Keyboards, Programming, Composing (tracks 1,2,3,4 and 5)
Sérgio Ferreira – Drums, Percussion, Composing (tracks 1,2,3,4 and 5)
Nuno Aleluia – Vocals (tracks 1,3,4 and 5)
António Branco – Backing Vocals (tracks 1,3,4 and 5)
Pedro Marques – Backing Vocals (track 5)
Eduardo Ferreira – Violin (tracks 1,2,3,4 and 5)
Carolina Resende – Violin (tracks 1,2,3,4 and 5)
Rita Fernandes – Violoncello (tracks 1,2,3,4 and 5)
Paulo Bernardino – Clarinet (track 3)
Andy Panayi – Tenor Saxophone (track 2)
André Loureiro – Flute (tracks 2,3,4 and 5)
João Baião – Acoustic Steel String Guitar (track 3 and 5)
Alexandre Veiga – Electric Guitar (tracks 1,2,3,4 and 5)
Filipe Salgueiro – Electric Guitar (track 5)
Bruno Miguel – Electric Guitar (track 2)
Vikram Shankar – Synthesizer (track 1)
Diogo Santos – Moog Synthesizer (track 5)
André Barros – Piano, Composing (track 5 introduction)
Concept by:
João Pascoal, Sérgio Ferreira
Artwork by:
Maria Branco, Sérgio Ferreira
Written by:
João Pascoal, Sérgio Ferreira
Instrumentation by:
João Pascoal, Sérgio Ferreira
Recorded by:
André Roque, Gabriel Marques (Bliss Recordings), João Pascoal, António Branco, Alexandre Veiga
Mixed / Mastered by:
André Roque, João Pascoal
01. The Drive (Chapter I) – 05:16
02. Through The Haze (Chapter II) – 04:28
03. Into the Fold (Chapter III) – 06:38
04. The Curtain Falls (Chapter IV) – 05:37
05. Fadeaway (Chapter V) – 10:35
Total 32:34
Dynamic range – DR7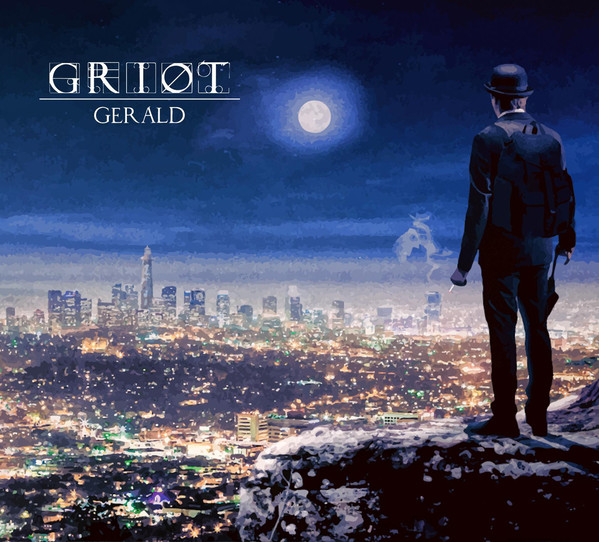 Gerald
Griot
Prog rock
2016
Lossless
5
Bandcamp