Muzika umí okouzlit, pobláznit, popadnout za rameno, hladově tě rafnout, nebo jen tak pohladit. Každý silný zážitek má svůj charakter. Ten se může značně lišit, stejně tak se liší i nálada, ve které jej potřebuješ. Proto se vzájemně těžko porovnávají. Jediná metoda, jak je kvantifikovat, je síla zážitku, nikoli jeho způsob. Pokud se soustředím na míru rezonance ve svém posluchačském já, mohu přesně určit, jak je muzika dobrá. Dobrá pro mne, sluší se podotknout. Zda pro někoho dalšího, toť otázka. Recenze je jeden ze způsobů, jak to zjistit.
Portugalci GRIOT mne dostali svým prvním albem. V roce 2016 vydali desku Gerald. Je o panu Geraldovi, který byl, cituji "a man with many questions and fewer answers", a současně byl pro mne jedním z nejpozoruhodnějších výtvorů toho roku. V podstatě neatraktivní muzika, co mne dostala až jaksi mimochodem, v druhém plánu. Tisíckrát jsem se k nim vrátil, a pokaždé mne odměnili zážitkem. Letošní novinka byla pro mne nepředvídatelná, protože jsem si neuměl představit, kam se tato zdánlivě statická hudební tvorba dá rozvinout. Elisabeth má podtitul "It portrays the upbringing of Elisabeth and her life at The Great City". První poslech naznačil, že žádná revoluce to nebude. Skupina zůstává tam, kde byla před čtyřmi léty. Tedy zpočátku. Zdánlivě. Až po čase se začaly dít věci.
Základ skupiny tvoří dva hudebníci z Portugalska. João Pascoal – basa, kytara, programování, a Sérgio Ferreira – bicí, perkuse, programování. Pokud by se to někomu zdálo málo, má pravdu. Na nahrávce se objevuje více jak desítka dalších jmen hostů, kteří obohatili její zvuk spoustou zajímavých instrumentů. Dá se říci, že plejáda akustických a elektrických nástrojů je jeden z důvodů, proč je nahrávka tak přitažlivá. Jsou mistrně zakomponované, zaranžované, zahrané, nahrané. Jejich role v kompozicích je přiměřená a odůvodněná, každý přináší něco neopomenutelného a nenahraditelného. Krásná a vzácná vlastnost.
Na Elisabeth přibyla oproti Geraldovi spousta nových věcí, které mne baví. Občas vykouknou náznaky odjinud, což má roli pěkně ostrého koření. Tím mám na mysli zlomky drone, djentu, sludge. Jen si poslechněte začátek Lights Out (Chapter I Pt.II) nebo šestou minutu Atonement (Chapter II Pt.I). Jsou to opravdu jen takové drobné ozdůbky, jejich účinek je ovšem znatelný. Vlastní skladebný celek je složen především z čitelně stanovených textur, kde (naštěstí) chybí na první poslech efektní motivy. Z přediva tónů nic netrčí, zároveň skladby nepůsobí nijak uhlazeně. Pracují spíše s komplexními postupy, sóla jednotlivých instrumentů jsou vetkaná do podkladu a tvoří s ním organický celek. Působivé. Postupně vzrůstající přitažlivost je záležitostí pozorného vnímání Hudby, aby došlo k její symbióze s posluchačem. Pak nastává souznění, díky kterému má smysl album Elizabeth mít. Album zamyšlené a promyšlené, inspirující a obohacující.
Na první pohled jednolité schéma ukazuje při podrobnějším pozorném zkoumání další vrstvy, Malé hříčky. Jistý a suverénní zpěvný přednes romantických veršů o paní Elisabeth. Tato hudba s člověkem rozhodně nelomcuje, spíše jej šálivě ovíjí, ale ponechává si přitom odstup. Někdy může fungovat jako studený obklad od Priessnitze. Ano, prvoplánové hřejivosti je v ní pramálo. Zprostředkovaně však umí vytvářet emoce až eruptivní. Dokáže čarovat, jen jí dát tu možnost. Jednou jí to dovolíš, a má tě.
Tato muzika se musí poslouchat bedlivě. Opatrně odkrajovat plátky jejích průsvitných vrstev, aby se něco nepřeslechlo. Proces je to nesnadný a zdlouhavý. Náročný na soustředění a pozornost. Jenže jedině tak může odkrýt svoji naléhavou krásu. Krásu poněkud křehkou a éterickou, nehledě na občasný tvrdý spodní proud. V toku řeky jejích skladeb se nachází poměrně hodně ledové tříště. Ne, opravdu není vlídná na první ponoření. Plochy složené z komíhajících se ker jsou dalekosáhlé a blyští se v nich světlo studené luny. Romance vykreslená tahy šedomodré barvy.
Do sebe zahleděný zpěv nese poselství, jenže není jisté, zda se je všechna kdy podaří rozkrýt. Vadí to? Než se marně zabývat významy slov, doporučuji držet se tónů. Jimi se můžu nechat nést až někam do krajiny polosnů, kde hranice mezi realitou a představami je mihotavě ojíněná. Když si album pouštím, kladu si pokaždé otázku, zda-li to skutečně chci. Je to jako se vydat bosou nohou po zasněžené louce. Kdyby ta pláň nebyla aspoň tak daleká. Kdyby jednotlivé šlahouny ostrých trav tak neřezaly do chodidel. Ale stejně to chci absolvovat. Chci!
GRIOT pracují se skladbou po svém. Rytmy jsou přesné, odsekávané, až strojové, ale krásně barevné. Trefují se. Udeří důrazně vždy tam, kdy je třeba a neplýtvají tam, kde není proč. Pod vrstvami akustických nástrojů, ať jsou to housle, klavír, či kytara, poměrně často znějí temné tóny. Tyto prostorové struktury vzbuzují dojem veliké hloubky, přes níž se přenášíš po skleněných lávkách zpěvu a lesklých tónů kláves. Příčky záchytných žebříků jsou tvořeny údery klavíru a systematicky kladenými perkusemi. Je to jako průchod poloprůhledným labyrintem, kdy při troše nepozornosti narazíš do skleněné stěny.
Naštěstí můžeš najít plno záchytných bodů. Každé kytarové sólo, ti dovolí opájet se jeho zamženou melodičností. Někdy muzika správně zhoustne, je to moc fajn. Podobně laděné skupiny mají někdy tendenci unavit posluchače nyvými stejnoskladbami, kdežto GRIOT umí jít pěkně po krku. Pokud se jim zachce. A pak lehkou nohou skočí do pečlivě decentních akustických kreseb, které stále podtrhává úsporná rytmika složená z drobných a suchých úderů. Kostra skladby je vždy pevná, aby se člověk měl z výšin vždy kam vrátit. Lze vysledovat několik jasných rukopisných znaků, které jsou originální a posluchačsky atraktivní. Když pominu schopnost přirozeně přejít do tvrdých a kývavých rytmů, aniž by byly metalově obhroublé, pak musím zmínit pasáže, kde se prolínají různé druhy klávesového zobání a klování s jasně odlišenými rafinovanými údery bicích. Tato souhra nikdy neomrzí. Zpěv přes ně hopká a odráží se od nich v těch malých ploškách, kde mu poskytují pevné body. Skladby jsou ukotveny v časoprostoru jako vzdálené galaxie. Málokterá hudební tělesa umějí ve mně vzbuzovat takto jednoznačné představy a obrazy.
Album mělo live prequel vydaný v květnu 2019, kde se z něj objevily dvě stopy. Je vidět, že kompoziční proces měl své etapy a byla mu dána možnost do definitivní podoby vyzrávat. Letošní edice nabídla limitované provedení s tištěným storybookem. Případně další bundle, kdyby se sběratelům a milovníkům artefaktů zachtělo. Kromě mnoha textů a obrázků, jsou to také krásné kousky do ruky, které voní papírem, a to nám digitální soubor neposkytne.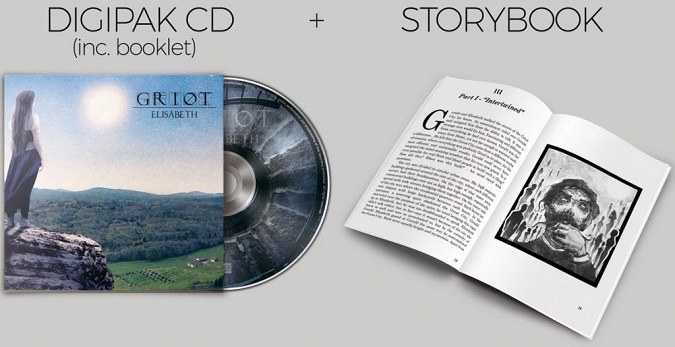 Přitom se dá říci, že existuje hodně kapel, které dělají něco podobného, a jsou i známější, než GRIOT, ale vůbec mne nezaujaly. Nemohu nezmínit THIEVES' KITCHEN – Genius Loci (2019). Velmi podobná muzika, ale s otravným zpěvem a umrtvenými emocemi. GRIOT jsou vedle nich výkvět subtilní krásy, co umí neokázale vyrůst, a hned jí máš plnou hlavu. Alespoň tedy já. Vzácné dílo. Nedávám ještě absolutorium, trošička chybí, ale jsou hodně vysoko a ve své kategorii poskytují jedinečné zážitky. Zopakuji, ta technokratická rytmika, to je něco. Plus vokál, kytary, akustické ozdůbky, spousta doplňkových klasicistních nástrojů, přitom žádné retro. Ano, tohle se povedlo.
Co je na tom nejlepší? Že ta deska po každé poslechu popojde o kousíček dál na stupnici mých pocitů. Takové mám nejraději. Dlouho jsem si myslel, že Gerald je lepší než Elisabeth. Nyní si tím nejsem tak jistý. Vlastně vím, že jej přerostla. Tahle nenápadná dáma v mé hlavě vymrazila pěkně palčivou stopu. Přímo vyleptala. Pomalu, ale neúprosně. Tak, jak to mám nejraděj. Doufám, že další album udělají za hodně dlouho, abych se náležitě psychicky připravil. Už teď se těším.
Edit po poslechu Gerald:
Tak ne.. Gerald je ještě větší bomba. Ovšem Elisabeth má také nakročeno. Víc se dočtete v recenzi, kterou brzy vyvěsím.
Kompletní obsazení:
João Pascoal – Bass Guitar, Electric Guitar, Programming and Composing (tracks 1,2,3,4,5,6,7,8,9 and 10)
Sérgio Ferreira – Drums, Percussion, Programming and Composing (tracks 1,2,3,4,5,6,7,8,9)
Maria Branco – Vocals (tracks 1,2,3,4,5,6,7,8,9)
João Rodrigues – Vocals (tracks 2,3,5,8 and 10)
Mariana Moreira – Backing Vocals (track 4)
Matilde Esperança – Violin (tracks 1,3,6,9,10)
Pedro Marques – Violin (track 9)
Luzia Lapo – Violin (tracks 1,3,6,9 and 10)
Isaac Santos – Violoncello (tracks 1,3,6,9 and 10)
Paulo Bernardino – Clarinet (track 3,5 and 6)
Arnaud António – Alto Saxophone (track 6 and 9)
André Loureiro – Flute (tracks 1 and 9)
João Baião – Acoustic Guitar (track 1,2,3,6,8 and 9)
Gonçalo Crespo – Electric Guitar (tracks 1,2,3,4,5,6,7,8 and 9)
Bruno Lousada – Electric Guitar (track 1,2,3,5,6,7, and 9)
Pedro Joaninho – Electric Guitar (track 5)
Vikram Shankar – Keyboards (track 2,3,9 and 10)
Mario Yetatore – Keyboards (track 1,3,4,6,8,9)
Bosco Aguilar – Keyboards (track 8)
Concept by:
João Pascoal, Sérgio Ferreira
Artwork by:
Miguel Coelho, Maria Branco
Written by:
João Pascoal, Sérgio Ferreira
Instrumentation by:
João Pascoal, Sérgio Ferreira
Recorded by:
André Roque, João Pascoal, Daniel C. Rodrigues
Mixed / Mastered by:
Tiago Mesquita at Nox Messor Sound Studios
01. A Weak Foundation (Chapter I Pt.I) – 06:53
02. Lights Out (Chapter I Pt.II) – 05:00
03. Atonement (Chapter II Pt.I) – 07:48
04. Retrospection (Chapter II Pt.II) – 04:18
05. Intertwined (Chapter III Pt.I) – 06:15
06. Unearthing the Past (Chapter III Pt.II) – 06:32
07. Parted Ways (Chapter IV Pt.I) – 04:27
08. Making Amends (Chapter IV Pt.II) – 08:00
09. The Leap (Chapter V Pt.I) – 09:14
10. Introspection (Chapter V Pt.II) – 04:15
Total 62:42
Dynamic range – DR8
Elisabeth
Griot
Prog rock
2020
Lossless
10
Bandcamp