Další polozapomenutý klenot progresivního rocku, spadající pod Canterbury scénu. Spolu s Gentle Giant a Can (no, asi bych jich ještě pár našel) jedna z nejoriginálnějších rockových skupin (která nezůstala jen u jednoho vytvořeného alba), mísících ve své hudbě svébytně převážně rockovou psychedelii a jazz. Hudba Gong vzdáleně připomíná Franka Zappu (je v ní ale víc emocí), Magmu (je v ní ale víc emocí) a Syda Barretta, ale jedná se o naprosto ryzí, původní, nic nekopírující, svěží hudbu se silnými hudebními náměty.
Skupina Gong je jedna z mála kapel (z těch, co jsem poznal), která nešokovala koncem sedmdesátých let minulého století posluchače odklonem od očekávaně náročnější hudby k lacině znějícímu rockpopu. To i ti undergroundoví Can zplodili (i když to byla výjimka) v roce 1976 discohit I Want More, i Hammillovo album Sitting Targets z roku 1981 má do hudby, kterou komponoval sám nebo s Van der Graaf Generator v sedmdesátých letech, hodně daleko.
U Gong nehrozí (dle mého názoru), ať sáhnete po jakémkoli albu (včetně prvního z roku 1969 nebo posledních), zklamání. To samé platí i pro sólová alba Daevida Allena – i ta z osmdesátých let minulého století jsou výborná. Gong v druhé polovině sedmdesátých let inklinovali hodně k jazzu (což na druhou stranu také ne každý zkousne), ale nezakrněli a vyvíjeli se, jejich originální melodie (podobně jako v případě Gentle Giant) nicméně nikdy neměly šanci komerčně se prosadit ve velkém.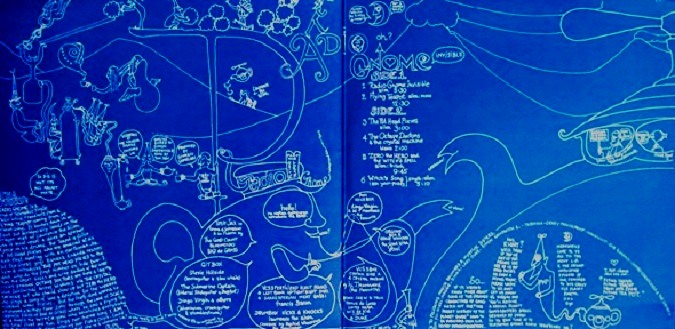 Album Radio Gnome Invisible Vol. 1 – Flying Teapot následovala ještě dvě podobná alba, Radio Gnome Invisible Vol. 2 – Angel's Egg (1973) a Radio Gnome Invisible Vol. 3 – You (1974). Všechna tři jsou vysoce hodnocená na progarchives.com, všechna tři jsou vysoce progresivní – předbíhají styl trance hudby, obsahují moderně znějící ambientní zvukové malby, ale i barrettovsky rozverné písně, humor, kosmickou psychedelii, jazzrock… Výsledný koktejl je něco, co opravdu stojí za poslech, za opakovaný poslech.
Tato mezinárodní skupina (bývá označovaná i jako francouzská) mi také jako jediná vzdáleně připomíná mé oblíbené (také ne moc známé) Legendary Pink Dots (díky barvě hlasu Daevida Allena), a o to víc se mi líbí.
Album Radio Gnome Invisible Vol. 1 – Flying Teapot považuji z dané trilogie za nejlepší, i když na progarchives.com tomu je přesně naopak (rozdíly v hodnocení jsou ale jen drobné). Dílo začíná žbrbláním (připomínající trochu závěr skladby Vegetable Man od raných Pink Floyd), do kterého se přidá saxofon a ostatní nástroje a vy máte pocit, že slyšíte Franka Zappu na LSD tripu. Hodně silná melodie, vynikající instrumentální výkony (zazní celá řada hudebních nástrojů), což se během celého alba nezmění.
Druhá skladba Flying Teapot je kosmická psychedelie s naprosto originálním zpívaným vkladem (já vím, zase to slůvko originální). Pokaždé, když tu skladbu slyším, běhají mi mrazíky po těle, a to jen proto, jak se mi ta kompozice líbí. Opravdu geniální.
Třetí a čtvrtá skladba jsou krátké kousky a protečou vaším vědomím, že než se nadějete, končí krásná čtvrtá space skladba (tvořená jen klávesovými nástroji) a vyvalí se na vás pátá kompozice Zero The Hero And The Witch's Spell, ve které si rock potyká s jazzem a to tak, že celkově zazní několik hudebních motivů a závěr téhle skladby graduje do psychedelie se saxíkem. Jako byste poslouchali první alba Van der Graaf Generator.
A závěrečná skladba, opět taková ta gongovsky nenapodobitelná, bizarní melodie (absolutně neznící třeba jako Yes nebo Genesis) s naprosto úžasně úchylným (i když to je divné slovní spojení), dokonce přisprostlým textem a neméně úchylně znějícím ženským sexy zpěvem. Jak lépe to popsat… To se prostě musí slyšet!
Bez váhání pět hvězdiček z pěti možných. A velká pochvala také za to, že i jejich novější alba (třeba Zero Infinity, 2000) znějí tak progresivně a nekomerčně, až by si nezasvěcený mohl myslet, že Gong je novodobá kapela a vzhledem k síle hudby dokonce neunaveně začínající.
Chronologická procházka alby Gong (i když je nemám kompletní) je pro mě osobně podobně barevně dobrodružná a zajímavá jako procházka alby např. Petera Hammilla. Pokud byste váhali s pořízením hudby Gong na CD, myslím, že veliký výběr jejich hudby na youtube.com vám může rozhodnutí usnadnit.
I přes relativní schizofrennost recenze – vyzdvihování originality a časté přirovnávání zároveň – doufám, že čtenář o originalitě pochybovat nebude.
SKLADBY:
1. Radio Gnome Invisible (5:33)
2. Flying Teapot (11:49)
3. The Pot Head Pixies (2:59)
4. The Octave Doctors And The Crystal Machine (1:44)
5. Zero The Hero And The Witch's Spell (9:37)
6. Witch's Song/I Am Your Pussy (5:05)
SESTAVA:
Daevid Allen – guitar, vocals
Steve Hillage – guitars
Christian Tritsch – slide guitar
Gilli Smyth – organ, vocals
Francis Moze – VCS3 synth, electric & upright pianos, bass
Tim Blake – VCS3 synth, vocals
Didier Malherbe – soprano & tenor saxes, flute
Laurie Allan – drums, percussion
Rachid Houari – congas
Radio Gnome Invisible Part 1: Flying Teapot
Gong
Jazz Rock, Space Rock, Psychedelic Rock, Prog Rock
BYG Records
1973
LP
6