Druhé řadové album britských Genesis s názvem Trespass jsem koupil ve druhé polovině sedmdesátých let na černé burze jako nouzové řešení, protože mi jejich Foxtrot vykoupil před nosem jiný zájemce. Jiná alba Genesis už jsem měl a Trespass jsem neznal. Kupodivu o něj nebyl takový zájem, jak by se očekávalo, stejně jako o první From Genesis To Revelation. (To – přiznám se, se mi moc nelíbilo.) Možná mě to zarazilo, ale neodradilo a tak jsem s jistým vnitřním přesvědčením, že nelze šlápnout vedle, album koupil a nijak jsem nezalitoval.
LOOKING FOR SOMEONE – Pěvecká proklamace, pod kterou znějí dlouhé tóny hammondek. Zajímavá střídání hudebních nálad mě uvádějí do rozpoložení (jednou jsi dole, jednou nahoře). Zvláštně vedené vokály a velmi přesvědčivý hlas Petera Gabriela znějí jako by zde byla zhudebněna anglická poezie, která ve svém finálním tvaru bude určena pro divadelní zpracování. Nástrojový inventář má sice klasické obsazení – bicí nástroje, baskytara, rozličné klávesy a méně čitelné party na kytary, ale je zde i flétna. Křišťálově čisté klavírní party a dlouhé tóny hammondek jsou nejčitelnější. Skladba je velmi dobře proaranžovaná, citlivě a přesně do nejposlednějšího detailu a její harmonická stavba má zajímavou strukturu. V hudebních postupech cítím vliv articifiální hudby klasiků – ani stopa po rock and rollu, blues nebo jazzu.
WHITE MOUNTAIN – Krásné akustické kytary. Dvanáctistrunné, šestistrunné – skvěle se prolínají ve velmi jemných předivech hraných s neuvěřitelnou přesností a už je tu i Gabriel. Dává do zpěvu dramatický náboj a vyznění zpívaného textu má velký přesah. Připadá mi jako kazatel s posláním. Dynamické odstíny ve skladbě jsou velmi čitelné a tak flétnu, zvonění akustických kytar a hammondky z pozadí vnímám jako jeden široký proud, který se pod zrychlujícími bicími nástroji dostává do větších obrátek a melodická linka se s harmonickou strukturou nádherně prolíná. Hammondky mají ponurý sound a akcentovaný zpěv zkresleného Gabrielova hlasu s vypjatým vokálem se opět pouští do stále rychlejšího běhu. Některé pasáže skladby jsou subtilní, místy možná až příliš, na hranici slyšitelnosti. Možná by se dalo hovořit o postpsychedelických postupech, ale spíš v náladotvorných obrazech než v nějakém stylovém připodobňování.
VISIONS OF ANGELS – Jasné klavírní tóny přináší konkrétnější melodii, která se stává v první části spíš folkovým postupem, než deklarací rockové kapely. V pozdější části se ovšem tahle formulace proměňuje, ale ani potom nečekejte žádný agresivní rockový sound. Všechno se odehrává v takové křehké a měkké hudební poloze bez nějakých divokých erupcí. Nádherně nazpívané sborové vokály a dynamické změny jsou velmi účinné. Místy mám zase pocit, jakoby se vážná hudba prodrala do rockové struktury. Mayhewovy bicí nástroje se projevují četnými breaky a Banksovy varhany i klavíry mají onu klasickou formu. Znějí čistě jasně a jsou brilantně zahrány bez výrazných exhibic. Gabrielův podíl je práce vizionáře, který představuje různé snové a realistické obrazy a krásně souzní s celkovou stavbou kompozice, do které vstupuje i mellotron. Phillipsovy kytarové party jsou stále víceméně nečitelné a méně zřetelné. Kolektivní práce celého instrumentálního zázemí kapely je na vysoké úrovni, ale nikdo zde neční jako nějaký zářný maják.

STAGNATION – Také další skladba má spíše folkovou povahu v celkovém pojetí. Krásně se poslouchají akustické kytary. Dělají velmi jemná až pavučinová přediva, která se linou ve velmi neobvyklých harmoniích kontemplativního charakteru. Kouzlení zvuků přichází jako z nějakého snu ve stylu fantasy. Moje slabost pro dvanáctistrunnou kytaru je ukojena. Harmonická spojení jsou zde velmi zvláštní a účinná a až teprve po hodné chvíli vstupuje Mayhew se svou baterií bicích nástrojů do tématu a žene skladbu vpřed v rockovějších variacích, ale opět musím konstatovat, že postupy articifiální hudby se spíš dají propojit v nerockových aspiracích. Krásné proměny mollových, ale i dimových a modifikovaných akordů. Škoda, že hudba je stále hodně držena v pozadí jako v nějakém snovém oparu a není čitelnější její struktura a dynamické nájezdy vás spíš přepadají, než že by vás do sebe vtahovaly. Gabriel se opírá velmi těsně o textovou základnu zpívaných sdělení a z jeho projevu to slyšíme neustále. Pro ortodoxní rockery asi těžko skousnutelný oříšek na vnímání, protože zde není ona jasná prvoplánová drsnost, ale spíš pohádkové hudební obrazové leporelo. Závěr opět ryze ve stylu klasické hudby.
DUSK – Tuhle skladbu já osobně považuji za nejkrásnější na albu a vnímám ji stejně citlivě jako hudební mystérium. Nádherně vystavěná melodie, s velmi zvláštními harmonickými postupy jednotlivých nástrojů a vynikajících něžně křehkých vokálů mi připadne jako skutečné dotýkání se nebes. Výtečné akustické kytary a zase ty rozlamované akordy a modifikované akordy se zvláštními tónovými proměnami dvanáctistrunné a šestistrunné kytary a nad tím tón velebné flétny. Banks drží hammondkami dlouhý tón a Gabriel je ve své hudební prezentaci snad nejpřesvědčivější ve svém projevu na albu, ale i ostatní zpěváci – Banks a Rutherford znějí velice podmanivě a vroucně. Cítím neobvyklé mrazení po těle. Není to rock, je to velmi nevšední balada a pociťuji zvláštní vibraci i po nespočitatelném poslechu. Mistrovské dílo!
THE KNIFE – Genesis konečně v plném nasazení ukazují, že rocková struktura u nich není žádnou neznámou věcí. Tady se ta přímočarost přímo ukazuje v nekompromisních podobách. Phillipsova elektrická kytara dokonce demonstruje zajímavě vystavěné sólo a hřmotné bicí nástroje s basovým tóny jsou podporovány rychlými proměnami varhanních tónů, které skladbě vévodí. V další fázi skladby, ale dochází ke zklidnění a atmosféra nabývá podoby nespecifikovatelného vnitřního napětí, možná podobného jako u King Crimson, ale jen v jakýchsi názvucích díky mellotronu a bloudivým tónům basů a kytary. Chaotické výkřiky a hluk skladbu opět dostávají do prudkého běsnění a Phillipsova kytara s přiostřeným prodlouženým tónem  teď i technicky ještě promyšleněji prokresluje melodii nad důraznými breaky Mayhewových bicích nástrojů. Sekaná údernost mi připomene určitou dramatickou sekvenci z Child In Time od Deep Purple (to srovnání muselo být ovšem v r. 1970 nelichotivé), ale stupňování harmonických postupů skladbu odvádí do jiných sfér divadelního dramatu se závěrečným vyvrcholením.
Album Trespass poslouchám rád. Má v sobě zvláštní podmanivé kouzlo. Netvrdím, že patří mezi albové vrcholy skupiny, ale je velmi nadějně nastartovaným hudebním konceptem, který soudě podle určitých indicií bude mít vzestupnou tendenci a velmi zdařilý vývoj v dalších letech (vnímáno v dané časové rovině). Přesto si nemyslím, že navzdory stylovému označení Genesis, lze album jednoznačně zařadit do kategorie artrocku. Je to předobraz daného stylu, který ještě nemá konkrétní a jasně pojmenovatelné kontury. V lecčems je příbuzný se stylem Beggars Opera nebo Caravan, než třeba s Yes nebo pozdními Pink Floyd.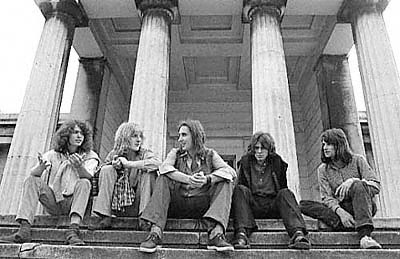 Také bych zdůraznil, že Genesis měli v sedmdesátých letech velmi kvalitní texty. V kapele bylo výrazné intelektuální zázemí, vztah k literatuře a poezii. Osobně jsou mi texty Genesis bližší než Yes, které mi připadají více vyumělkované a vykonstruované a hlavně méně srozumitelné. Gabriel byl nejen výtečný zpěvák (třebaže počátkem sedmdesátých let nebyla jeho pozice v Británii tak suverénní, jako o několik let později). U Genesis vnímám velmi silné muzikantské propojení lidského elementu s danou hudební formou a nevnímám zde jasného ambiciózního sólistu, který by chtěl ostatní nechat za zády. To v dané době nebylo obvyklé a tím má album moje další sympatie. Trespass je prostě výlet do virtuálního světa, který když chceme tak nalezneme, i když v té pragmatické podobě vlastně neexistuje a návrat k němu je vždycky malým svátkem. Albu ale nedávám plný počet hvězdiček, protože další alba se mi zdají objektivně řečeno zajímavější a vrcholová díla jejich produkce teprve přijdou. Tedy čtyři hvězdičky.
SKLADBY:
1. Looking For Someone – 7:06
2. White Mountain – 6:42
3. Visions Of Angels – 6:50
4. Stagnation – 8:48
5. Dusk – 4:13
6. The Knife – 8:56
SESTAVA:
Peter Gabriel – lead voice, flute, accordion, tambourine and bass drum
Anthony Banks – organ, piano, mellotron, guitar, voices
Anthony Phillips – acoustic 12-string, lead electric, dulcimer, voices
Michael Rutherford – acoustic 12-string, electric bass, nylon, cello, voices
John Mayhew – drums, percussion, voices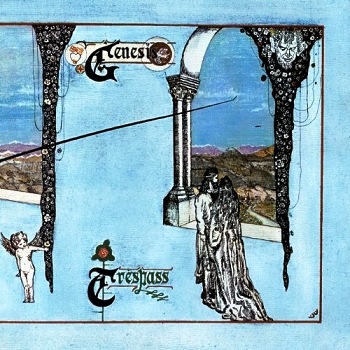 Trespass
Genesis
Art Rock, Prog Rock
Charisma
1970
LP
6