Máloktorá nemecká skupina by mohla s pokojným svedomím vystúpiť na piedestál k britským velikánom typu Deep Purple a hrdo ich zatieniť. Frumpy sa to podarilo. Nemyslím v realite (neviem, či sa niekedy stretli na pódiu), ale kvalitou. Koncertný dvojalbum Live vyšiel niekedy koncom roka 1972 (niektoré zdroje uvádzajú rok 1973), a teda po rozpade kapely, ktorá po gitaru diskriminujúcom debute All Will Be Changed (1970) dobyla srdcia hardrockerov klasickými albumami 2 (1971) a By The Way (1972). Odhliadnuc od hudobnej stránky, nože skúste menovať nejakú hardrockovú veličinu, kde by spievala žena, a to tak, že nejeden mužský vokalista pri nej znie ako vykastrovaná primadona! Neveríte? Tak si pusťte album Live.
Najprv za priehrštie faktov. Album obsahuje sedem skladieb, ktoré boli nahrané v priebehu troch vystúpení, a síce 28. septembra 1971 v Hamburgu (Backwater Blues, Duty), 11. decembra 1971 v Bielefelde (Release, Take Care Of Illusion) a 9. apríla 1972 v Bünde (Keep On Going, Singing Songs, To My Mother). Aby toho nebolo málo, na dvojcédečkovom vydaní od Repertoire Records sa nachádzajú aj dva bonusy, skladby Duty a Floating, ktoré pôvodne vyšli na kompilácii Pop & Blues Festival '70 Live (1970). Okrem Frumpy táto zaujímavá dvojalbumová kompilácia priniesla ukážku z tvorby kapiel Thrice Mice, Beatique In Corporation, Tomorrow's Gift a Sphinx Tush.

Okrem jednej kratšej päťminútovej záležitosti sa minutáž pohybuje v rozpätí cca deväť až dvadsaťdva minút. Dostanete preto riadnu dávku hardrockovej improvizácie, inštrumentálnych orgií Hammond-gitara, do toho obligátne citácie z klasiky a štipka blues. Album má navyše veľmi zvláštny zvuk, ktorý dnes znie až neuveriteľne staro (doslova sála patinou), ale práve to ho robí tak dajako blízkym, teplým a vrúcnym. Zabudnite na súčasné prebudené decibely, táto muzika dýcha, dynamiku by mohla prednášať na univerzite a energie má toľko, až sa čudujem, že ju jadrová lobby nestiahla z obehu.
Mal som šťastie, že som sa k Live dostal pomerne dávno. V časopise Muzikus kedysi bežal seriál o rockových bubeníkoch a bol tam diel o zásadných bubnovacích albumoch. V top liste bol aj tento kúsok. Nič som o ňom (a ani o skupine) dovtedy nevedel, takže som sa vrhol na dostupné encyklopedické zdroje a po čase ho objavil v obchode. Nedalo mi, presvedčil som predavača, že si ho chcem vypočuť. A bol som chytený! V úvode sa ozval zaujímavý spevák so správne hrubým hlasom, ibaže podľa mojich informácií tam malo spievať nežné ženské stvorenie. Hm. Inga je tak brutálne mužská (hlasovo), až sa mi pri tom vždy vybaví nejaká drsná nemecká "frau". Je to rozhodne zážitok.
Album Live od Frumpy si v ničom nezadá s Made In Japan od Deep Purple. Čo na tom, že je dnes prakticky neznámy. Cením si ho nadovšetko! A má ešte jednu výhodu. Poplietol som nemalé množstvo známych, ktorým ho vždy pustím a bavíme sa o tom chlapovi, čo spieva. Na prvýkrát ženu neidentifikoval hádam nik!
P. S. Prvú ukážku z Youtube na albume nenájdete. Chcel som však, aby ste počuli a videli, ako to skupina mastí naživo. Je jedno, akú skladbu hraje, je to paráda.
Skladby:
1. Keep On Going 12:06
2. Singing Songs 8:54
3. Backwater Blues 4:56
4. Duty 17:35
5. To My Mother 11:34
6. Release 22:00
7. Take Care Of Illusion 8:54
Zostava:
Inga Rumpf: spev, ak. gitara, perkusie
Jean-Jacques Kravetz: klávesy
Rainer Baumann: gitara
Karl-Heinz Schott: basa
Carsten Bohn: bicie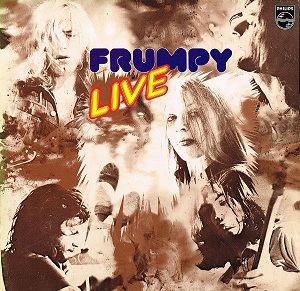 Live
Frumpy
hard rock
Phillips
1972
LP, CD
7