Americké šíre kraje vyprodukovali nejednu skupinu, po ktorej zľahla zem. Dnes si preto pripomeňme melodickú hardrockovú skupinu Froggie Beaver a jej jediný album From The Pond (1973).
Skupina pochádzala z Omahy v Nebraske. Chalani zo školy začali hrať hudbu, ktorá sa na nich valila z Anglicka. V zostave John Troia (spev), Ed Staszko (klávesy, spev), Tom Jackson (bicie, spev) a John Fischer (gitara, spev) založili po sérii neúspechov na jeseň roku 1971 skupinu Froggie Beaver. Za pomoci manažéra Noaha Williforda sa im podarilo uspieť na lokálnej úrovni. V roku 1973 skupinu opustil Tom Jackson a nahradil ho Ric Brown. V júli 1973 nahrali ich jediný album From The Pond, ktorý si vydali vlastným nákladom. Navzdory mohutnému koncertnému turné a pridaní sa sólového gitaristu Tonyho Beedlea sa skupina na jeseň roku 1974 rozpadla.
Vďaka Gear Fab Records sa album aj s pár nevydanými vecami objavil v podobe CD (iné CD vydanie dodnes neexistuje!) a všetci môžeme posúdiť mieru talentu chalanov z Omahy. Skupina produkovala melodický hard rock s klávesmi vpredu a bola pomerne baladicky orientovaná. Zvuk nie je najlepší, dodáva však hudbe punc autentickosti.
Úvodné intro sa rýchlo preskupí do svižnejšej melodickej hardrockovej Lovely Lady, prím hrajú klávesy, pasáž od spievania názvu skladby spomalí, ale je to tak prirodzené, až si to zaslúži uznanie. Skupina ukazuje, v čom je jej sila. Melodický spev, klávesy a dávka jemnosti v rockovom kabáte. Podobne je na tom aj pomalší "potenciálny" hit Buy Back My Life. Come To Believe je silne posadená v 60. rokoch, ide o slaďák s akustickou gitarou. Dhločizná Away From Home sa v pomalom tempe vrhá do zadumaných polôh sólovej gitary a monumentálneho organu. A opäť je tu pomalý slaďáčik Just For You. Vlastne sa tu okrem skladby číslo dva nič rýchle a ani besné nedeje, a predsa sa to počúva nádherne. Akustické brnkanie uzavrie album, ale to je len taká perlička k tomu, čo som už písal.
Bonusy sú svižnejšie. Movin' On je taká estrádna skladba, viem si ju predstaviť v podaní československých dobových hviezdičiek s dajakým lokalizovaným textom. Taký ten typ skladby, ktorú v origináli nikto nepočul, ale všetci pamätníci sú presvedčení, že práve čs-klon je to naj, čo kedy bolo stvorené. Nothing For Me Here je aj zvukom kdesi u The Doors, čo je inak dobrá pripomienka, pretože skupina nemala basáka, túto rolu zastával klávesák. Aj keď je o chlp veselšia, než spomínané pripodobenie. Pomalú polohu pripomenie Visions Of My Life. Vskutku nádherná záležitosť. A nastupuje asi jediná čistá hardrocková svižná vec Bring My Children Home. Gitara škrípe, klávesy upaľujú, rytmika šľape… A ja som vo svojom živle. Na záver je tu skladba Janine In Somewhere Land, kde sa k skupine pridal nový sólový gitarista a (nie) je to počuť. Skladba sa v úvode tvári ako nepodarené Bolero, rytmičák a tak, je to zaujímavé. Neskôr sa to ťažkotonážne rozbehne, ale stále je v tom prítomná tá melodická jemnosť, ktorá by nejedného PRAVÉHO hard rockera dostala do stavu nervového zrútenia. Našťastie, všetci ostatní takmer praví, pravejší, trošku praví, trošku ľaví, ľavejší, ľaví, inosmerní atď. si prídu na svoje.
Mám tento baladický zadumaný počin rád.
(upravené, pôvodne zverejnené na progboarde)
Skladby:
Road To Tomorrow, Part 1 0:55
Lovely Lady 5:05
Buy Back My Life 3:18
Come To Believe 5:48
Away From Home 9:43
Just For You 5:28
Road To Tomorrow, Part 2 2:05
Movin' On (bonus, 1972) 2:27
Nothing For Me Here (bonus, 1972) 2:47
Visions Of My Life (bonus, 1973) 4:17
Bring My Children Home (bonus, 1973) 4:50
Janine In Somewhere Land (bonus, 1973) 7:02
Zostava:
John Troia: spev (1-12)
Ed Staszko: organ, piano, vokály, klávesová basa (1-12)
John Fischer: gitara, spev (1-12)
Rick Brown: bicie, perkusie, vokály (1-7,12)
Chris Stovall: vibes (1-7)
Mike McKeen: steel drums (1-7)
Tom Jackson: bicie (8-11)
Steve Beedle: gitara, basa (12)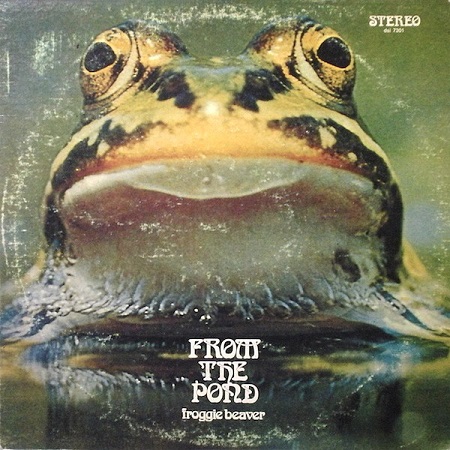 From The Pond
Froggie Beaver
hard rock
Froggie Beaver Records
1973
CD (Gear Fab Records, 1999)
7+5