Rovnica 1970+USA+hard rock+blues rock=záruka kvality. Debutový album kapely Frijid Pink má možno prepálenú farbu na obale, ale muzika je to "vypaľovačková" (nepliesť si s výpalníkmi).
Keď do zmienenej matematickej úlohy započítame Detroit, dostaneme prakticky dokonalý výsledok. Prečo? Čosi sa o tom dozviete v mojom článočku o debute MC5, tak sa nebudem opakovať, pokojne si to prečítajte. 
O kapele Frijid Pink som doma počúval ódy, pretože jej ostrá a tvrdá verzia tradicionálu House Of The Rising Sun, ktorú hippiesákom spropagovala formácie Animals, sa skrátka páčila už generácii mojich rodičov. Šírenie zmienenej pecky zabezpečila, ako inak, rakúska televízna stanica ORF prostredníctvom relácie Beat Club.
Cédečko, kde sa táto skladba nachádzala, som si kúpil krátko potom, čo som sa vrhol na zberateľstvo a objavovanie muziky, ktorá sa mi stala denným chlebom. Ešte šťastie, že ju nemecká firma Repertoire v 90. rokoch začala chrliť s kadenciou presahujúcou tú, ktorú zmieňuje Donutil v klasickej scéne z Černých baronov. A debut Frijid Pink vyšiel na cédečku už v roku 1991.
Pôvodný album obsahoval deväť skladieb, cédečko pridalo dva bonusy, single Heartbreak Hotel a Music For The People. Muzika je to nesmierne chytľavá, muzikanti sa vyžívali v prebujnelých emóciách, melodické cítenie tiež presahovalo bežnú mieru soundtrackov k juhoamerickým telenovelám (etalón "kvality", keď uvážime, že existujú aj turecké a iné telenovely), gitarista používa kúzelný kyselinový dobový škrípajúci zvuk, skrátka je to paráda. Veď už taká úvodná ľúbostná skladba God Gave Me You je pre mňa najlepšou romantickou piesňou, akú poznám. Aby ste si nemysleli, že ide o nejakú slaďáčikovú cukrovinku, dostanete aj riadnu dávku psychedelického hardrocku (Crying Shame, Tell Me Why, End Of The Line atď.) alebo blues-boogie smrští (I'm On My Way). Plus je tu tá božská verzia House Of The Rising Sun. Najväčšou devízou kapely je však spevák. Kelly Green ovláda dianie, jeho prejav je preexponovaný i neodolateľný zároveň.
Vynikajúca starinka, ktorá dáva na frak mnohým dnešným "tiež tvrdým" spolkom. Vlastne voči nej nemám ani jedinú výhradu, a preto si dovolím udeliť jej známku najvyššiu. Mám tento album rád.
Skladby:
1. God Gave Me You 3:35
2. Crying Shame 3:11
3. I'm On My Way 4:34
4. Drivin' Blues 3:14
5. Tell Me Why 2:50
6. End Of The Line 4:07
7. House Of Rising Sun 4:44
8. I Want To Be Your Lover 7:30
9. Boozin' Blues 6:01
Zostava:
Kelly Green: spev (harmonika)
Gary Ray Thompson: gitara
Tom Harris: basa
Richard Stevens: bicie
a
Larry Zelanka: klávesy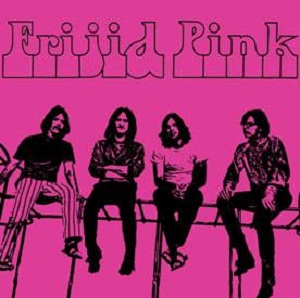 Frijid Pink
Frijid Pink
blues rock, hard rock, acid rock
Parrot Records
1970
LP, CD
9