Frank Zappa je pojem. Bez ohľadu na to, kto ho ako interpretuje, bol to zjav, akých veľa nebolo. V 70. rokoch produkoval pre mňa najpočúvateľnejšiu muziku a album Over-Nite Sensation z roku 1973 je toho dôkazom.
Milá úvodná skladba Camarillo Brillo má nielen typický Zappovský nadhľad, ale aj prekvapivú ľahkosť, s akou plynie. Nie, že by v nej nedochádzalo k niekoľkým zmenám, napriek tomu je nesmierne melodická a súdržná. Spevné funky-fusion I'm The Slime kĺže do éteru a do toho recituje text záhrobný hlas. Nepriznané ženské vokály zdobia refrén, gitarové sólo je ostré ako britva v rukách Sweeneyho Todda. Bluesrockeri si pochutia na nekompromisnej skladbe Dirty Love. Akurát musia prehrýzť tie Zappove zmeny vokálnych frekvencií, ktoré občas znejú, akoby to ani nemyslel vážne. A opäť je tu parádne gitarové sólo. Klávesová exhibícia otvorí ďalšiu, džezovo nasekanú, skladbu Fifty-Fifty. Deje sa toho v nej toľko, až by som popisom strávil popoludnie, čo sa mi nechce, a tak iba stručne skonštatujem – je to psycho-mäso. A huslista Jean Luc-Ponty si z nej veru odkrojil riadny kus pre seba. Frankovo sólo je z kategórie – úplná magorina – bol to zver! "Kolážovitá" skladba Zomby Woof ukazuje, kam až sa dá zájsť s vtipom v muzike, ktorá inak patrí k smrteľne vážnym druhom, všakže, džezrock? Klasická ironická "Zappovina", v ktorej sa veľa kecá, to je Dinah Moe Humm. Ešte aj v momentoch, kedy nastúpi akási "temná" pasáž, má človek chuť sa usmievať. Finále sa nesie v pokojnejšej polohe, Montana však ani na okamih nepôsobí monotónne!
Bezchybný album skvelej muziky, Zappa v tejto podobe mi vyhovuje. Nazdávam sa, že Over-Nite Sensation celkovo patrí k najprístupnejším dielam tohto amerického osamelého vlka. Trvá ledva tridsaťpäť minút a obsahuje toho toľko, že by to dnes neoprogovým "vatovačom" vystačilo hneď na niekoľko dvojalbumov. Ba čo viac, milovníci textov sa v nich môžu vyblázniť dosýta, pretože Zappa je majster v krivení jazyka. Však skúste.
Skladby:
Camarillo Brillo 4:01
I'm The Slime 3:35
Dirty Love 3:00
Fifty-Fifty 6:08
Zomby Woof 5:11
Dinah Moe Humm 6:05
Montana 6:37
Skupina:
Frank Zappa: gitara, spev
Tom Fowler: basa
Bruce Fowler: trombón
Ralph Humphrey: bicie
Sal Marquez: trúbka, spev
Ruth Underwood: marimba, vibrafón, perkusie
Ian Underwood: flauta, klarinet, saxofóny
George Duke: klávesy, syntetizátor
Jean-Luc Ponty: husle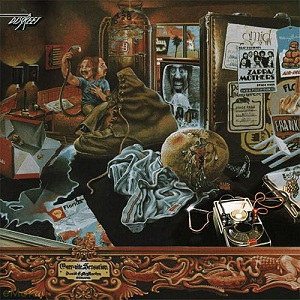 Over-Nite Sensation
Frank Zappa
Zappa rock
Discreet
1973
LP, CD
7