CD Sony Music, RCA 88875000392  /2014/
Album Sognando e risognando je třetím a zároveň i nejopěvovanějším v diskografii Formula 3. Vyšlo v září 1972 a obsahuje čtyři skladby v celkové délce 39 minut. 
Kdeže jsou ty časy neurvalého a psychedelického rock´n´rollu, zaznamenaného v drážkách debutového alba. Doba se změnila a s ní i výraz kapely, který se posunul k daleko sofistikovanějšímu art rocku. Koneckonců, svědčí o tom i tracklist, obsahující pouhé čtyři položky. Titulní skladbu rozdělenou do čtyř kapitol, do tří záseků rozporcovanou L'ultima foglia, předěl v podobě písničky Storia di un uomo e di una donna a konečně do dalších čtyř podčástí rozdělenou závěrečnou suitu Aeturnum.
Kapela hrála bez basy – v sestavě kytara, klapky a buben – a spokojený bude především ten, kdo miluje hřejivý zvuk analogových kláves. Symfonické album je na nich vystavěné, ale v pravý čas ozve se aj kytara šmrdlalka a přidá něco na hard rockovém důrazu. Melodie i vokály v italštině jsou pěkné a určitě neruší, navíc jich tady ani moc není – třeba suita L'ultima foglia je zcela instrumentální. Největší dojem na mě udělaly skládanky Sognando e risognando a především Aeternum, které mi svým zvukem připoměly kolegy z Alphataurus, nebo Biglietto Per L'inferno. Z konceptu desky poněkud vyčuhuje symphonic popová písnička Storia di un uomo e di una donna, která je takovou úlitbou "masám". V Evropě o kapele nikdo nevěděl, ale doma byla opravdu slavná a o tu svou popularitu nechtěla přijít…
Alba Formula 3 vycházela ve velkých nákladech, kapela si mohla dovolit to nejlepší nástrojové vybavení, producenta i studio a zvuk to má opravdu prvotřídní, ale ten obal! Je docela ujetej a doma bych si ho rozhodně nevystavil. Čtyři roky stará reedice od Sony nenabízí nic extra a obsahuje klasickej čtyřstránkovej booklet s tracklistem a sestavou.
Výborné instrumentální výkony, pěkné melodie, prvotřídní zvuk – tedy za čtyři.
SKLADBY:
01. Sognando e risognando – 10:37
a) Fermo al semaforo (2:53)
b) Sognando (1:15)
c) La stalla con i buoi (5:12)
d) Risognando (1:17)
02. L'ultima foglia – 11:53
a) L'albero (5:18)
b) Non mi ritrovo (4:23)
c) Finale (2:12)
03. Storia di un uomo e di una donna – 5:02
04. Aeternum – 11:29
a) Tema (2:32)
b) Caccia (1:42)
c) Interludio (6:00)
d) Finale (1:15)
SESTAVA:
Alberto Radius – chitarra elettrica, basso, chitarra acustica, voce
Gabriele Lorenzi – organo hammond, pianoforte, minimoog, basso, busilacchio, archi elettronici, voce
Tony Cicco – batteria, percussioni, voce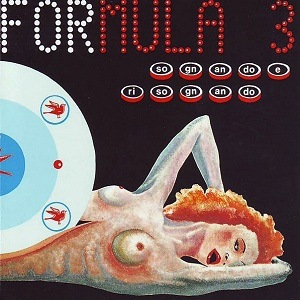 Sognando E Risognando
Formula 3
progressive rock
Numero Uno
1972
LP
4
CD - Sony Music, 2014