Po šiestich štúdiových albumoch vydala kapela Foghat koncertný album Live a to je niečo, čo nemôžem prejsť bez slova.
Na úvod si rovno zhrňme negatíva. Je to len jedna platňa! Ani nie 40 minút hudby! Neodpustiteľné!
K pozitívam. Je tu skoro štyridsať minút najsurovejšej hard-boogie rockovej muziky, akú kedy kapela nasnímala na ľubovoľný nosič!
Foghat patrí k tým skupinám, ktoré sa s tým nepárajú. Rytmika priamočiaro šliape a dvojica gitaristov vyšíva ako kolónia pavúkov v amazonskej džungli. Koho polapia, ten má smolu. Hudba ho rozleptá, vyšťaví a vyvrhne. Na rozdiel od chelicerov pavúkovcov však nenasleduje cesta na onen svet, ale závislácka túžba po opakovanom tripe. A to vravím ako človek, ktorý tejto muzike síce fandí, ale mám aj väčších favoritov. Kapela, hoci britská, sa okato orientovala na americký komerčný trh a to v 70. rokoch znamenalo, že treba mať spevné refrény a "americký" boogie feeling. Foghat by o oboch mohol prednášať na najprestížnejších univerzitách. Vedľajším efektom však je, že štúdiová produkcia je často uhladená a miestami priveľmi vtieravá. Aspoň pre mňa. Vtedy sa mi osvedčuje overená pravda, že aj producentsky umravnená kapela vedela v 70. rokoch ovládať pódiá.
Zbavená kompromisov, nabudená na maximálne volume, formácia Foghat hrala vždy muziku určenú pre ľudí a pred ľudí. Byť doma na javisku, to je základ nefalšovaného rockového prejavu. Najmä, ak je vo veci gitarový rock. Rozjazd je skôr opatrný, Fool For Your City i Home In My Hand sú pekné veci, dostanú diváka do nálady. A keď už je chytený na udičku, švác ho rovno do víru boja o život! I Just Want To Make Love To You je vďačný bluesový štandard, kapela ním otvárala svoj debut v roku 1972 a spravila z neho parádny hardrockový kúsok. Lenže! O päť rokov neskôr sama seba usvedčila z rezerv. Koncertná verzia je brutálna. Čumím s otvorenými ústami a ďakujem priemyselnej revolúcii, že sa jej podarilo takmer vyhubiť hmyz, a teda mi do nich nič nevletí.
Na druhej strane platne sa už len praží, otáčky stúpajú, Road Fever uháňa, Honey Hush je skrátka hardrocková bomba, no a štart raketoplánu do vesmíru v podobe gradovanej hymny Slow Ride sa ani opísať nedá. Akonáhle je koniec, musím si dať repete, lebo sa mi máli. Páni, takto sa hrá rock! Druhá polovica 70. rokov mu síce nepriala, ale koncertne prežíval v podobe, ktorá mu je najpriliehavejšia. Dravo a bez škrupulí.
Evidentne nie som jediný, kto má tento pocit. Dvojitá platina, najpredávanejší album skupiny v USA (11. miesto v rebríčku), čo dodať. Album mám vo vydaní v edícii Original Album Series spolu s albumami Foghat (1972), Energized (1974), Fool For The City (1975) a Tight Shoes (1980). Papierové obaly, žiadny booklet, lacné vydanie pre tých, ktorí uprednostňujú hudbu pred formou. Nie, že by som nedával prednosť výpravnejším vydaniam, ale pri kapelách, ktoré mi nie sú až tak blízke, mi takéto škatule vyhovujú. Nezaberajú veľa miesta v poličke a obsahujú často albumy, ktoré zmizli z ponuky. Fakt je, že medzi nimi Live vyniká ako Gulliver medzi Liliputánmi. Paverett, Price i McGregor už nie sú medzi nami, ale ich živý odkaz je tu, verím, natrvalo. Ďakujem.
Skladby:
Fool For The City 5:31
Home In My Hand 4:56
I Just Want To Make Love To You 8:36
Road Fever 5:29
Honey Hush 5:38
Slow Ride 8:21
Zostava:
"Lonesome" Dave Paverett. Gitara, spev
Rod Price: gitara, vokály
Craig MacGregor: basa, vokály
Roger Earl: bicie
a
Dan Craig: perkusie
Dave Lang: perkusie
Nick Jameson: perkusie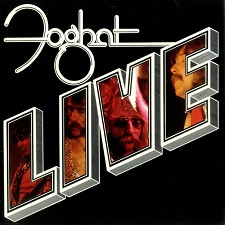 Live
Foghat
hard rock, boogie rock
Bearsville Records
1977
CD (Rhino Entertainment Company, 2009)
6