Holandská veličina Focus po sebe nezanechala mamutiu produkciu, čo do množstva albumov, ale čo do kvality môže smelo konkurovať brachiosaurom. Kebyže ma niekto núti odporučiť jediný titul z dielne Akkermana, Van Leera a spol. volil by som Moving Waves (1971). Prečo?
Nuž, obsahuje najikonickejšiu skladbu z dielne kapely (o nej o chvíľku) a keby aj nie, prezentovaná muzika si robí nárok na estetický počin hodný zápisu do Unesca. Kým v Holandsku album vyšiel pod názvom II, za hranicami sa ocitol pomenovaný ako Moving Waves a už mu to ostalo.
Pravdepodobne väčšina poslucháčov pozná mega-ultra-super pecku Hocus Pocus, inštrumentálku, v ktorej sa okrem sólových exhibícií všetkých nástrojov skvie hlas Van Leera, ktorý laláka, uštipačne mrmle, hvízda, jódluje, skrátka dokazuje, že spev môže byť dominantným sólovým nástrojom. Aj pre mňa bola zoznámením s touto kapelou a predpokladám, že mnohí ju poznajú vďaka husľovej cover verzie Vanessy Mae z druhej polovice 90. rokov.
Originál je originál.
Po toľkej náloži nečudo, že sa zvyšné štyri krátke skladby prvej strany platne sústredia na citlivé (Janis), melancholické (Moving Waves) a miestami do klasiky zaodené (Le Clochard) miniatúry. Zasnení melodici sa pri nich, paradoxne, zobudia a zbystria pozornosť. Na každom albume kapely sa nachádza skladba Focus s poradovým číslom, tu, logicky, ide o Focus II. Melodika a inštrumentálna bravúrnosť sa skĺbili do vkusnej a pompéznej inštrumentálky, kde dôraz na atmosféru stojí nad všetkým. Druhú stranu platne zapratala jediná kompozícia Eruption. Tých dvadsaťtri minút ubehne, ani sa nenazdáte! Je v nej všetko, čo zdobí sedemdesiatkový artrock, pričom melodika je na prvom mieste. Napriek tomu nejde o žiadnu presladenú limonádu, servíruje sa výnimočný ročník vína, ktoré by aj dnes vyhralo v ľubovoľnej súťaži prestížnych značiek najvyššej kvality.
Moving Waves je esenciálny album kapely Focus a jeden z najlepších v histórii rockovej muziky vôbec. A to som sa vyjadril zdržanlivo.
Skladby:
Hocus Pocus 6:42
Le Clochard 2:01
Janis 3:09
Moving Waves 2:42
Focus II 4:03
Eruption 23:04
Orfeus 1.22
Answer 1:35
Orfeus 1:20
Answer 0:52
Pupilla 1:03
Tommy 1:45
Pupilla 0:34
Answer 0:21
The Bridge 5:20
Euridice 1:40
Dayglow 2:09
Endless Road 1:36
Answer 0:34
Orfeus 0:52
Euridice 1:37
Zostava:
Jan Akkerman: gitara, basa
Thijs Van Leer: spev, flauta, klávesy
Cyril Havermans: basa, vokály
Pierre Van Der Linden: bicie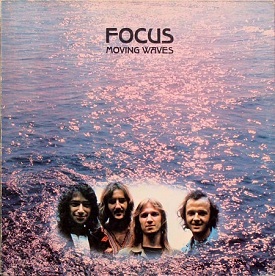 Moving Waves
Focus
art rock
Imperial/Polydor
1971
LP, CD
6