Koupit si výběr Greatest Hits od Fleetwood Mac jsem považoval za nezbytné, protože obsahoval singly, které nebyly zařazeny na řadová alba kapely. Jednalo se o významné skladby a navíc se mě hodně líbily, proto to byla jasná volba. Pak jsem ale zjistil, že CBS si se mnou pohrává a tento výběr na některých CD není identický s původním vydáním; postrádám na něm jednu výtečnou skladbu. Tato verze se kupodivu hůře sháněla, ale nakonec se mi to povedlo. Přiznám se, že kompilaci už dlouhá léta nevídám v regálech obchodů s hudebními nosiči, a tak jsem moc rád, že jí mám.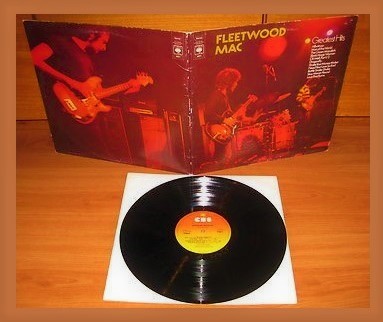 THE GREEN MANALISHI (WITH THE TWO PRONGED CROWN) – Už úvodní skladba zní majestátně a navíc s psychedelickým nábojem mimořádného kalibru. To je slavný hit kapely, ve kterém Fleetwood Mac deklarují svou progresivní linii. Jak už to tak bývá, byla labutí písní Petera Greena v řadách kapely, kterou zakládal a podobný typ skladby v jejich repertoáru ani předtím, ani potom už nenajdete. Svým důležitým podílem jsou zde zapojeni všichni tři sóloví kytaristé. Píseň má v sobě napětí a téměř mystickou atmosféru vibrující britským undergroundem konce šedesátých let. Úžasné dynamické proměny, Fleetwoodovy bubenické přechody a hra na tympány společně s kvílivě tetelivým vokálem sem přinášejí atmosféru, při které mi dodnes leze mráz po zádech.

OH WELL – PART 1 – Fantastický motiv pro akustickou kytaru, po něm nástup elektrické kytary společně s percussion a konečně nástup třetí kytary. Tohle je riff jako zvon. Tak tady cítím ten předzeppelinovský sound se vším všudy. Ten přechod mezi Yardbirds a Led Zeppelin. Věčně mě bude mrzet, že jsem Fleetwood Mac neměl možnost vidět v tomto období naživo. Děje se tady spousta hudebních emocí, zhuštěných dohromady v šamanský motiv zakázaného obřadu a vygradovaného finále. Fantazie! Další část skladby má v sobě meditativní atmosféru, kdy se procítěné tóny akustické kytary prolínají s akcenty výrazně nahazované kytary a vstoupí sem dokonce krátce i flétna.
OH WELL – PART 2 – Druhá část volně přechází s meditativním tématem s impresí samoty a smutku, kde akustická a elektrická kytara mají svoje nezastupitelná místa. Vstoupí sem také violoncello svým zadumaným a vážným tónem. Mám pocit, jako bych poslouchal nějakou starou španělskou hudební etudu. Náhle se objeví klavír, který významně promění atmosféru, ale kytary jsou zachovány v mollových polohách. Peter Green sem vloží vlastní kytarové téma, které jakoby zahrál sám Andrés Segovia. Velmi procítěné s jedinečně volenými harmonickými proměnami. Důrazné rány na tympány a činely, potemnělé violoncello. Motiv se opakuje, násobí svou sílu, přechází z fortissimo do pianissima a potemněle se vytrácí v prostoru. Úžasné zhmotnění emocí!
SHAKE YOUR MONEY MAKER – Jsme na jasné půdě spojení rock and rollu a rhythm and blues pod taktovkou Jeremy Spencera, velkého obdivovatele Elmore Jamese, od kterého skladba pochází. Spencer si skladbu zazpívá. Fleetwood a McVie tady pracují jako pořádně zrychlená lokomotiva, kterou doprovázejí slide a elektrická kytara v divokých bězích. Skladba z raného období Fleetwood Mac, nacházející se na prvním albu. Je to ten typ písně, při které se blahé paměti bořily sály a nic nezůstalo na svém místě.
NEED YOUR LOVE SO BAD – A je to tady. Tohle je blues jako víno. Green hraje vynikajícím úsporným způsobem a každý tón má zvlášť promyšlený. Jako zpěvák je v kapele nejpřesvědčivější. Jeho hlasové zabarvení, smysl pro frázování a přiblížení se černošskému interpretačnímu projevu, je zkrátka jedinečné. Významnou roli zde hrají smyčce. Je to smutná skladba. Ten smutek z rhythm and blues graduje a je najednou všude. Láska může zraňovat, ničit a zbavovat rozumu. Myslím, že o tom všem Green zpívá. McVieho basy a Fleetwoodovy bicí hrají pouhé základy. Kytarové sólo se nám vrátí. Výtečně rozechvívané tóny a jemné dotahy jeho nasazení jsou prostě neopakovatelné. Nádherná skladba, ale bohužel příliš, příliš krátká.
RATTLE SNAKE SHAKE – Výrazný bluesový riff, který skladbou prorůstá. Kytarové party jsou důrazné a metodicky velmi účelně zapojované. V mezihře se ozve pořádně zaostřený syrový tón sóla. Bicí nástroje zde doprovází tleskání a hlavně chřestění i šustění chřestýšího varovného "štěrchátka". Bicí s baskytarou jsou zde hodně důrazné a hypnoticky se opakující. Green a Spencer se velmi dobře doplňují. Žádné velké komplikace, ale přesto velmi silný přínos.
DRAGONFLY – Tohle jsou Fleetwood Mac už bez Greena v období hledání nového stylu. Skladbu jsem poprvé slyšel na Beat Clubu. Zpívá ji Bob Welch a vypomáhá mu Christine McVie (v téhle době už manželka baskytaristy). Jako bych zde cítil (nikoliv slyšel) vliv Santany. Pro milovníky klasického soundu Fleetwood Mac je tohle ovšem asi méně přijatelné a příliš písničkové i s těmi americkými vokálními party ve stylu Crosby, Stills And Nash. Přesto se zde podařilo virtuálně napodobit let vážky, o které je celá píseň.
BLACK MAGIC WOMAN – Nemůže zde chybět skladba, která se v podání Santany stala světovým megahitem už v r. 1970. Tady je ovšem její prehistorický základ. Dunivé a dusavé bicí s tympány Fleetwooda tepou v téměř etnickém slova smyslu. Prostorový sound elektrické kytary Greena – včetně jeho prodlužovaného tónu a rozostřené kytary Spencera – se náhle změní do téměř jazzové polohy, kdy Fleetwood a McVie začnou swingovat v rhythmandbluesovém duchu až do závěru.
ALBATROSS – Výtečná skladba ze singlu. Krásná práce procítěných elektrických kytar s přeznívajícími tóny v silně melancholickém pojetí. Green je opravdu mistrem svého nástroje. Hraje zde nikoliv komplikované, ale velmi ryzí a citlivé sólo s dozvukem. McVie hraje ostináto baskytary, Fleetwood svoje bicí zjednodušuje hypnotickým rytmem a čeří zvukem činelu. Ano, takhle si představuji ráno na mořském pobřeží, když vstává den a mořská hladina ve své nedozírnosti nabízí různé odstíny barev čeřených vln a nad nimi poletuje osamělý racek. Velmi krásná instrumentální skladba.
MAN OF THE WORLD – Další velký hit kapely. Melancholie v hlasovém podání zůstává zachována. Kytarové party jsou ovšem velmi proměnlivé a krásně se zde projevuje kooperace Greena, Spencera a Kirwana, každý svým podílem dotváří celkový sound, v němž se dokáže přitlačit na ostří, ale stejně tak elegantně přejít na melancholickou notu nejen v interpretaci, ale i kytarových partech. Myslím, že tahle skladba mohla být o mnoho let později inspirací takovým Dire Straits.
STOP MESSIN' ROUND – Tohle je pro změnu boogie. Důrazné baskytarové party a šlapající bicí jsou doprovázený dechovou sekcí, kterou sem prosadil producent Mike Vernon. Mění sound kapely, ale nijak nenarušují její celistvost. Samozřejmě zde nechybějí elektrické kytary, které bez zbytečného rozhazování nadbytečných tónů vyšívají velmi přesvědčivá vlákna propojující celé schéma.
LOVE THAT BURNS – Poslední skladba (stejně jako dvě předešlé) je z dílny Greena. Spencer, zde upozadněn, hraje na klavír. Green je před mikrofonem a černošským pojetím, se správným hlasovým timbrem, vyjadřuje svoje pocity. Kytarové ornamenty jsou trochu zasunuty v pozadí. Zato zde máme opět dechovou sekci, ale velmi citlivě zaranžovanou, takže nepůsobí násilně nebo dravě a proto se vyjadřovací prostředky lidské hořkosti nad spalujícími pocity z vyhořelé lásky výtečně demonstrují. Ostatně, Green svým nezaměnitelným způsobem nabídne precizně rozechvívané tóny kytary a dokresluje atmosféru. Klavírní party jsou v další mezihře docela kreativní, ale píseň se zvolna vzdaluje do nenávratna a zanechává za sebou ten zdůrazňovaný melancholický pocit.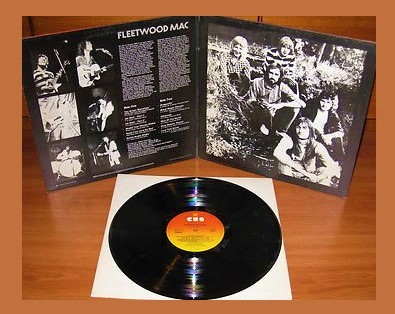 Greatest Hits mohu stoprocentně doporučit všem milovníkům blues a hudby šedesátých let. Kdo od britských Fleetwood Mac nemá jediné album a přesto má pocit, že nějaké "vzorky" jejich hudby by doma měl mít, je právě ono ta správná volba. Myslím, že zachycuje jejich stylové zaměření, ale přináší i pár experimentů, jimiž se kapela posouvá do vyššího patra těch skupin, které v blues hledaly, jak s tímhle materiálem dále pracovat po vývojové linii. Tady se věci opravdu povedly beze zbytku. Jedinou výtkou může být nevyvážený zvuk některých nahrávek. Nejsem si ale jist, jestli by právě zde remastering soundu Fleetwood Mac obecně prospěl, a tak i nad touto okolností přivírám oči a rád se k téhle hudbě vracím. Je to sice výběr, ale podle mého, velmi zdařilý výběr, a tak dám plný počet hvězdiček.
SKLADBY:
01. The Green Manalishi (With The Two Pronged Crown) (P. A. Green) 4:30 – 1970
02. Oh Well – Part 1 (P. A. Green) 3:28 – 1969
03. Oh Well – Part 2 (P. A. Green) 5:37 – 1969
04. Shake Your Money Maker (Elmore James) 2:52 – 1968
05. Need Your Love So Bad (Little Willie John) 3:46 – 1968
06. Rattle Snake Shake (P. A. Green) 2:05 – 1969
07. Dragonfly (D. Kirwan/W. H. Davies) 2:42 – 1971
08. Black Magic Woman (P. A. Green) 2:49 – 1968
09. Albatross (P. A. Green) 3.03 – 1968
10. Man Of The World (P. A. Green) 2:46 – 1969
11. Stop Messin' Round (P. A. Green/C. G. Adams) 2:17 – 1968
12. Love That Burns (P. A. Green/C. G. Adams) 5:00 – 1968
SESTAVA:
Peter Green – vocal, electric guitar, acoustic guitar, harmonica
Jeremy Spencer – vocal, slide-guitar, piano
Danny Kirwan – guitar
Bob Welch – vocal, guitar (7)
Christine McVie – vocal, keyboards (7)
John McVie – bass
Mick Fleetwood – drums, percussion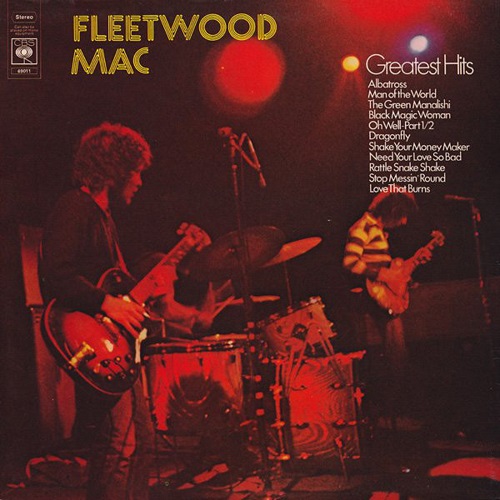 Greatest Hits
Fleetwood Mac
Blues Rock
CBS
1971
LP
12
CD - CBS - 460704 2 /1989/