Na Slovensku máme akútny nedostatok rockových legiend. Preto, keď sa ohlási kaliber typu Fermata, nemôžem ho nepovšimnuto obísť. Po štrnástich rokoch sa v roku 2019 zjavil nový štúdiový album Blumental Blues. Aký je?
Dobrý, ale…
Fermata (s dĺžňom i bez) je popri Collegiu Musicu jedinou slovenskou rockovou skupinou, ktorá aj v rockovo najexponovanejších 70. rokoch zniesla porovnanie so svetovou špičkou. Akokoľvek je fusion žáner, ktorý počúvam zriedka, debutový album Fermáta (1975) staviam vo svojom osobnom rebríčku na najvyššiu policu výkladnej skrine. Aj Pieseň z hôľ (1976) mi vyhovuje, ale napríklad Huascaran (1977) ma nikdy neoslovil. So skupinou som prišiel do styku v 90. rokoch. Začal som sa zaujímať o muziku, hrať na bicie a v bratislavskom hudobnom podhubí nebolo možné obísť ani Grigláka. Videl som Fermatu niekoľkokrát naživo. Éterom znela hitová skladba z výborného albumu Simile… (1991) – Spomienka na Amsterdam. Tá bola rovná inštrumentálkam Garyho Moorea!
Informácia z tlače, že Griglák a Berka dali dokopy projekt Blumental Blues, ma pozitívne navnadil a hneď po vydaní som zbehol k Horákovi a CD si kúpil. Nielen preto, aby som podporil predaje, ale predovšetkým som bol zvedavý, s čím prídu. To, že ide o akési pokračovanie knižného titulu s rovnakým názvom od Berku, v mojom rozhodovaní nehralo rolu.
Album núka desať skladieb. Všetky sú meditatívne, rytmika je na Fermatu podozrivo priamočiara, veľký priestor majú klávesové nástroje, zvukom ukotvené na hranici znesiteľnosti éry 80. rokov. Tradične úžasná je gitara, predovšetkým tá sólová. Griglák je majster a s prehľadom ovláda ako techniku, tak cit pre výstavbu inštrumentálneho predvádzania sa. Nepočujem tu nič samoúčelné, všetko je podriadené melodike.
Ťažko sa mi vyberá to naj, celé je to konzistentne "rovnaké", nič nevyčnieva. Na druhú stranu, ani neruší. Možno len tie bicie by si zaslúžili viac, napokon, naprogramoval ich samotný frontman a myslím si, že nemusel šetriť a radšej mohol najať nejakého bubeníka. Čo už.
Ako kulisovku si toto dielo rád pustím. Podobne ako svetoví velikáni, ktorí v 70. rokoch žiarili a dnes už sú zrelí usadení "pohodári", aj Fermata neohúri, skôr prináša príjemnú atmosféru bez nadmerného vzruchu. Pôvodne som bol mierne sklamaný, teraz už som si zvykol a keď mám tú správnu náladu na neveľmi sústredené počúvanie, tento album prevetrám.
Skladby:
Booze Night (Nasávačka) 4:15
Ladies Of Avion (Slečny z Avionu) 4:11
Blumental Blues (Blumental Blues) 5:01
The Pigeons Of St. Florian (Floriánove holuby) 4:50
Last Dance At The "Firšnál" Place (Posledný tanec na Firšnáli) 3:59
The Copper Cock (Medený kohút) 4:26
Hommage á Marian 1:22
Stupid Morning (Blbé ráno) 4:57
The Breakfast At Stein (Raňajky u "Štajna") 4:56
First Morning Tram (Prvá ranná električka) 6:03
Zostava:
František Griglák: gitara, klávesy, basa, programované bicie
Tomáš Berka: klávesy
Maxo Mikloš: klávesy
Tamás Belicza: basa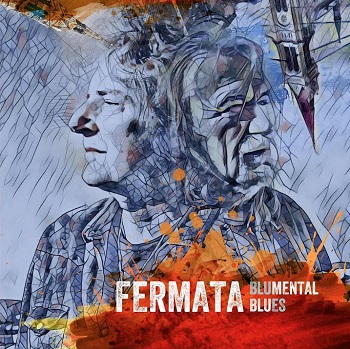 Blumental Blues
Fermata
art rock
Pavian Records
2019
CD (Pavian Records, 2019)
10