Fleetwood Mac a Then Play On (1969), to je album, ktorý si hovie v tieni historickej popularizačnej snahy o vyzdvihnutie toho naj, čo kedy v rockovej hudbe vzniklo. Nuž, dovoľte mi ho pripomenúť.
Ak sa mi niektorá kapela z britského bluesového podhubia úspešne vyhýbala, tak to bola Fleetwood Mac. Roky rokúce som si vystačil s výberovkou The best of Peter Green's Fleetwood Mac. Aj aj to len preto, lebo som chcel mať doma originál skladby Black Magic Woman, nesmrteľný dvojdielny singel Oh, Well a predovšetkým singel Dragonfly, ktorý som z detských čias poznal z otcovej VHS-ky zo záznamu z Beat-Clubu. Áno, aj táto skladba sa na tom výbere nachádza, hoci na nej Green nehral! Ale o tom inokedy.
Inak mi kapela moc nehovorila. Nikdy som nebol bluesový purista, a tak ma klasické kúsky z amerického černošského zlatého fondu síce nenudili, ale ani som nikdy neprepadol túžbe vlastniť všetky ich verzie v rámci bielej vlny britského blues. Ani úspešná komerčná kariéra súboru od druhej polovice 70. rokov ma neoslovila. Do tretice, Mick Fleetwood bol príliš nevýrazný bubeník, aby som sa jeho hrou bližšie zaoberal. Napriek tomu som sa posledných dvadsať rokov sem-tam zaoberal myšlienkou, že by som si kúpil aspoň jeden album, a to Then Play On. Pretože sa na ňom nachádzala skladba Oh, Well. A to je vám, pánečku, iný hardrockový klenot! Háčik spočíval v tom, že v Británii to bola singlovka a na album sa dostala iba v USA. Vydania na CD boli všakovaké, v roku 2013 konečne Warner Bros. vydali reedíciu, ktorá ctila britský vinyl a single pridala ako bonusy (okrem Oh, Well aj ďalšiu pecku The Geen Manalishi (with the Two Prong Crown) a skladbu World in Harmony). A práve toto vydanie som si tento rok konečne zaradil do zbierky.
Peter Green má svojský štýl hrania na gitaru. Akoby plakala i smiala sa zároveň. Krásne to počuť na každom jednom tóne, čo znie hneď v úvodnej skladbe Coming Your Way. Výborne mu sekunduje Danny Kirwan, takže to, že na albume hrajú dvaja gitaristi, nemôžete prepočuť. Celé dielo má akoby dve tváre. Okrem hutnejších bluesových kúskov (Fighting For Madge, Rattlesnake Shake, Like Crying) sa často prepadáva do melanchólie (Closing My Eyes, Before The Beginning), ktorá svojou krehkosťou pripomína motýlie krídla. Kochať sa smieme, ale neslobodno sa dotýkať! S jemným vánkom pomenovaným When You Say by si človek vedel predstaviť pobyt v Raji. A s Under Way by sa tam cítil ako v päťhviezdičkovom hoteli. Bluesoví puristi sa pokochajú v kúskoch typu Show-Biz Blues alebo One Sunny Day. A keď sa rozprávame o pomalom blues, popri ktorom aj evolúcia od starohôr po štvrtohory pôsobí ako zrýchlený film, tak taká krehuľka Without You má v sebe pokoja, ktorý by vystačil niekoľkým generáciám meditujúcich tibetských mníchov. Aby toho nebolo málo, nachádzajú sa tu aj malé odbočky úplne inam, ako napr. popovo "sixtýsová" uspávanka Although The Sun Is Shining. Alebo zmes kadečoho nazvaná Searching For Madge.
Inak, takmer všetky pokojné kúsky zložil Kirwan (nespomenul som ešte My Dream). Ale to je iba detail. Čo je podstatné, celý album má úžasnú atmosféru. Rozoberaním skladby po skladbe dostanete iný obrázok ako pri počúvaní celku. Dnes je táto vlastnosť v hudbe vzácna. O rádiovej produkcii sa nebavme, to neprekvapuje. Čo ma mrzí, je, že aj v rockovej muzike už stavba albumu ako monolitu dostáva čoraz menej priestoru. A nemusí ísť o koncepčné diela, ktorými sa zadúšajú progresívni metalisti alebo neoprogeri, pričom "skutek utek". Neviem to dobre formulovať, mám však pocit, že platne spred vyše štyridsiatich rokov disponujú niečím navyše, čo presahuje jednotlivé skladby. Tento pocit ani pri nepochybme kvalitných dielach v súčasnosti nemávam tak často, ako by som si želal.
Čo dodať na záver? Pre ten vzdušný a zasnený pocit nemôžem albumu udeliť menšie ocenenie ako – výborný. A tie bonusy! Ozaj, niet tu ani jednej cover verzie, čo predtým kapela nemala vo zvyku…
Skladby:
Coming Your Way 3:47
Closing My Eyes 4:50
Fighting For Madge 2:45
When You Say 4:22
Show-Biz Blues 3:50
Under Way 3:06
One Sunny Day 3:12
Although The Sun Is Shining 2:31
Rattlesnake Shake 3:32
Without You 4:34
Searching For Madge 6:56
My Dream 3:30
Like Crying 2:21
Before The Beginning 3:28
Bonusy:
Oh, Well – Pt. 1 3:22
Oh, Well – Pt. 2 5:39
The Green Manalishi (With The Two Prong Crown) 4:37
World In Harmony 3:26
Zostava:
Peter Green: spev, gitara, harmonika, šesťstrunová basa, perkusie, violončelo (Oh, Well – Pt. 2)
Danny Kirwan: spev, gitara
John McVie: basa
Mick Fleetwood: bicie, perkusie
a
Jeremy Spencer: piano (Oh, Well – Pt. 2)
Sandra Ellson: zobcová flauta (Oh, Well – Pt. 2)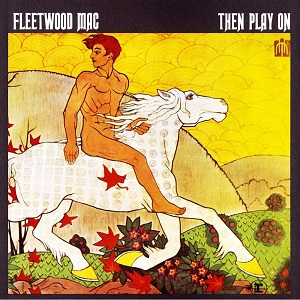 Then Play On
Fleetwood Mac
blues rock
Reprise
1969
LP, CD
14
CD - Reprise Records/Warner Music /2013/