Druhé album slovenské skupiny Fermáta vyšlo poměrně rychle za debutem. Svědčilo to mimo jiné i o tom, že na Slovensku panovala úplně jiná kulturní a vydavatelská politika než v Čechách a na Moravě. Zatímco zde ve druhé polovině sedmdesátých let kapely čekaly čtyři až pět let na vydání dalšího díla, v městě na Dunaji prostě Opus projevil mnohem větší vstřícnost i aktivitu a instrumentální kapela bez zpívajícího frontmana měla najednou nové album Pieseň z hôľ a bylo jí co závidět. Byl jsem kapelou zaujat už na jejím brněnském koncertě, a tak jsem se logicky zajímal o to, jakým směrem půjde dál její vývoj. Album jsem tedy zakoupil a v mé sbírce, vyměněné později za CD, zůstalo dodnes.
PIESEŇ Z HÔĽ – Velmi průrazný basový nástup. Ta rezonance odzbrojuje! Hned v závěsu je tady bubenická práce opravdu vysokého formátu kvality. Anton Jaro a nový bubeník Cyril Zeleňák nabídnou fusion tandem jedinečného pojetí. Na elektrické piano Fender-Rhodes nám svoje instrumentální umění předvede Tomáš Berka, který má v zádech slovenského superkytaristu Františka "Fero" Grigláka. Tak tomu se ovšem říká jízda na plný plyn i přes řadu zatáček. Nesporně tady cítím vliv britských Brand X, ale mírně i Mahavishnu Orchestra. Úžasná souhra a dynamické napětí. Tahle hudební parta nehraje jenom pro peníze, ale tady je cítit ten obrovský muzikantský potenciál a entuziasmus, který přímo prýští z rytmů a tónů. Pochválit musím i výtečně sejmutý zvuk. Pulsující dynamika vás jednoduše pohltí jako mlýnek na maso. Uvědomuji si, jaký obrovský skok rytmika v té době udělala. Řada bubeníků v našem prostředí se vymanila z anonymity a mohla nabídnout opravdu vývozní pojetí muzikantského uchopení. Griglák prosviští svými tóny jako John Goodsall a myslím, že bych si ho dokázal v téhle britské partě kolem Phila Collinse v polovině sedmdesátých let dobře představit. Nezbývá než chválit a oněměle zírat, co tahle parta dokázala ze sebe dostat. Žádné akademické hraní samo pro sebe, ale plnokrevné improvizace s fantastickým nasazením. Synthesizer má kapela rovněž ve svém inventáři, ale tady spíš slouží jako generátor různých tónových variací. Prostě deset minut závodu na dlouhou trať a stále s cihlou na pedálu plynu!
SVADBA NA MEDVEDEJ LÚKE – Cyril Zeleňák podle vzoru Tonyho Williamse, Billyho Cobhama, Lennyho Whitea a Alphonse Mouzona chtěl ukázat, že i on vstřebává šílené rytmické breaky. Další postupu jsou vedeny spíš v mírně zrychleném tempu. Jarova baskytara pořad výrazně pulsuje v melodických linkách a akcentování elektrického piana zní velmi hutně a přesvědčivě. Pracuje se tady s řadou kontemplativních nálad v harmonických proměnách. Barevnost rozhodně skladbě nechybí. Synthesizer slouží jako zprostředkovatel elektronických vjemů a pocitů s řadou šumů oscilátorů a nabídne jiný model hudebního pojetí.
POSLEDNÝ JARMOK V RADVANI – Rytmika pořad v prvotřídním gardu. Suverénně a absolutně bezchybně. Je tu ale také Fero Griglák. Jeho kytarové party jsou méně nápadné než v první skladbě, ale jeho čas přijde, a už se tak děje. Také zde cítím vliv americké fusion kapely Weather Report (tady ovšem s kytarou). Griglákova kytara nádherné zpívá ve sférických melodických obrazech. Berkův synthesizer až tady dostává prostor jako regulérní nástroj a nikoliv "jenom" jako generátor tónových variací. Griglák poté převezme hlavní prostor a máme možnost si vychutnat jeho kytarové běsnění. Je cítít, že od Collegia Musica ještě více vyspěl po instrumentální stránce a jeho technika zní opravdu vyprecizovaně. Výtečný skladbový podíl na albu. Zcela nečekaně, bez varování sem vstoupí bicí a máme zde porci brilantního slovenského jazz rocku v tom vývozním slova smyslu.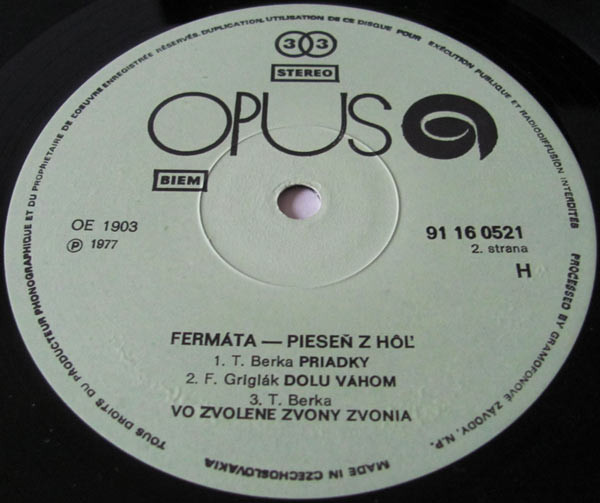 PRIADKY – Zadumané tóny elektrického piana jemně kloužou i perlí téměř v pianissimu a vnímám jakési destruktivní zvuky lesa na percussion. Tomáš Berka sice není Chick Corea ani George Duke, ale v rámci přínosu i energetických kreativit sem vnáší významný prvek uvolněnosti a zbavuje hudební téma akademičnosti. Rockový motiv přináší Griglák svým kytarově suverénním způsobem. Basy a synthesizerová basová linka zdůrazňují základní a stavební kameny téhle kompozice. Myslím, že jejich pojetí jazz rocku jde jiným směrem než pražských Jazz Q nebo Energitu, třebaže jedou všichni v jednom kupé pořádně zrychleného vlaku. Nezapomnělo se ani na percussion – conga zde cítím a slyším dost citelně, mohu se z toho radovat.
DOLU VÁHOM – Berka na Fender-Rhodes rozmarně rozvine uvolněné téma a vzápětí za ním je tu celá kapela. Ta barevnost mě dostává. Když přivřu oči, cítím dotek podzimní přírody s řadou odstínu dozrávajícího listí indiánského léta a tohle všechno se do hudby promítá. Ostatně, leccos už naznačuje samotný obal alba. Elektronická kresba Moog synthesizeru je ohebná, elastická a krásně se spojuje s perfektně dotaženými rytmickými party. Opravdu radost poslouchat.
VO ZVOLENE ZVONY ZVONIA – Závěrečná skladba nám nabídne širší plochu k sebevyjádření. Trochu zde cítím vliv občasných názorných témat na albu Welcome od Santany, ale rytmicky nejdeme do žádné bossa novy nebo rumby. Naopak, přichází sem na housle pro mě méně známe jméno Milan Tedla. Není to sice Jan Hrubý nebo Jan Martinec, ale jeho přínos pro album je nezastupitelný. Možná sem přináší jakési utajené poselství slovenského folkloru. Skladbě dominuje baskytara Antona Jara a Moog synthesizer, na který se střídají Berka a Griglák. Další proměna s akcentovanými rytmy a barevným kouzlením elektronických tónů je změnou v téhle impresivní skladbě. Tón houslí je čistý a hra smyčcem lehká, bez nějakých zatěžkávacích manévru nebo nějakých zvukových kompresorů. Vokální unisono se synthesizerem sem vnáší větší hravost i uvolněnost a to je více než dobře.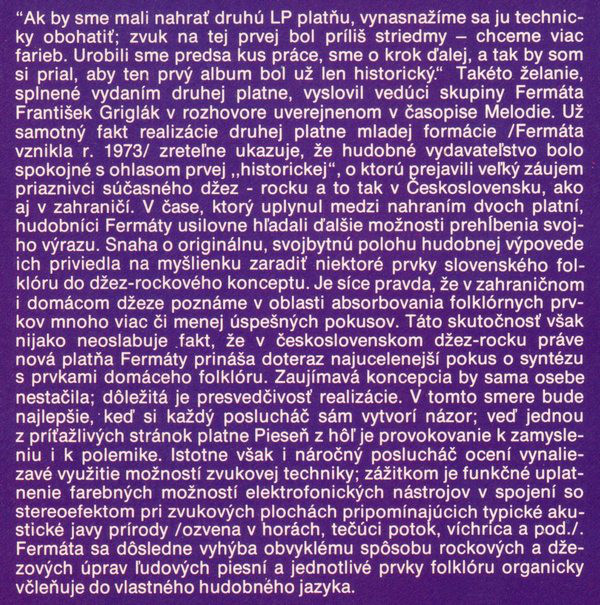 Úroveň alba Pieseň z hôľ zůstala zachována ve stejně rovině jako na debutu Fermáty. Tady ale vnímám čitelněji větší barevnost a možná ještě více suverenity podání. "Osamělí rváči slovenského jazz rocku" – jak byli titulováni v dobové Melodii, dokázali, že i oni jsou schopni velice účinně a věrohodně zareagovat na světový trend fusion music. Jasně si vzpomínám na tehdejší, ale i pozdější koncerty Fermáty, kdy jsem se opravdu těšil na to, že hudební úroveň a podání nesklouzávají do nějaké šmíry. Z jejich hry bylo cítit velké nasazení. Nejsem si jist, jestli tenhle postřeh platí i u současných skupin. Spíš bych řekl, že neplatí. Taky se mi líbí, že nijak nezastírají, že to jsou "ozaj slovenskí chalani". Názvy skladeb to prozrazují a navíc nemají zapotřebí nabízet nějakou pochybnou uměleckou rozervanost.
Pět hvězdiček je zasloužených!
SKLADBY:
1. Pieseň z hôľ (Song From Ridges)  11:07
2. Svadba na medvedej lúke (Marriage On A Bears Meadow)  4:15
3. Posledný jarmok v Radvani (The Last Fair In Radvaň)  4:31
4. Priadky (Spinning)  7:37
5. Dolu Váhom (Downstream Váh)  2:20
6. Vo Zvolene zvony zvonia (Bells Are Ringing In Zvolen)  10:10
SESTAVA:
František Griglák – guitar, vocals, Fender Rhodes & synth (5)
Tomáš Berka – Fender Rhodes, synth, percussion
Anton Jaro – bass
Cyril Zeleňák – drums, percussion
Pieseň z hôľ (Song From Ridges)
Fermáta
Jazz Rock, Fusion
Opus
1977
LP
6