Madrigal were originally formed in 1977 by David Cebert (keyboards) and Kevin Dodson (vocals, drums), since when they have undergone numerous personnel changes. In 1982, there was a change in direction and a change in name, as they became a covers band called UVU to earn some money. This lasted until 1985 when the band broke up, which featured the end of the writing partnership of Cebert and Dodson.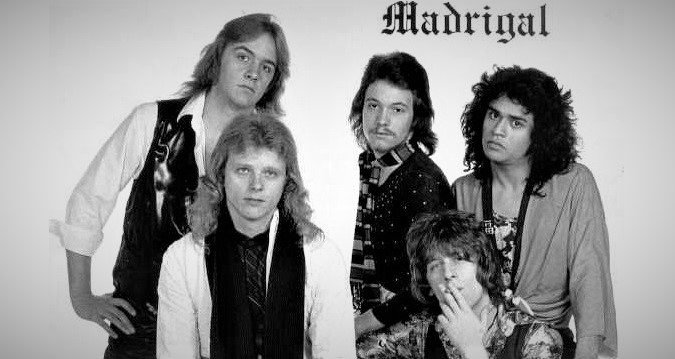 Kevin then decided to start work on an album with Michael Dornbirer on guitar and backing vocals, which became Waiting…. At the time of the release Madrigal was still only the duo plus some guest musicians, including keyboard player Don Canon and original keyboard player Cebert. The songs were all original, except for Five Gifts For Third Child which came from a ballet written by Don Canon and performed by the Spokane Ballet in 1987. It is great to have an American prog album that sounds as if it should be British: and early Seventies British at that! The source is early Gabriel Genesis, and the result is interesting and entertaining. Sister Happy commences proceedings in a lazy laid-back Sixties mood that just makes you smile and get into the groove as it collects together a myriad of styles (including quite noticeably The Kinks) and produces something of joy. Songs such as Next Wave are quite different in style but have the link that they all make you want to move with the flow of the music.
One thing I discovered is that whichever one I am listening to is most definitely my favourite, a very strange phenomenon. Overall, Waiting… is a refreshing and enjoyable album.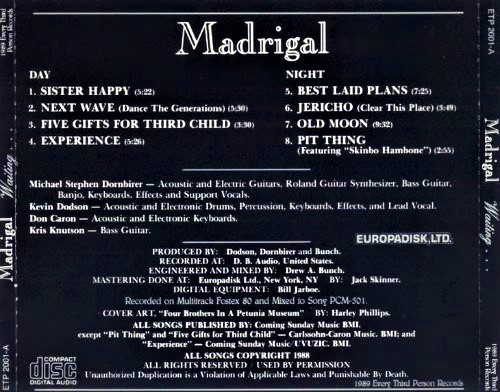 TRACKLIST:
DAY
1. Sister Happy (5:22)
2. Next Wave (Dance The Generations) (5:30)
3. Five Gifts For Third Child (3:30)
4. Experience (5:26)
NIGHT
5. Best Laid Plans (7:25)
6. Jericho (Clear This Place) (3:49)
7. Old Moon (9:32)
8. Pit Thing (Featuring "Skinbo Hambone") (2:55)
NOTES:
All songs published by Coming Sunday Music / BMI except "Pit Thing" (track 8) and "Five Gifts for Third Child (track 3) – Carlssohn-Caron Music, BMI; and "Experience" (track 4) – Coming Sunday Music / UVUZIC, BMI.
All songs copyright 1988.
℗ 1989 Every Third Person Records
MUSICIANS:
Michael Stephen Dornbirer – electric & acoustic guitar, guitar synth, bass, Banjo, keyboards, effects, vocals
Kevin Dodson – acoustic & electirc drums, percussion, keyboards, effects, lead vocals
+
Don Caron – acoustic & electric keyboards, lead vocals on 8
Kris Knutson – bass on 1,4,6, acoustic bass on 1
Neoma Mauget – vocals on 5,6,7
Barbara Dodson – vocals on 5
Mary Jane Weis – flute on 5
Dave Cebert – keyboards on 4
Ian McKinley – vocals on 1,7, toy drum kit on 8
Original publishing:
Feedback ≠22, March 1994.
Paperback:
The Progressive Underground Volume 2,
September 2019, Page 110.
UK   USA   Germany   Fra  Italy  Australia  Brazil  Japan  Spain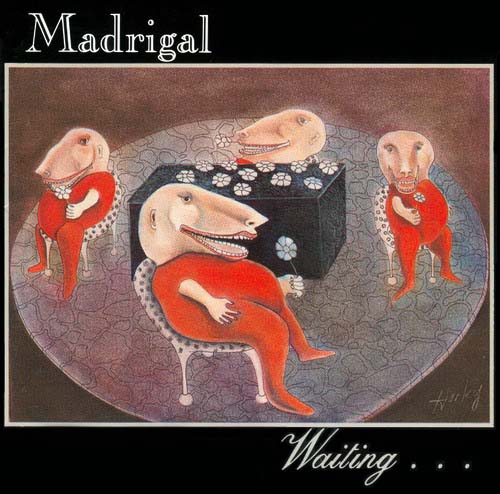 Waiting...
Madrigal
Prog Rock
Every Third Person Records
1989
CD
8