Spanning 1969-1974, a primer of the Woodstock wrestlers' initial circle of life on and off stage.
Wrongly viewed as an American answer to CREAM, this band's mojo was – and still is – less pure in bluesy terms and more varied in style. The connection was there, of course, due to the British trio's producer Felix Pappalardi inserting his bass pad under Leslie West's guitar and both groups' love for endless improvisations. Yet MOUNTAIN's legacy, while less revered, is infinitely rockier, as Esoteric's definitive, 155-minute compilation, divided into the studio and concert discs, proves.
The collection starts with the quartet's brightest moment, the immortal slice of hot lava that is Mississippi Queen, and ends with a killer half-an-hour version of Nantucket Sleighride, originally spread over sides 2 and 3 of vinyl and here available, as is the title track with its slide lining on a Robert Johnson chugging foundation, for the winning comparison with its concise, if punchier in the unison and interplay, version on the first CD. Live, the ensemble thrived, the concert approach wrapping Long Red in magic to be much sampled later on by a rap crowd. They never went for a stretched-out noodling – what about "Dream Sequence" which interpolates Roll Over Beethoven and extended solo spots? – and didn't go unnoticed among the Woodstock talent, the event they immortalized in of For Yasgur's Farm that shares a country vibe with One Last Cold Kiss.
Many of the songs here boast memorable riffs from West's armory, yet there's a lot of reckless boogie, too, in MOUNTAIN's take on Whole Lotta Shakin' Goin' On and the band's own jolly Flowers Of Evil, as well as in the fantastic folk-tinged flow of Travellin' In The Dark. The soft side of the foursome shines through even more brightly in the solemn Boys In The Band and arguably the best cover of Jack Bruce's Theme For An Imaginary Western, whereas gritty, big You Better Believe It and molten Don't Look Around put on a grandly threatening front. Every note enjoyable, this compilation holds all the MOUNTAIN's greatness in it. Scale it at your own peril.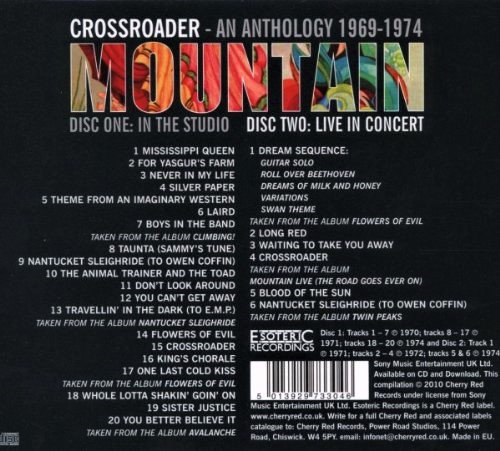 Originally published: DME – LET IT ROCK
Crossroader: An Anthology 1970-1974
Mountain
Hard Rock
Esoteric Recordings
2010
2xCD
20x6