Galleon were formed in 1981 as KG 299, in Ljusdal, Sweden. By 1985 the band was a trio with Göran Fors (bass, vocals), Dan Fors (drums) and Micke Varn (guitar).


A decision was taken by the band to bring in synthesisers to help obtain a more expressive and powerful sound: they changed their name to Aragon, and released a demo. During 1989 Micke relocated to Stockholm and the band was put on ice, but in 1990 they did some gigs to good reception. In September 1991 they went to Wavestation Studio in Ljusne to commence the recording of the debut CD. It was delayed for four months because Dan suffered an accident at work, but Lynx was eventually completed in June 1992. By the autumn, they had changed their name again, this time because of the Australian Aragon, so 1993 sees the band with a new name and a debut CD to promote. So what is it like? Lynx has keyboards provided by Micke and Göran, and they are very much an integral part of the overall sound. There are eight songs, with the shortest being nearly six minutes in length, and the longest more than fourteen. They are well structured, with English lyrics, and makes me think of a proggy U2 meeting Rush. Certainly, Göran's voice sounds like Bono at times while there are enough time and mood changes to satisfy the hardened progger, with at times a good dose of electric guitar. Never a really heavy band, they manage to provide many contrasts to keep the listener interested.
You can tell that it is a European as opposed to British release, and also some of the lyrics do not really stand up to close scrutiny. For example, in the opener Untouchable (which is one of my favourites), they use "F***ing". Now, I am no prude and also relate to many hard rock bands where swear words are used and do not sound out of place. Unfortunately, here it is used in a false manner and it makes me grate my teeth whenever I hear it. That aside, this is very listenable and I found it a very enjoyable CD.
SETLIST:
1.  Untouchable (6:29)
2.  The Storm (8:38)
3.  Eternal Shadows (5:39)
4.  On The North Shore Pt2 (6:22)
5.  Submission (14:09)
6.  News (7:54)
7.  Wild Ocean (6:24)
8.  Flying High ~ Epilogue (7:54)
MUSICIANS:
Mikael Värn – acoustic & electric guitars, synthesizers
Göran Fors – bass, Taurus bass pedals, synthesizers, vocals
Dan Fors – drums, percussion
+
Ulf Pettersson – arrangements, producer
Anders Åhlund – backing vocals (3)
NOTES:
Recorded at the Wavestation in Ljusne September 1991, June 1992.
Original publishing:
Feedback ≠18, May 1993.
Paperback:
The Progressive Underground Volume 1,
November 2018, Page 245-246.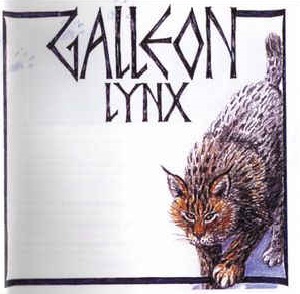 Lynx
Galleon
Symphonic Rock, Prog Rock
VF Production
1992
CD
8