Nemecká kapela Eloy bola natoľko úspešná, až jej jej neprajníci usporiadali lynč. Namiesto peria ju vyváľali v produkcii kapely Pink Floyd a posmešne ju odsúdili do pozície vypratej kópie značkového modelu oblečenia čínskej produkcie predávanej Vietnamcami na trhovisku. Aspoň tak si možno vysvetliť tú hrozivú angličtinu, ktorou sa prezentoval frontman Frank Bornemann. Podľa mňa je to neférové. Minimálne mi muzika Eloy príde ďaleko bližšia než čokoľvek, čo stvorila menovaná britská veličina. Napriek uvedenému som sa nikdy nedostal k tomu, aby som sa ňou bližšie zaoberal, nerátajúc prvé tri albumy. To ostatné, čo som počul, mi prešlo jedným uchom dnu, druhým von, poznáte to. Počujete niečo príjemné, ale peniaze za to dávať nemusíte. Hudba však má svoje cestičky, ako zaujať. Minule som bol v mojom obľúbenom obchode so starou muzikou a z reprákov sa tam ozývalo čosi, čo ma oslovilo. Čosi povedomé, ale nezaraditeľné. Pýtam sa, čo to je a odpoveď bola – Eloy. Hovorím – ktorý? Power And The Passion. Beriem!
Muzika je to podmanivá. Nikam sa neponáhľa, neohuruje prílišnou zložitosťou, a predsa si uchováva zdanie niečoho vznešeného. Pripomína mi to (náladou i "zložitosťou" albumy holandskej kapely Earth & Fire). Spev je z väčšej časti skôr recitovaním, ale ten neistý prejav sa k celkovej atmosfére hodí. Že je to akýsi koncepčný album o cestovaní v čase, do toho troška klišé o láske, väzení, hľadaní čarodejníka a návrate do súčasnosti, je podružné. Tá snaha o hranie sa na literárnych borcov bola "artovým" muzikantom vlastná a prejavovali vzácnu slepotu v posúdení svojich pisateľských schopností. Ono, kým vyjde kniha v dobrom vydavateľstve, je podrobená edičnému korekčnému procesu. V hudbe sa s textami toľko nepára, maximálne, ak ide o nejaký popový balast, najmú profíka, čo vyplodí nejaké tie plytké, ale chytľavé, veršíky. Alebo zhudobnia nejakú poéziu. To som však odbočil.
Album Power And The Passion je zádumčivý, miestami síce hardrockovo pritvrdí, ale dominantná črta to nie je. Najväčšiu pozornosť na seba strháva klávesák Wieczorke, nečudo, že neskôr zakotvil v podobne zádumčivej skupine Jane. Na jesennú náladu mi táto celistvá muzika skvelo sadne a nič na tom nemení ani fakt, že vrcholom albumu sú dve dlhočizné skladby Love Over Six Centuries a Muttiny, idú po sebe, tvoria prakticky polovicu diela a boli to práve ony, čo ma opantali počas prehrabávania regálov s cédečkami. Ostatok však nezaostáva, nálada tohto modrého albumu vniká pod kožu svižnejšie než zimný mráz. V podstate s ňou slušivo korešponduje modrastý obal albumu.
Vždy som mal za to, že hardrockový debut je tým naj, čo kapela stvorila. Ale táto čerstvá akvizícia ma nahlodala. Je naozaj pekná a aktuálne mi sedí viac, než čokoľvek iné. Kde je ten "repeat"?
P. S. Na prelome tisícročí bolo "dobrým" zvykom lepiť k albumom bonusy pre bonusy. Keď nebolo po ruke nič zmysluplné, aspoň sa remixovalo. Nalepiť za seba dve rovnaké skladby (The Bells Of Notre Dame) a tváriť sa, že druhá je "bonus", to je však vcelku trápne. Podobný kiks vyrobili pred pár rokmi aj pri remasterovanej Come Taste The Band od Deep Purple, kde tiež cítili potrebu na prvom disku dodať dvakrát You Keep On Moving. Aspoň, že bonus bol singlovka. Keby si to radšej odpustili.
Skladby:
Introduction 1:11
Journey Into 1358 2:54
Love Over Six Centuries 10:09
Mutiny 9:08
Imprisonment 3:13
Daylight 2:38
Thoughts Of Home 1:05
The Zany Magician 2:35
Back To The Present 3:07
The Bells Of Notre Dame 6:26
Zostava:
Frank Bornemann: spev, gitara
Manfred Wieczorke: klávesy
Detlev "Pitter" Schwaar: gitara
Luitjen "Harvey" Jansen: basa
Fritz Randow: bicie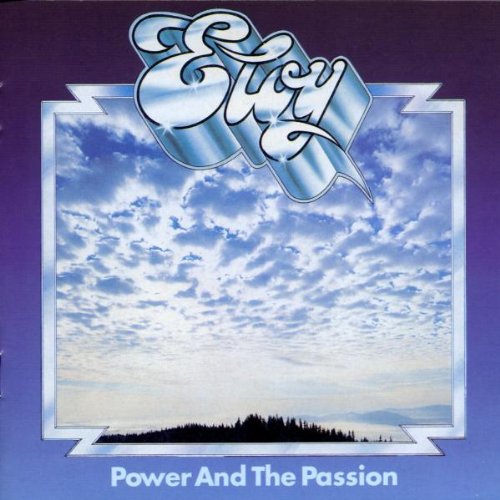 Power And The Passion
Eloy
hard rock, space rock
Electrola
1975
LP, CD
10