Britská rocková skupina Ellis združená okolo speváka Steve Ellisa po sebe zanechala dva albumy.
Ellis bol v 60. rokoch spevákom úspešnej skupiny Love Affair, ale keď sa od nej napokon odtrhol, rozhodol sa, že opustí popové plytčiny a skúsi rockovejšie hlbiny. Prehovoril skvelého klávesáka Georgea "Zoot" Moneyho (mal v 60. rokoch vlastnú kapelu Big Roll Band), bubeníka Davea Luttona (hral údajne s Heavy Jelly i Grease Bandom), gitaristu Andyho Gee (vl. menom Andreas Grober, hral s Petrom Bardensom a neskôr i s Thin Lizzy) a basáka Jima Levertona (z Fat Mattress a Juicy Lucy), takže skupina Ellis bola na svete. To sa udialo v decembri 1971.
Kapela začala pripravovať materiál na prvý album, ktorý produkoval Roger Daltrey (áno, ten z The Who, bol to Ellisov kamarát), u ktorého ho aj začali nahrávať. Nakoľko členovia kapely trávili dosť času v krčmách, nahrávanie sa čoraz viac naťahovalo, až Daltrey presunul projekt do londýnskych Olympic Studios, kde sa dielo dokončilo. Na albume zahosťoval (okrem iných) aj klávesák Blue Weaver, ktorý stiahol Levertona ešte pred jeho vydaním do skupiny Hemlock.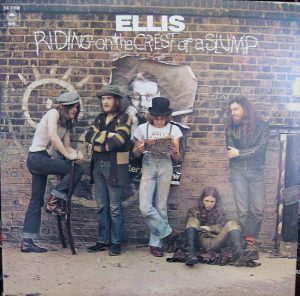 Album Riding On The Crest Of A Slump vyšiel v roku 1972 a dieru do sveta nespravil. Zaujímavé je, že Leverton nemohol kvôli právam priznať autorstvo skladieb pod svojim menom, a tak je na albume podpísaný ako Jimbo Gyp.
Album ponúka trošku blues, kúsok rocku a nadostač amerických vplyvov. Pohoda, harmonika (vďaka hosťujúcemu Garymu Farrovi), akustika, americké prérie za verandou, do toho škrípajúci spev, nečudo, že sa úvodná skladba volá Good To Be Alive. Kapela sa na nič nehrá. Rozhodla sa fidlikať prívetivú muziku inšpirovanú Amerikou. Žiadne experimenty, žiadna snaha o zapratanie notových osnov v rozsahu antifonárov, tobôž túžba dostať sa do učebníc, nehrozí. El Doomo je tak pokojná meditácia, až mám pocit, že by utíšila aj strach z Covid-19. Krvácajúci hlas frontmana Ellisa tomu dodáva pocit niečoho osudového, väčšieho než je ľudský život. Gitara sa, plná efektov, snaží vydolovať slzu z kusu žuly, čo viac si od balady priať. Pohodová skladba You're The Only Reason s príjemným klavírom radí zoskupenie k formáciám ako Grease Band alebo Hemlock, kam sa, ako už bolo spomenuté, Leverton po nahratí tohto albumu aj porúčal. Tune For Brownie sa opäť drží akustickej polohy, a tak to nasleduje skladbu za skladbou. Keď má spevák prejav zraneného reka z gréckych bájí, načo to przniť prebytkom inštrumentálnych plôch, všakže. Zo záplavy pohodových rockových kúskov pomenovaných Your Game, Three Times Corner, Morning Paper alebo Wish I Was Back Home sa vymyká jediná ostrejšia skladba Angela, ktorá album uzatvára. Hendrixovská gitara, jemne sfunkovaná rytmika, Hammondky, ostré refrény, dokonca (opäť) harmonika, hold, je to hard rock, aký produkovala napríklad skupina Skin Alley na svojom treťom albume. A práve v tejto skladbe hosťuje Blue Weaver.
Čo bolo ďalej? Nahradiť spomínaného basáka nebolo ľahké. Kapela získala Edriesa Fataara z juhoafrickej kapely The Flames (jeho brat Ricky hral v rokoch 1972-1975 klávesy v Beach Boys), ale zo zdravotných dôvodov dlho nevydržal. A tak došlo na Nicka Southa z Vinegar Joe. Pätica sa vrhla na nahrávanie druhého albumu, ktorý produkoval známy Mike Vernon. Nahrával sa v Morgan Studios v Severozápadnom Londýne a opäť naň prispeli viacerí hostia. Okrem bubeníka Stone The Crows Collina Allena (hosťoval s Maggie Bell už na debute) sa v dvoch skladbách producíruje celá plejáda skvelých spevákov typu Boz Burrell, Mike Patto, či Roger Chapman, a speváčok (Julie Tippett). Album …Why Not? Vyšiel v roku 1973 a hoci bol podstatne lepší, ako debut, opäť nebol komerčne úspešný. Členov skupiny to natoľko znechutilo, že ju Ellis rozpustil.
Samotný album za to rozhodne nemôže. Radosť z hrania počuť vo všetkých desiatich skladbách. Goodbye Boredom núka toľko pozitívnej (a nepresladenej) energie, až sa človek ani nedokáže mračiť. Spevná melodika opantáva Opus 17 ¾, prečo by hudba nemohla "iba" šíriť dobrú náladu, bez ohľadu na vek (jej i jej poslucháčov), všakže? Nechýba jemne gýčový slaďák Future Passed s "havajóznymi" tiahlymi gitarami a progresívnou "aákanou" vokálnou vsuvkou. Znie to, prosté bicích, ako dajaký pokus o klasickú hudbu. Loud & Lazy Love Song vnáša do americkej veselice tam, kde si líšky dávajú dobrú noc, chvíľky sviežej bluesovej pohody. Nástup rockovej "chytľavky" Open Road prenáša kamsi za Atlantik. Takúto radosť asi cítili Puritáni, keď zbadali svoj budúci domov – americký kontinent plný priateľských Indiánov, ktorým je možné vnútiť svoje náboženské vidiny. Že pred podobným konaním ušli z Británie, im evidentne neprekážalo. Blues All Before pomaly imituje sirup, veru, niet nad to, poriadne sa vyváľať v blate dajakého južanského veľtoku. Nástup Leaving In The Morning pripomenie debutový album Atomic Rooster, ale gro skladby je opäť svižná medicína pre deprimovaných pánov v rokoch, ktorí cítia potrebu posmievať sa o desať rokov mladším Matuzalemom, že sú fundovanejšími geriatrickými pacientmi. Mighty Mystic Lady trošku funkuje, ale je to v norme. Frontman spieva akoby boli bratia so Steveom Marriottom, radosť počúvať. Aj ďalšia "humblepieovka" We Need The Money Too je radostná ako pacient vyliečený z rakoviny, hviezdne vokály počuť viac ako minule. Gyrupp je len jedno zvýsknutie, keby kapela podobných zvukov nahrala celý album, mohla sa zaradiť medzi "novátorské" spolky uznávané úzkymi komunitami nadľudských snobov, takto na to čudo môžeme akurát zabudnúť.
Normálna rocková hudba s vagónom vysýpaného štrku namiesto hlasiviek za mikrofónom, to je jav dnes už takmer nepočuteľný. Marketing robí z každého kravinca zásadné dielo minimálne Slnečnej sústavy, z nevydarených experimentov priam vrchol fiktívnej progresie a spotrebná rádiová produkcia sa ani nesnaží budiť dojem, že jej ide o iné ako o prachy ťahané z pobláznených más. Aj preto je druhá doska Ellis úžasným pohladením na duchu. Kiežby bolo takýchto príjemných chvíľ viacej. Miestami budí dojem, že keby Rolling Stones vedeli poriadne hrať, zneli by dajako takto.
Zoot Money sa stal úspešným klávesákom, Ellis sa vydal na sólovú dráhu, a to je všetko. Po skupine ostali dva albumy a pätica singlov. Albumy sa na CD objavili v roku 2014 vďaka Esoteric Recordings a v roku 2018 vďaka japonskému vydaniu od Epic.
(upravené, pôvodne zverejnené na progboarde)
Diskografia:
Riding On A Crest Of A Slump (1972)
…Why Not? (1973)