Amerika, San Francisco, rok 1967, to je kombinácia, z ktorej sa rodila neopakovateľná rocková muzika. Popri hnutí hippies sa tu však dala nájsť aj iná inšpirácia. Mike Bloomfield, gitarista od Paula Butterfielda, stvoril kapelu Electric Flag a v marci 1968 jej vyšiel album A Long Time Comin'.
Pravdou je, že v roku 1967 kapela najprv nahrala soundtrack k filmu The Trip, ktorý režíroval Roger Corman, scenár napísal Jack Nicholson a hral v ňom Peter Fonda. Avšak až A Long Time Comin' bol "naozajstným" debutovým albumom. Bloomfield vytvoril životaschopný a prirodzený mix blues, soulu a džezu s bohatou dychovou sekciou, čím predznamenal nástup kapiel ako Chicago alebo Blood, Sweat & Tears. Z množstva hráčov, ktorý sa na desiatich skladbách podieľali, spomeniem aspoň bubeníka. Buddy Miles neskôr zažiaril sólovo, s Hendrixom i Santanom.
Osobne mám Bloomfieldovu tvorbu zaradenú do kategórie – občasné počúvanie. Vlastním The Original Lost Electra Sessions od The Paul Butterfield Blues Band, tento album od Electric Flag, ďalej spolupráce s Alom Kooperom (Super Session, The Live Adventures Of Mike Bloomfield And Al Kooper) a tiež prvý album KGB. A hoci ani jedna z uvedených nahrávok mi nepríde na um, keď mám menovať to naj, čo poznám, vždy ma táto muzika dobre naladí. Je skrátka dobrá, občas aj výborná. Preto chcem pripomenúť aj tento štýlotvorný album, ktorý, zdá sa mi, leží zabudnutý mimo oblasť záujmu rockových historikov z našich končín.
Desať skladieb je predovšetkým bluesových, pričom dychová sekcia im často dáva krídla. Krásne to počuť na sviežej verzii klasiky Killing Floor. Inak, nedá mi nespomenúť aj ďalší album z roka 1968, na ktorom sa bluesmanom podarilo položiť základy džezrocku, a síce Bare Wires od Johna Mayalla a jeho Bluesbreakers. Vyšiel o tri mesiace neskôr a podľa mňa nie je náhoda, že išlo o prvý Mayallov album, ktorý sa dobre umiestnil v USA (59. miesto v rebríčku Billboardu). Dychy vtedy Amíkov brali.
Ale späť k Electric Flag. Akokoľvek životaschopná muzika sa na albume nachádzala, Bloomfield údajne nebol spokojný s odozvou (Billboard pritom album zaradil na 31. miesto), veľmi túžil po úspechu a po tom, aby komerčne uspel. V tých časoch to ešte neznamenalo nič nedôstojné, tobôž nekalé. To len dnes je pop a komercia spájaná s negatívnymi asociáciami (často právom) a aj mnohí poslucháči z toho majú stres, ak sa ich akože pravý a cítiaci umelec nedajbože nedištancuje od širšieho úspechu. Napriek tomu ho kritika velebila a velebí dodnes. Právom. Je to naozaj krásna ukážka absolútne špičkovej bluesovej fúzie so všetkým možným, pričom tá hudba znie rovnako sviežo aj dnes, po vyše päťdesiatich rokoch. Rokenrol, soul, džez, všetko s blues prirodzene splýva a ani na okamih necítiť akúkoľvek únavu, rutinu, nezáujem. Klobúk dole!
Nebudem opisovať skladbu po skladbe, album nemá slabé miesto. Priaznivci dychových sekcií si prídu na svoje. Pôvodne som si myslel, že dám štyri hviezdičky, ale počas počúvania a písania som si uvedomil, že nepočujem nič, čo by odporovalo piatim. Nuž, ani ja neodporujem! A vy?
P.S. Bonusy nevybočujú z celkovej atmosféry albumu, nebojte sa ich.
Skladby:
Killing Floor 4:12
Groovin' Is Easy 3:03
Over-Lovin' You 2:10
She Should Have Just 5:01
Wine 3:14
Texas 4:47
Sittin' In Circles 3:52
You Don't Realize 4:54
Another Country 8:44
Easy Rider 0:51
Sunny (bonus) 3:59
Mystery (bonus) 2:54
Look Into My Eyes (bonus) 3:03
Going Down Slow (bonus) 4:44
Zostava:
Michael Bloomfield: gitara, perkusie
Harvey Brooks: basa, gitara, perkusie
Sivuca: gitara, perkusie
Barry Goldberg: klávesy
Herbie Rich: klávesy, tenor saxofón, barytón saxofón
Mike Fonfara: klávesy
Paul Beaver: Moog syntezátor
Buddy Miles: bicie, perkusie
Peter Strazza: tenor saxofón
Marcus Doubleday: trubka, perkusie
Richie Havens: sitár, perkusie
John Court: perkusie
Nick Gravenites: perkusie
Joe Church: perkusie
Bloomfields and Coruts: Background Shoeshine Vocal Quartet
Bob Notkoff: sláčikové nástroje
Julius Held: sláčikové nástroje
Leo Daruczek: sláčikové nástroje
George Brown: sláčikové nástroje
Charles McCracken: sláčikové nástroje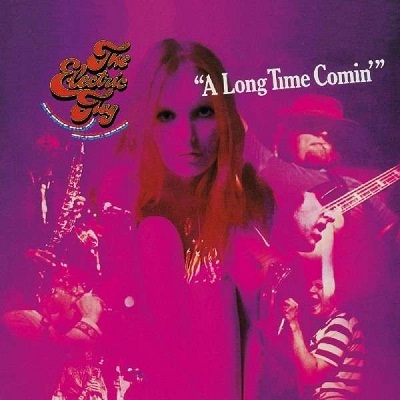 A Long Time Comin'
Electric Flag
brass rock, blues rock
Columbia
1968
CD (Music On CD, 2013)
10+4