Meno Winter je v americkej rockovej hudbe pevne zakorenené. Dvaja bratia, Johnny a Edgar, vryli do populárnej hudby dlhočiznú brázdu. Druhý menovaný sa najväčšmi presadil v roku 1972, kedy vydal album They Only Come Out At Night s hitmi Free Ride a Frankenstein.
Oproti gitarovému bluesmanovi Johnnymu sa multiinštrumentalista Edgar nevyhýbal pestrej škále štýlov. Bol doma v blues, rocku, džeze, pope, skrátka, jeho záber bol tak široký, až ma jeho dielo skôr odrádzalo. Akoby som mu nevedel nájsť výraznú charakteristickú črtu v chameleónskej tvári. Až počas korony som sa definitívne rozhodol, že si z celej jeho diskografie vyberiem do zbierky album They Only Come Out At Night. Hlavne kvôli inštrumentálke Frankenstein, ktorú som poznal z nejakého beatclubovského videoklipu a zo zameniteľnej výberovky typu "Rock'70".
Edgar Winter Group bol projekt, ktorý nadviazal na White Trash, kapelu, s ktorou Edgar dosiahol nie malé komerčné úspechy. Do svojho nového bandu navŕtal rytmiku Hartman-Ruff a predovšetkým gitaristu Ronnieho Montrosea, ktorý sa následne stal jedným z tých známejších svetových gitaristov. Aspoň v USA. Samotný album vyšiel v novembri 1972 a rýchlo sa umiestnil na 3. mieste v rebríčku a držal sa tam 80 týždňov. Už v apríli 1973 dosiahol zlatú platňu a v novembri 1986 bol už dvakrát platinový. Populárna skladba Free Ride bola v rebríčku štrnásta a Frankenstein dokonca doputoval na pozíciu číslo jedna! Ako jediný singel v kariére zabodovala aj v Británii, kde bola osemnásta.
Poďme si povedať niečo o albume samotnom. Desať skladieb má v sebe čosi z južanského rocku, boogie, blues, rock, country, nechýba dokonca pokus o rytmický popový bes v podobe otravnej skladby Alta Mira. Nádych južariny u Texasana neprekvapí, naopak, som tomu rád. Nemá zmysel ísť skladbu po skladbe. Album ponúka príjemnú pozitívnu muziku amerického strihu. Osobne uprednostňujem rezkejšie skladby typu Hangin' Around alebo Undercover Man.
Samostatnou kapitolou je záverečná džezrocková inštrumentálka Frankenstein. Úprimne mi nie je jasné, ako sa z nej mohol stať taký hit. Nechápte ma zle, ide o jednu z najlepších rockových inštrumentálok všetkých čias. Chytľavý rif, melódie, priestor pre sólové predstavenie nástrojov, skrátka, vystavaná je úžasne. Kde inde je bubenícke sólo tak prirodzene vložené do skladby, že zároveň pôsobí ako súčasť kompozície a nie predstavovačka? Lenže, takéto skladby sa nestávajú jednotkami v hitparádach! To sú tie záhady života.
Ronnie Montrose v kapele dlho nepobudol, odišiel a založil svoju vlastnú odpoveď na Led Zeppelin pomenovanú Montrose. Nahradil ho Rick Derringer. Ale to je už iný príbeh. They Only Come Out At Night je právom populárne dielo, ktoré mohlo vzniknúť iba v Amerike. Pôsobí tak prirodzene, až mu odpustím i tú Alta Miru. Čo mu však odpustiť neviem, je obal. Edgar zo seba spravil čosi, čo možno vychádza von iba v noci, ale na kieho čerta to potom vystavil na denné svetlo, nechápem. Každopádne sa potvrdilo, že obal nepredáva. Hudba je na prvom mieste a je dobrá. Za Frankensteina má u mňa hviezdu k dobru.
P.S. Album som si kúpil v čerstvom vydaní od Music On CD, čo je holandská spoločnosť vydávajúca širokú škálu muziky, ktorá sa často dlho nezjavila na CD. Má aj sesterskú firmu Music On Vinyl. Mám od nej viacero albumov a musím uznať, že zvukovo i formálne ide o kvalitné reedície. Odporúčam.
Skladby:
Hangin' Around 3:02
When It Comes 3:06
Alta Mira 3:08
Free Ride 3:20
Undercover Man 3:49
Round & Round 4:00
Rock 'N' Roll Boogie Woogie Blues 3:25
Autumn 3:00
We All Had A Real Good Time 3:06
Frankenstein 4:45
Zostava:
Edgar Winter: spev, piano, ARP syntezátor, organ, clavinet, marimba, saxofón, timbales
Ronnie Montrose: sólová gitara, 12-strunová mandolína
Dan Hartman: spev, basa, gitary, ukulele, rumba gule
Chuck Ruff: bicie, kongá, vokály
a
Randy Jo Hobbs: basa (4, 9)
Johnny Badanajeke: bicie (4, 9)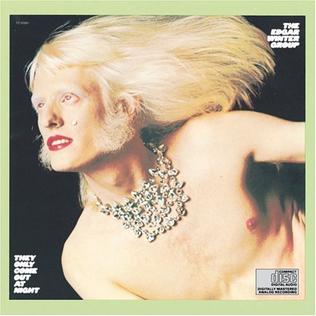 They Only Come Out At Night
Edgar Winter Group
blues rock, rock, pop rock, džez rock
Epic
1972
CD (Music On CD, 2020)
10