Čo sa stane, keď sa v podstate jednoduchá (big)beatová kapela rozhodne, že sa vrhne na artrock? Môže sa napríklad zapísať do dejín ako najjednoduchšie hrajúca symfonická veličina. Aspoň v prípade Earth And Fire sa tak od albumu Song Of The Marching Children stalo.
Päť skladieb spočiatku nadväzuje na debut. Carnaval Of The Animals je melodická a jemne clivá skladbička, cítiť, že prím preberá klávesák. Ebbtide je nádherná smútočná balada, Storm And Thunder zasa vzletná symfonická skladba. Mäkká, prívetivá, splínová. Podobne, ako In The Mountains, čo je nádherná gitarová záležitosť.
Dôvod, prečo sa o tomto diele vedú reči, však tkvie v titulnej celoalbumovej kompozícii Song Of The Marching Children.  Artrockeri sa potešia už len z toho, že je podelená na sedem častí, my ostatní si užijeme symfonickej pompy bez snahy o nejaké uháňanie. Hudobníci majú na všetko čas, akoby listovali Kámasútrou.
Song Of The Marching Children je pekný album. Dobre sa počúva a baví ma. Od podobnej muziky však očakávam predsa len aj nejaké to vrcholové "machrovacie" muzicírovanie, ktoré sa tu prakticky nenachádza. Aj preto budem skúpy na hviezdičky. Ale nedajte sa odradiť, je to príjemná muzička. Mnohí ju radia dokonca k vrcholným dielam žánru. Názor si urobte sami.
Skladby:
Carnaval Of The Animals 2:46
Ebbtide 3:15
Storm And Thunder 6:36
In The Mountains 3:03
Song Of The Marching Children 18:20
Theme Of The Marching Children
Opening Of The Seal
Childhood
Affliction
Damnation
Purification
The March
Zostava:
Jerney Kaagman: spev
Hans Ziech: basa
Chris Koerts: gitara, spev, oscilátor
Gerard Koerts: piano, organ, Mellotron, vibrafón, syntezátor, virginal (čembalo), flauta, spev
Tony van der Kleij: bicie, perkusie, spev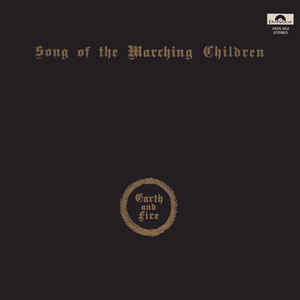 Song Of The Marching Children
Earth And Fire
art rock
Polydor
1971
LP, CD
5