Kto by to bol povedal, že v roku 1974 si Skynyrdi stvoria svoj najslávnejší hit, ktorý pozná azda každý civilizovaný človek? Album Second Helping nadviazal tam, kde debut skončil.
Dnes už sa to konštatuje ľahko. Tento album je klasika. Prakticky všetky skladby sa pravidelne umiestňujú na bestofkách, takmer všetky hrá kapela na koncertoch dodnes (hrala by, keby sa dalo koncertovať), nuž si krátko povedzme, čo a ako. Dielo sa rodilo ľahko. Kapela strávila v štúdiu prvý mesiac roka 1974 a v polovici apríla bolo dielo na pultoch. Jediná skladba, ktorá bola nahratá v júni minulého roka, je dnes už legendárna Sweet Home Alabama.
A práve táto vec zabezpečila kapele nesmrteľnosť. Je súčasťou rádiového vysielania, filmovej produkcie, pozná ju hádam každý počujúci jedinec, aj keď názov kapely už mnohým nič nehovorí. Stvoriť niečo takéto je snom každého interpreta a často mu to rovno zlomí väzy. Ako na niečo také nadviazať? V prípade Lynyrdov niet nič ľahšie. Album obsahuje osem rovnako kvalitných južanských perál. Môj favorit je clivá balada I Need You a poteší aj do country ladená The Ballad Of Curtis Loew. Inak je to stávka na istotu, Don't Ask Me No Questions, Workin' For MCA, Swamp Music i The Needle And The Spoon sú etalónmi štýlu zvaného južansky rock. V neposlednom rade je tu brilantný cover od J. J. Calea – Call Me The Breeze, stálica koncertného setu ľubovoľnej zostavy kapely.
Úvodnú skladbu som hral takmer so všetkými kapelami, v ktorých som pôsobil, posledný cover so Žalmanmi. Aj tak mi najväčšiu radosť urobili samotní Skynyrdi, keď v Plzni na prvého mája 2015 zahrali I Need You. Takéto zážitky by som si doprial častejšie. Čo dodať? Second Helping je učebnica southern rocku.
Skladby:
Sweet Home Alabama 4:43
I Need You 6:55
Don't Ask Me No Questions 3:29
Workin' For MCA 4:49
The Ballad Of Curtis Loew 4:51
Swamp Music 3:31
The Needle And The Spoon 3:53
Call Me The Breeze 5:09
Zostava:
Ronnie Van Zant: spev
Gary Rossington: gitara
Allen Collins: gitara
Ed King: gitara, vokály, basa (2, 3)
Leon Wilkeson: basa (1, 4-8), vokály
Bob Burns: bicie (1, 3-8)
Billy Powell: klávesy
a
Mike Porter: bicie (2)
Merry Clayton: vokály (1)
Clydie King: vokály (1)
Sherlie Matthews: vokály (1)
Bobby Keys: dychy (3, 8)
Trevor Lawrence: dychy (3, 8)
Steve Madaio: dychy (3, 8)
Al Kooper: vokály, piano (3, 5)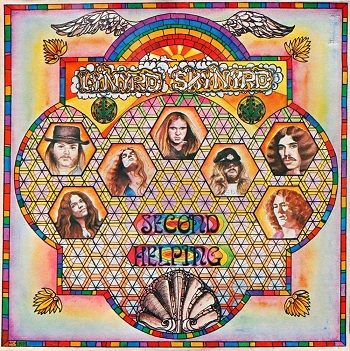 Second Helping
Lynyrd Skynyrd
southern rock
MCA Records
1974
CD (MCA Records, bez vročenia)
8