Zabudnutá americká skupina Doctor Feelgood (nezamieňať s menej zabudnutou britskou pubrockovou formáciou Dr. Feelgood) sa nepreslávila tým, že v nej hrala štvorica hudobníkov, menovite Dick Winters (flauta, saxofóny), Ralph Cooper (bicie), Bill Corelle (basa) a Paul Rivers (gitara). Dokonca sa nepreslávila ani tým, že v roku 1971 vyprodukovala platňu Something To Take Up Time na značke Number One (podľa všetkého šlo o súkromné vydanie na vlastné náklady). A už vôbec nemožno konštatovať, že mix drsného džežového blues rocku s dychmi bol cestou ku sláve (a to ani vtedy, ak sa nájdu paralely s Chicago Transit Authority či Blood, Sweat & Tears). Napriek tomu ide o klasickú perlu pre hľadačov, na cédečku vyšla hneď trikrát, od Footprint Records (2007), od pochybnej firmy Synton Archive Productions neurčitého roku vydania a tento rok aj od ďalšieho pochybného labelu Big Pink.
Doctor Feelgood je dôkazom, že Chicago Transit Authority a Blood, Sweat and Tears zanechali aj v americkej rockovej histórii neprehliadnuteľnú brázdu. Jediný album štvorice nikomu nič nehovoriacich muzikantov, Something To Take Up Time, patrí medzi tie diela, ktoré vychádzajú z blues a džez rocku bez identifikácie sa s fusion, a teda hrajú presne to, čo mám na "džezovaní" rád.
Rifujúca flauta, džezovo rozlámané brejky, dunivá basa, čistá gitara a hrubší hlas, Number Ten jednoznačne poukazuje na svoje drevité džezrockové korene. Zlovestná skladba plná stopiek, dýchavičného desu a drsnosti, to je nielen The Roach Did It, ale aj dlhočizná silno "nadžezlá" Smoke Dream. Známa hitovka konca šesťdesiatych rokov, Mr. Bojangles je vďaka džezovej rytmike zmenená na nepoznanie. Opäť je späť temnota, každá nota srdce zovrie, Medicine Man má parádnu atmosféru, drsne znie skladbička s názvom Nasal Greens And Toe Jam, akoby som počul Gravy Train. Bo Diddley krížený so saxofónom sa prezentuje v Hey Gyp. Ťažkotonážne blues 5 X R.V.W. ma oslovuje viac ako ľubovoľný počet Grammy udelených čomukoľvek za posledné štyri desaťročia. Nastáva chvíľa melodickej pohody, Something To Take Up Time je taká hitovka albumu, pravda, kým si sólisti nevyhradia kus priestoru na nehitové sólovanie. Atmosféra zhustne aj v záverečnej "drsňárni" Junk. Mám takéto chmúrne veci rád.
"Colosseumovský" džez rock na americký dychový spôsob, to je Doctor Feelgood. A nechýba flauta.
(upravené, pôvodne zverejnené na progboarde)
Skladby:
Number Ten (2:47)
The Roach Did It (3:03)
Smoke Dream (8:49)
Mr. Bojangles (2:32)
Medicine Man (4:04)
Nasal Greens And Toe Jam (3:10)
Hey Gyp (5:17)
5 x r.v.w. (6:10)
Something To Take Up Time (7:41)
Junk (5:28)
Zostava:
Dick Winters: flauta, saxofóny, maracas
Ralph Cooper: bicie, kongá, maracas
Bill Corelle: basa, kravský zvonec
Paul Rivers: gitara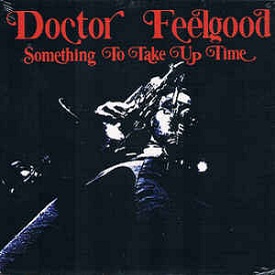 Something To Take Up Time
Doctor Feelgood
jazz rock
Number One
1971
LP, CD
10