K albumu Led Zeppelin s poradovým číslom tri možno pristupovať rovnako, ako k jeho dvom majstrovským predchodcom.
Uvedomme si, čo sa v hard rockovom ošiali dialo v roku 1970. Každý z velikánov sa pretekal, ako je tvrdší, melodickejší a zároveň narifovaný alebo aspoň sólovo namakaný. Black Sabbath prišli so svojim temným debutom a nesmrteľným Paranoidom, Uriah Heep rovnako debutovali ráznym počinom, Deep Purple vyrukovali s klasikou In Rock, Atomic Rooster, po mierne psychedelickom debute, stihli vytesať do temnoty Death Walks Behind You, Jethro Tull na svojej ceste za jedinečnosťou ponúkli neprekonateľný Benefit, Wishbone Ash všetkým vytreli zrak s ich poňatím balád na majstrovskom eponymnom debute (napr. Phoenix), a to som stále iba na ostrovoch. Rok 1970 je jednoducho v hardrockovej (ale aj v rockovej) histórii ten naj.
A čo na to Led Zeppelin? Hoci sa im osvedčilo ich "vytvrdené" blues, nehodlali ostať naveky na jednom mieste. Ich tretí album výrazne vykročil (prvý raz) mimo zavedené cestičky (ktoré sami zavádzali) a prevliekol sa do akustického a mierne folkového šatu. V tomto smere im konkurovalo naozaj málo skupín, z blues cez hard rock po všemožné polohy hádam iba Jethro Tull, prípadne chameleón Vincent Crane a jeho Atomic Rooster (tiež čo album, to úplne iná muzika, ale stále je jasné, o koho ide). Rímska trojka však v roku 1970 prakticky nemá obdoby, jediného dôstojného a porovnateľného kandidáta vidím v podobe albumu Rides Again od James Gang (tiež jedinečné elektrifikované i akustické polohy).
A čo to vlastne hrá?
Hneď na úvod je tu nesmrteľná klasika Immigrant Song. Čo by som, okrem Planta a jeho pokriku vyzdvihol, je hlavne jeden z absolútne klasických bubeníckych rytmov, ktorý je často používaný kade-tade a každý rockový bubeník sa ho skôr či neskôr naučí. Nasleduje prvý šok, akustická nádhera Friends. Zeppelíni znejú tak presvedčivo, ako azda nikdy, a vôbec k tomu nepotrebujú hlukovú stenu nabudených nástrojov. Úchvatné. A do toho vpáli vražedná Celebration Day. To snáď ani nejde prekonať.
Kým na debute si ešte bluesové štandardy požičiavali, tu si muzikanti rovno stvorili vlastný. Since I've Been Loving You! Kto nepočul, tomu neopíšem, ako môže znieť blues a ako si Page vytesal pamätník v podobe úžasných gitarových sól. Nejaké "snáď" z predchádzajúceho odseku sa nechytá.
Kým neskôr už hardrockové skladby tvorili až moc rutinne, tu sa ešte každá tvrdá nota môže pýšiť nespútanosťou a energiou na úrovni spojeného úsilia všetkých atómových elektrární na starom kontinente a priľahlom okolí. Dôkazom je skladba Out In The Tiles. A aj nasledujúca akustická geniálnosť Gallows Pole. Viem si ju predstaviť elektrifikovanú a bola by to vražedná hard rocková jazda, aká nemá obdobu. Ale aj akusticky je dokonalá. Z akustických skladieb mi je však najbližšia krehučká a spevná Tangerine. Vrchol raných Led Zeppelin. Vôbec, druhá strana platne už dajaké hlučanie nepripúšťa, rovnako krehká je aj That's The Way. Jarnou krajinou rozvoniava skočná Bron-Y-Aur Stomp a celé to uzatvára srdcervúce "slajdové" akustické blues Hats Of To (Roy) Harper.
Pre mňa síce posledný, ale zato o to kúzelnejší album Led Zeppelin, ktorý bezvýhradne uznávam.
(Upravené, pôvodne zverejnené na progboarde a progarchives)
Skladby:
Immigrant Song 2:23
Friends 3:54
Celebration Day 3:28
Since I've Been Loving You 7:24
Out On The Tiles 4:05
Gallows Pole 4:56
Tangerine 2:57
That's The Way 5:37
Bron-Y-Aur Stomp 4:16
Hats Off To (Roy) Harper 3:42
Zostava:
Jimmy Page: gitary, vokály, bendžo
Robert Plant: spev, harmonika
John Paul Jones: basa, klávesy, mandolína, vokály
John Bonham: bicie, perkusie, vokály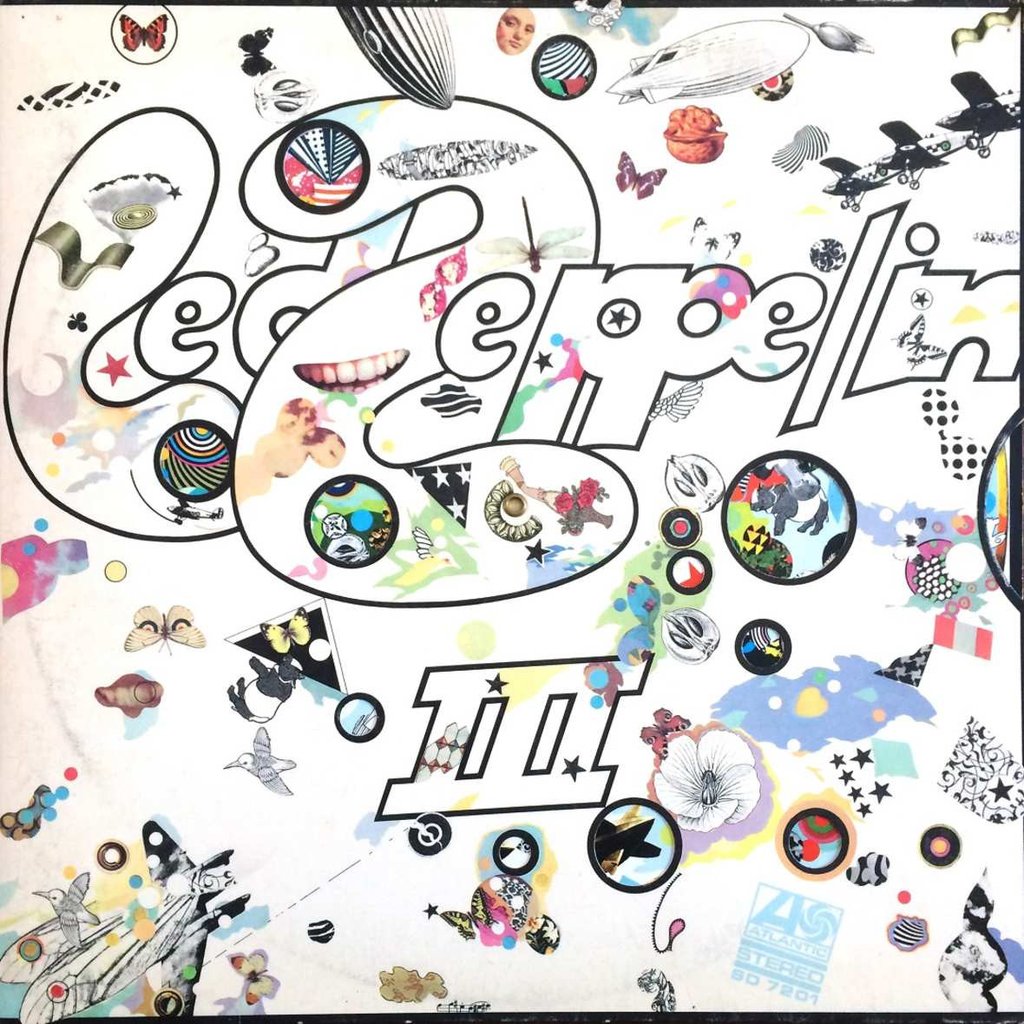 III
Led Zeppelin
hard rock
Atlantic
1970
LP, CD
10