Načo nosiť drevo do lesa? Lykožrútom? Pocity márnosti sú síce občas (často) opodstatnené, predsa len je život sériou katastrof, až mám niekedy pocit, že ide o spiknutie psychoanalytikov s cieľom opodstatniť ich márnu existenciu. Ale dosť bolo konšpirácií! Keď sa povie Dio, tak o nejakej nihilistickej orgii nemôže byť reč! Naopak, na rad prídu skalopevné slová o tvrdej muzike! Kričte so mnou: "The Last In Line!"
Čože? Vraj ani neviem poriadne začať? Vraj mám najprv zrúknuť: "We Rock!?" Ako chcete. Naládujem to do vás s vervou opozičného krikľúňa. Teraz mi už urobte radosť a vyšťavte sa s The Last In Line, až kým neostanete Breathless. Šup, šup, rýchlo sa rozbehnite do nočného mesta, aby ste si urobili radosť s I Speed At Night a One Night In The City. Akonáhle sa, šťastní a bezstarostní, pojašene rútite ulicami, stretnete zaručene množstvo závistlivých ľudí, ktorým je radostný život spoluobčanov rovný smrteľnému hriechu, ani na to nepotrebujú súhlas vyššej moci. Vyrovnajte sa preto s Evil Eyes, nepočítajte s tým, že túto Mystery pochopíte. Ktovie, prečo je v ľudskej prirodzenosti zakorenený srd voči blížnym, ktorí vyznávajú iné hodnoty, prípadne si dovolia byť so svojim životom spokojní. Teórií je mnoho, jedni prisahajú, že sme na obraz boží (ten, či onen), iní sú prosto presvedčení, že vlastné šťastie rastie priamo úmerne s nešťastím druhých… Dalo by sa o tom nekonečne písať, ale načo. Autokanibalizmus v podobe Eat Your Heart Out by mohol citlivejšie povahy znechutiť, presuňme sa preto do delty Nílu, kde na nás čakajú staroveké civilizované spôsoby nakladania s neprispôsobivými otrokmi. Všakže, Egypt (The Chains Are On)?!
Rock z 80. rokov mi pripomína slovenskú reprezentáciu na tohtoročných majstrovstvách sveta v hokeji, ale aj na nich hrajú podstatne lepšie mančafty, nuž nečudo, že Dio nemá s našimi neborákmi priveľa spoločného. Osobne sa mi tento album páči o kúštik viac ako debut. Solídna rocková muzika, tak to mám rád. Nerád by som, aby sa zo mňa niekedy stal "diobetik".
P.S. Bonusový disk plný strhujúcich koncertných zážitkov si rozhodne nenechajte ujsť, je (c)hutný!
Skladby:
We Rock 4:36
The Last In Line 5:40
Breathless 4:04
I Speed At Night 3:22
One Night In The City 5:15
Evil Eyes 3:38
Mystery 3:46
Eat Your Heart Out 3:49
Egypt (The Chains Are On) 6:57
Bonus CD (Deluxe Expanded Edition)
Eat Your Heart Out (live b-side of Mystery) 5:11
Don't Talk To Strangers (live b-side of Mystery) 6:03
Holy Diver (live b-side of We Rock) 4:23
Rainbow In The Dark (live b-side of We Rock) 4:43
One Night In The City (live) 5:55
We Rock (live) 5:05
Holy Diver (live) 4:28
Stargazer (live) 1:53
Heaven And Hell (live) 13:03
Rainbow In The Dark (live) 5:11
Man On The Silver Mountain (live) 8:14
Don't Talk To Strangers (live) 5:38
Skladby 5-12 nahrané na festivale Pinkpop, Galeen, 1984.
Zostava:
Ronnie James Dio: spev, klávesy
Vinny Appice: bicie
Jimmy Bain: basa
Vivian Campbell: gitara
Claude Schnell: klávesy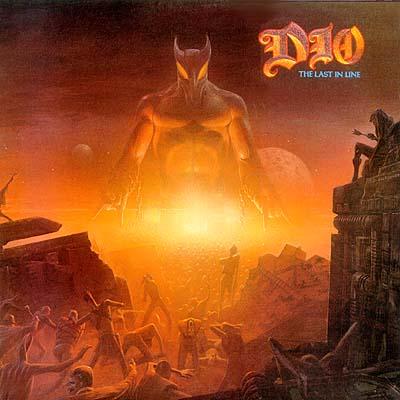 The Last In Line
Dio
hard rock, heavy metal
Warner Bros., Vertigo
1984
LP, CD
9