Na facebooku som zachytil informáciu, že koncom februára vychádza veľký box Allman Brothers Band – Trouble No More k 50. výročiu založenia kapely. Pri tejto príležitosti som oprášil dlho nepočuté CD od gitaristu Dereka Trucksa, ktorý Allmanom výrazne pomohol v čase, keď skupinu opustil Dickey Betts. Joyful Noise je tretí album jeho formácie The Derek Trucks Band a je už plnoletý (vyšiel v roku 2002).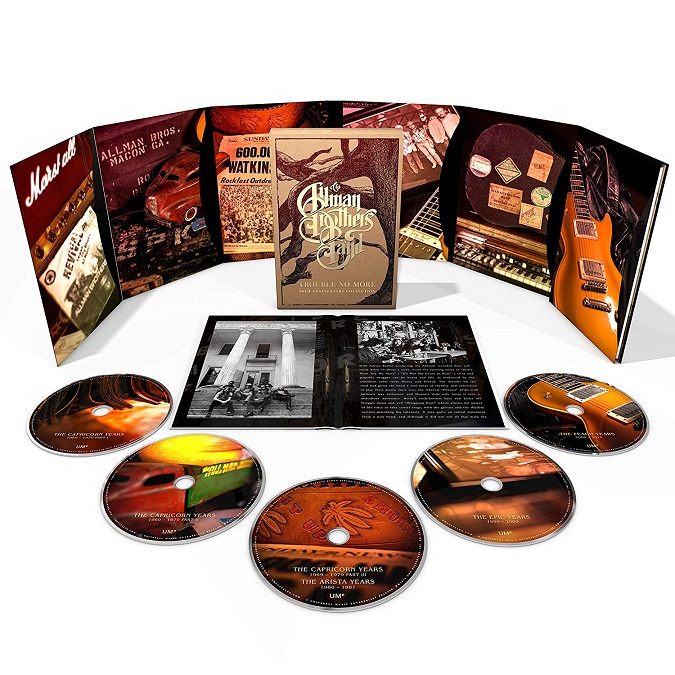 Derek Trucks je synovcom Butcha Trucksa, bubeníka Allman Brothers Band. Jeho herný prejav je pomerne vážny a meditatívny, sólovú tvorbu neuväznil v jednej žánrovej cele, ale expandoval do fusion i world music. Aj tento album má bližšie k uvedenému, než k blues rocku, prípadne southern rocku. Nazdávam sa, že dôvody možno nájsť na zadnej strane bookletu, kde je umiestnený citát J. Krishnamurtiho:
"Existuje umenie počúvať. Ak chcete naozaj počúvať, musíte sa zbaviť všetkých predsudkov, predčasných vyjadrení a každodenných aktivít. Žiaľ, väčšina z nás počúva spoza opony. Clonia nám predsudky, či už náboženské alebo duchovné, psychologické alebo vedecké, ako aj naše dennodenné obavy, túžby a náš strach. A skrz ne počúvame. A počujeme len náš vlastný hluk, náš vlastný zvuk, nie to, čo je nám komunikované. Je nesmierne ťažké odložiť náš tréning, naše predsudky, sklony, náš odpor a dosiahnuť porozumenie za hranicou verbálneho vyjadrovania. Aby sme počúvali, a okamžite aj porozumeli."
Jasné, sú to také tie ezo-žvásty o tom, ako sa človek oprostí od všetkého a dosiahne mimozmyslovú harmóniu, ale je fakt, že pokúsiť sa o prekročenie vlastných preferencií pre možné rozšírenie obzorov je naozaj ťažké. Vidím to na sebe. Niektoré nadobudnuté zvyky skrátka nemám potrebu zahodiť, zradiť, spreneveriť sa im. Takmer isto by zo mňa neubudlo. Avšak, kým necítim potrebu, nevidím dôvod byť nasilu exploratívny.
Album som si kúpil zo zvedavosti krátko po vydaní, už si presne nepamätám. Bolo to dávno. Mal som povedomie o Trucksovom pôsobení v Allmanoch, a tak som čakal niečo podobné. Chyba! Tento kúsok smelo vyplával smerom k orientálnym brehom. Napokon, kôpka hostí má už po mene nezameniteľné korene (napr. Rahat Nusrat Fateh Ali Kahn). Ba čo viac, v jednej skladbe spieva Derekova manželka Susan Tadeschi, s ktorou poslednú dekádu pôsobí v Tadeschi Trucks Bande.
Prezentovaná hudba je skôr pokojná. Žiadne rýchle tempá, nulová inklinácia k prvoplánovým odrhovačkám… Orientálne náznaky sú miestami pomerne silné. Väčšinu času má človek pocit, že je niekde na jóge pre džezmenov. Sem-tam počuť Allmanov (Home In Your Heart), ale aj tak som sa na prvé vypočutie veľmi nechytal. Časom som sa dokázal odosobniť natoľko, že som si tu našiel to, čo ma napĺňa. Keďže som album nepočul hádam desať rokov, aktuálne opakované počúvanie ma naplnilo uspokojením. Muzika je to profesionálne zahraná, náladou mi sadla k zimnému obdobiu. Je ako ten snehový poprašok, čo sa koncom januára zázračne omylom zachytil na autách v Bratislave. Mnohých nasrdí, deťom v nás zlepší deň!
Album mám v pôvodnom cédečkovom vydaní, ale priaznivci platní nemusia zúfať. Vynil sa síce zjavil až o štrnásť rokov neskôr, ale je. Nedávno pribudli aj reedície na CD, takže predpokladám, že zohnať originál by ani dnes nemal byť problém. Pre meditatívnejšie založených poslucháčov, ktorým neprekážajú žánrové kombinácie, je tento album výborným dielikom z mozaiky svetovej muziky. Mne sedí, ale počúvam ho zriedka. Viete, som plný predsudkov…
Skladby:
Joyful Noise 5:47
So Close, So Far Away 4:38
Home In Your Heart 3:59
Maki Madni 8:11
Kam-ma-lay 7:08
Like Anyone Else 6:30
Every Good Boy 4:23
Baby, You're Right 4:14
Lookout 31 4:21
Frisell 6:53
Zostava:
Derek Trucks: gitara
Todd Smallie: basa, vokály
Yonrico Scott: bicie, perkusie, vokály
Kofi Burbridge: klávesy, flauta, vokály
a
Count M'Butu: conga, perkusie
Javier Colan: perkusie, vokály (1, 2, 5, 10)
Solomon Burke: spev (3, 6)
Rahat Nusrat Fateh Ali Kahn: spev (4)
Rubén Blades: spev, perkusie (5)
Susan Tadeschi: spev (8)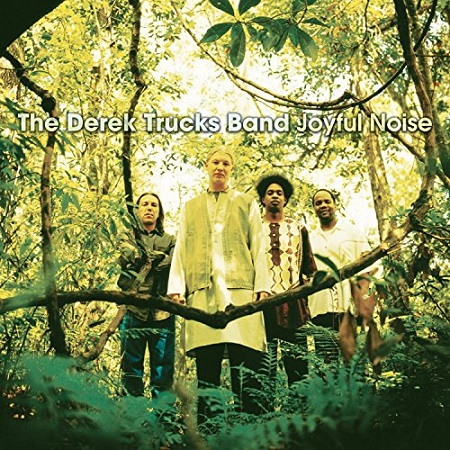 Joyful Noise
The Derek Trucks Band
blues rock, world music, fusion
Columbia
2002
CD, LP
10