První Davidovu sólovou desku jsem si pořídil poměrně záhy, někdy na začátku devadesátých let, na jednom z prvních CD vydání, kde byla pohromadě s následujícím albem North Winds (1978). Pěkný stylový obal, renomé výborného vokalisty, předchozí párplovské záseky, to nemohlo být špatné. No, a bylo. Nejenže si doteď výrazně pamatuji své zklamání, ale navíc se chabý dojem z desky dodnes nezlepšil. Ta tam jsou velká očekávání, dnes jsem ochoten být velmi milosrdný, ale na této desce nenaskočilo během desítek let vůbec nic.
První, co břinkne do uší, je zvuk. Utopený, zahlušený, bez drajvu a hard rockového řinčení. On to taky žádný hard rock není. Jednak se mu na posledním DEEP PURPLE albu dost vzdálil, jednak zde hledá svoji polohu ve všech možných koutech hudebního hokynářství. Jestliže na Come Taste The Band mu v té ne-hard rockové poloze autorsky i instrumentálně asistovaly špičkové osobnosti, a dali společně vzniknout hudebnímu milníku, zde tomu tak není. Tedy, hvězdná jména jsou tu též, jen ta alchymie se jaksi nedostavila a výsledek odpovídá. S odstupem času nutno říci, že Coverdale se ke své slávě postupně, a bezpochyby zaslouženě, vypracoval. Nebyla to zčista jasna zazářivší kometa, jako na Burn.
"Bílej had" je nesmělá a nepříliš invenční deska. Velkým kladem je vokál, poklad, kterým Coverdale disponuje. Je tady ale nepochopitelně vzadu, vůbec nechápu, proč jej v mixu tak potlačili. Mohl dost zachránit. Rokenrolizující funko soulování není příliš atraktivní, jde o druhý odvar z Párplů, leč vhodnou produkcí mohl být atraktivnější. Zde je zvuk alba ránou, která výsledek dorazila. Pozdější remasteringy nic nezachraňují, jen přidávají do masteru kompresi, jenže tato deska byla placatá už předtím. Dovedu si představit, jak některé skladby by po přearanžování a přemixování mohly být alespoň neunavující. To platí hned pro první Lady, kde jsou slyšet zárodky pozdějších pulzujících hitů WHITESNAKE. Á propós, titul White Snake dal aspoň název budoucí skupině, takže neopominutelnost díla je stvrzena.
Druhá skladba, těžkotonážní balada Blindman, naléhavá a mohutně gradující, měla dokonce to štěstí, že ji Coverdale opravdu na pozdějším albu Ready An' Willing (1980) předělal. Zde představuje nejsilnější moment alba, drásající vokál vyzařuje gejzíry emocí. Tím máme ovšem to lepší z desky za sebou, dál už se toho moc pamětihodného neděje. Je vidět, tedy slyšet, jak se zkouší všechno možné. Saxofony, dámské sbory, mainstreamový soul, rocková rutina… Jasně, záblesky budoucí brilance tu jsou, část skladeb lze vnímat jako historický relikt, ale celé to velmi a rychle zestárlo. Poslech je jen nostalgie, ať jsem smířlivý. Na dost věcech je znát, že se nepovedly, ačkoli snaha byla. Titulní skladba je standardní rockec, jiné skladby zase působí dojmem nezkušené upachtěnosti, další jsou prostě unavené. Doposlouchat desku vyžaduje jisté úsilí, protože od poloviny dost nudí. Peace Lovin Man připomíná, až kopíruje, With A Little Help From My Friends od The BEATLES. Druhá balada na desce Hole In The Sky je příliš marmeládózní. Celebration je křepčení, kterému příliš nevěřím, jen taková funky life křečovitá póza.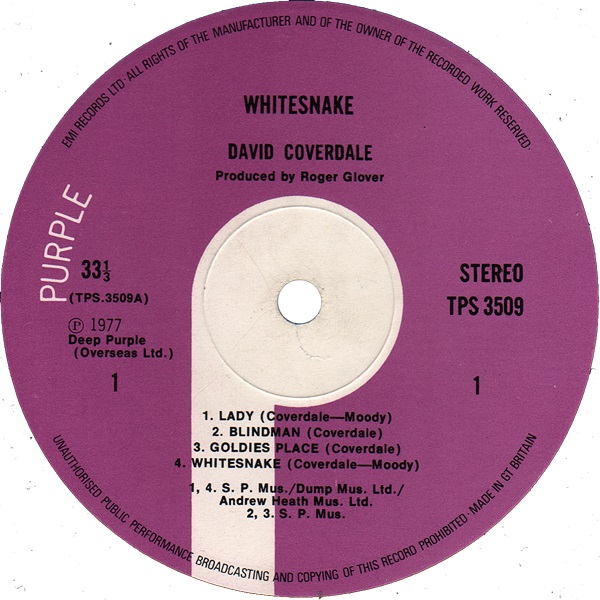 Spousta věcí je zde nedotažených, přičemž se z nich něco určitě vytěžit dalo. To naštěstí David v příštích letech udělal. LP White Snake hodnotím za dva a půl, kdyby to nebylo pod dekou, zaokrouhlím nahoru. Ale takhle dvě startovací hvězdy.
01. Lady – 03:49
02. Blindman – 06:01
03. Goldie's Place – 05:05
04. Whitesnake – 04:23
05. Time On My Side – 04:28
06. Peace Lovin' Man – 04:53
07. Sunny Days – 03:29
08. Hole In The Sky – 03:22
09. Celebration – 04:12
Total 39:43
Dynamic range – DR15
White Snake
MWF-1027
David Coverdale
Hard rock
Polydor Japan
1977
LP
9