Druhou sólovou desku Coverdale udělal hned do roka po té první. Měl na ní osvědčené muzikanty, z nich rozhodně musím na prvním místě zmínit kytaristu Mickey Moodyho, což je muzikant pro hard rock jako stvořený. Způsob jeho kresby klouzavých riffových postupů je velmi typický, a také se jako jediný podílel na autorství některých skladeb.  Klávesistou byl znamenitý studiový hráč Tim Hinkley, známý mimo jiné ze spolupráce s kapelami jako HUMBLE PIE, THIN LIZZY, BAD COMPANY, The ROLLING STONES, a podílel se na sólové desca Pete Sinfielda a na filmové verzi Quadrophenia. Na basu zde hraje Alan Spenner, který se dříve objevil například v kapele Joe Cockera na Woodstocku. Bicí obsluhuje jeden z nejvšestrannějších hráčů, co doprovázel desítky světových kapel a interpretů Tony Newman, objevil se také na soundtracku Tommy. Smetánku britských hudebníků na této desce doplňuje Roger Glover, jenž hraje něco málo nástrojů a desku především produkuje. Pak je tu ještě jedno zajímavé jméno, ale to až později..
Evidentně poučen debutem zde Coverdale vsadil na to, co bylo úspěšné, co se minule osvědčilo. Usmyslel si, že skrze cajdáky cesta vede, a tak desku uploužil až k uslintnutí. To znamená, že pomalých skladeb si tu užijeme, jsou tady hned tři, a střednětempé kousky s bluesovým podhoubím další tři. Samotný návrat k hard rocku je jistě dobrým směrem, ale jde se zatím docela oklikou. Právě ty zmíněné pomaláče jsou fakt dost nezajímavé šmajdáky, co sice možná na někoho zapůsobí, ale hudebně je to plytká nuda. Obzvláště Time And Again je nyvá popí unylost, i ten Coverdaleův vokál je tu nevýrazný a zakřiknutý. Vzhledem k tomu, že skladbu kromě hlasu tvoří už jen klávesové kuňkání podbarvené táhlými smyčci, tak je to předlouhá slabota, co jí chybí náboj. Mistr balad se seknul i s titulním songem, ten se povedl tak na půl. Melancholická balada, která dala desce jméno, má sice pěkné občasné dynamické prvky, ale jako celek není příliš přesvědčivá, chybí jí větší hloubka, jako by se nedovedla rozhodnout, co z ní nakonec bude. No a Say You Love Me je prostě hloupý slaďák zcela postrádající sílu bomby Blindman.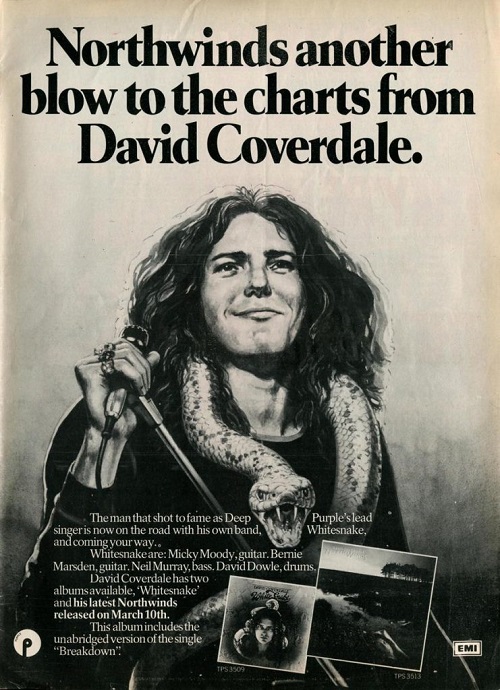 Ovšem, co se nepovedlo u cajdáků, to nám vynahradil u většiny ostatních skladeb. Hned první track Keep On Giving Me Love zaujme úspornou kytarovou hrou (úplně jako Blackmore v období Who Do You Think We Are) s ohromným charismatem. I k prvním dvěma deskám BAD COMPANY bych náladu písně přirovnal. Velmi nadčasová skladba, co má v sobě zakódovánu bezděčnou neokázalou působivost, jo takové miluju. V této skladbě všechno do sebe skvěle zapadá, i ty klávesové motivky v pozadí, i ta chvilková foukačka, při které je to Plantovské jako prase. Tuto úroveň si udržet celé album, to by bylo..
Když skočím do druhé poloviny desky, najdu tam další dva skvosty. Queen Of Hearts jsou už skoro WHITESNAKE. Tam je žhnoucí proud Coverdalovského umu. Skladba střídá pomalejší pasáže (ty činely!) s razantnějšími, získává tím neobyčejnou výrazovou dynamiku, je proměnlivá, plastická a vykresluje nádherné hudební obrazce v křivkách a obloucích. Zase řezavé kytarové sólo, sbory, gradace. Jsem unešen! Hned po ní mi ale nedá vydechnout ani Only My Soul. Ta je trošku klidnější, zdálo by se obyčejnější, navíc mi připomíná motivicky cosi od RAINBOW nebo DEEP PURPLE. Jenže skladba mimo to obsahuje moc pěknou artrockovou pasáž, jakoby úplně odjinud, sice krátkou (2:30-3:20), avšak pro skladbu nesmírně užitečnou. Basa, klávesy, bicí, housličky, masox! Závěr desky obstarává tak trochu rutinní Breakdown, prostě se hrne dopředu, naštěstí umí podbarvit refrén originální riffovou jízdou, co umí pěkně rafnout, a kytarová sóla jsou taky fajně nabroušená.
Vynechal jsem záměrně jeden kousek. Začíná skoro jako kulisa varietního čísla s trumpetami a klavírem, avšak ve chvíli, kdy by to mohlo začít prudit, přehoupne se do gospelové druhé poloviny, kde rozverné sbory dávají pořádná kila, a je to na WHITESNAKE celkem neobvyklá jízda. Jeden ze songů, co utkví v paměti a má schopnost přitáhnout tak, že si z alba pamatujete hlavně jeho. Aha, ještě píšou, že tam v těch sborech zpívá i Ronnie James Dio. Já ho tam teda neslyším, ale píšou to, tak tam asi je, hehe. Pro mě je rozhodně Give Me Kindness jedna ze dvou nej skladeb na této desce, společně s Queen Of Hearts.
I díky výtečné produkci nemám problém nasadit tři hvězdy. Kdyby tam nebyly nudné pomalé skladby a řekněme průměrná Breakdown určitě bych šel vejš. No, dobrý vklad pro příště. Rozhodně deska zasluhuje pozornost pro několik opravdu povedených songů.
01. Keep On Giving Me Love – 05:15
02. Northwinds – 06:13
03. Give Me Kindness – 04:35
04. Time & Again – 04:01
05. Queen Of Hearts – 05:16
06. Only My Soul – 04:37
07. Say You Love Me – 04:21
08. Breakdown – 05:13
(poznámka – první LP vydání měla prohozené pořadí prvních dvou skladeb)
Total 39:32
Dynamic range – DR10
North Winds
VSOP CD 118
David Coverdale
Hard rock
Connoisseur Collection (UK 1988)
1978
CD
8